Smyly flirts with no-no, then takes tough loss
Rays lefty allows first Red Sox hit in sixth, a leadoff homer by Betts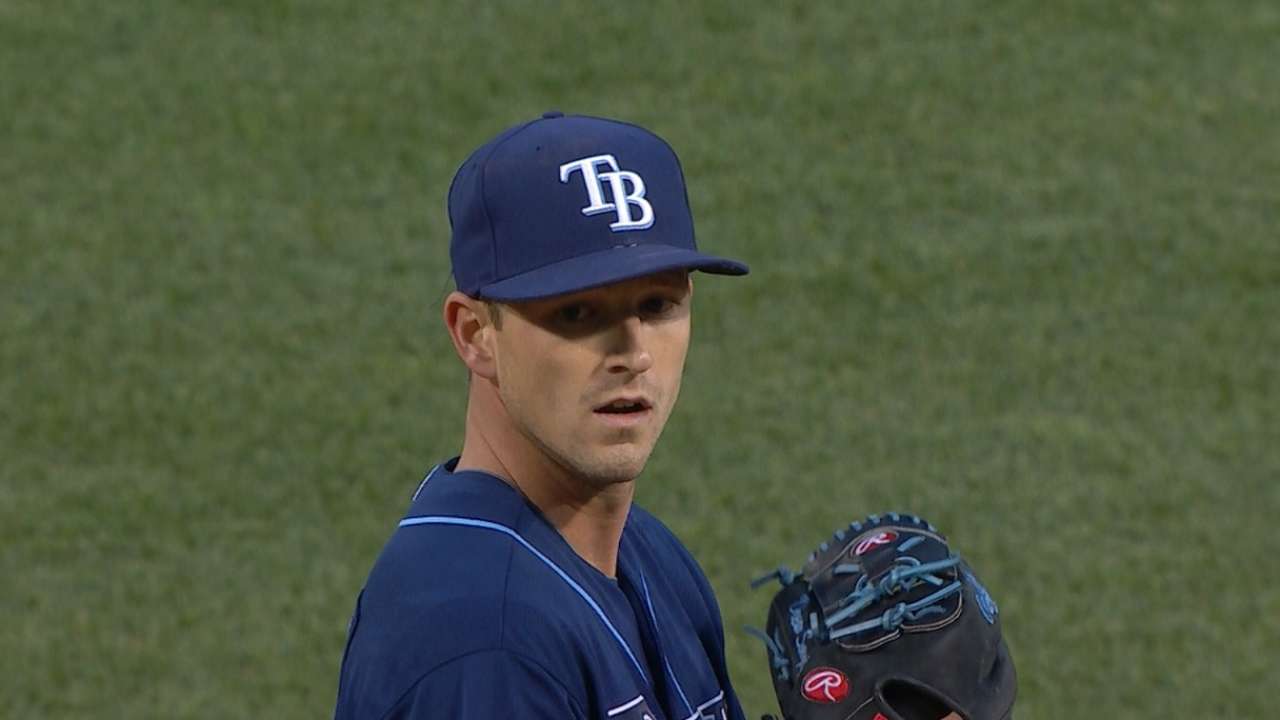 BOSTON -- Drew Smyly was feeling it Tuesday night in the Rays' 2-0 loss to the Red Sox.
The left-hander made his third start and held the home team scoreless and hitless through five innings.
Smyly knew he had a no-hitter, though it surprised him because of the scoring of Mike Napoli's swinging bunt as an error in the fourth when Smyly bobbled the ball.
"I was surprised they didn't give Napoli's [dribbler] a hit, to be honest," Smyly said. "I thought since it was their ballpark they'd give it to him, even though if I picked it up cleanly, I think he would have been out."
Earlier in the fourth, Smyly benefitted from the defense of center fielder Kevin Kiermaier, who made the kind of play that is familiar to many no-hitters. Keirmaier tracked down a deep shot by David Ortiz, jumping at the wall at the last moment in the center-field triangle.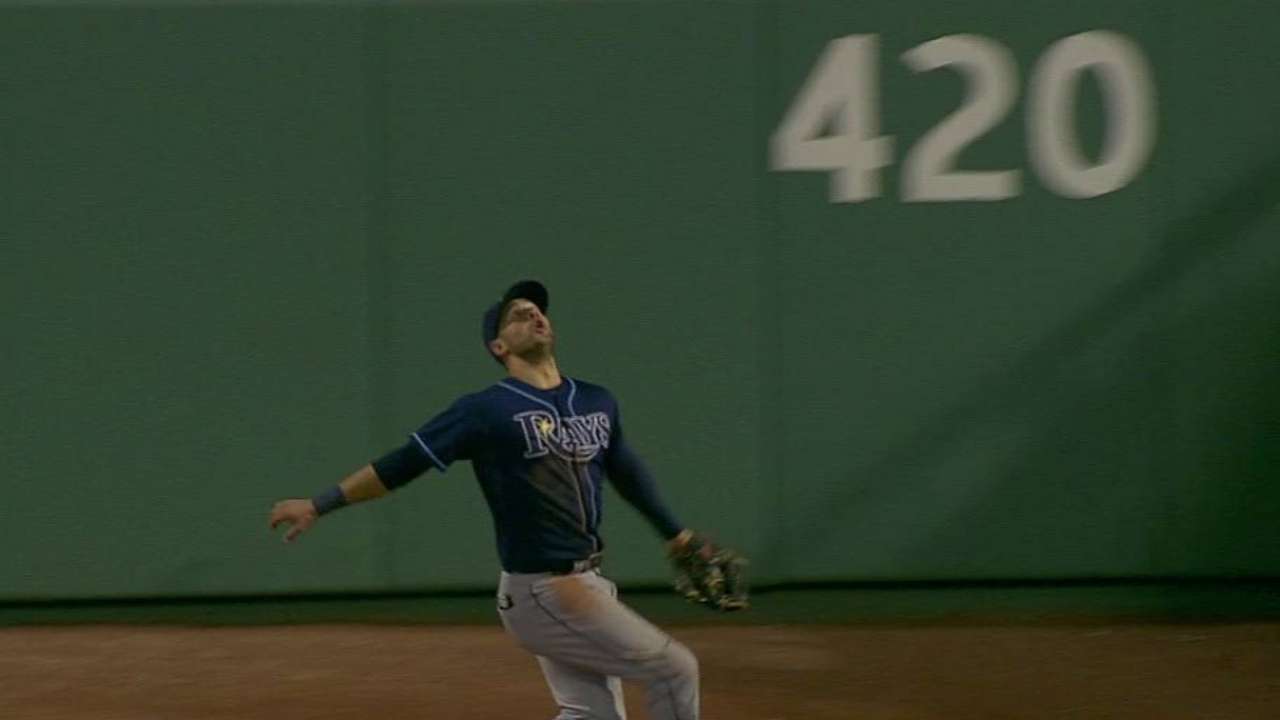 Smyly turned his head to watch, then raised his arms in appreciation after the catch. Despite Smyly having the look -- and the luck -- to realistically think about the no-no, Mookie Betts drove home reality by leading off the sixth by hitting a cutter over the Green Monster to give the Red Sox a 1-0 lead.
"I knew I probably wasn't going nine, so even though I knew I hadn't given up a hit, [pitching a no-hitter] wasn't much of a thought," Smyly said. "I just wanted to keep it a 0-0 game. I couldn't do that.
"... It was a pretty good pitch. It was on the outside of the plate. I threw a lot of [cutters]. Maybe he was sitting on it. You have to tip your cap."
In one blow, Smyly absorbed the first Boston hit of the game and allowed the game's first run, which led to his first loss of the 2015 season and his first to a divisional foe in 23 career appearances.
"It's a tough loss," said Smyly, who locked up against former Tigers teammate Rick Porcello, who shut out the Rays for seven innings and picked up the win. "A pitchers' duel from the beginning. Rick did a great job from keeping us from scoring, because I feel like we had quite a few runners on early. But just couldn't get that big hit."
The pitchers remain friends, so Smyly said they gave each other a tip of the cap while were warming up in right field.
"But that's all," Smyly said. "I'll see him later tonight."
Tampa Bay's manager Kevin Cash complimented Smyly on his effort.
"I thought Drew threw the ball really well," Cash said. "Had all of his pitches going and they put together good at-bats. But it was amazing how he just kept having the ability to finish them off, even throughout some of their quality at-bats. And then Mookie Betts, obviously a big hit."
Smyly has allowed three runs or fewer in each of his 10 starts with the Rays, extending a record to begin a Tampa Bay career.
Bill Chastain is the Rays beat reporter for MLB.com. He has been covering the club since 2004.
This story was not subject to the approval of Major League Baseball or its clubs.