Selig honored for MLB's skin cancer program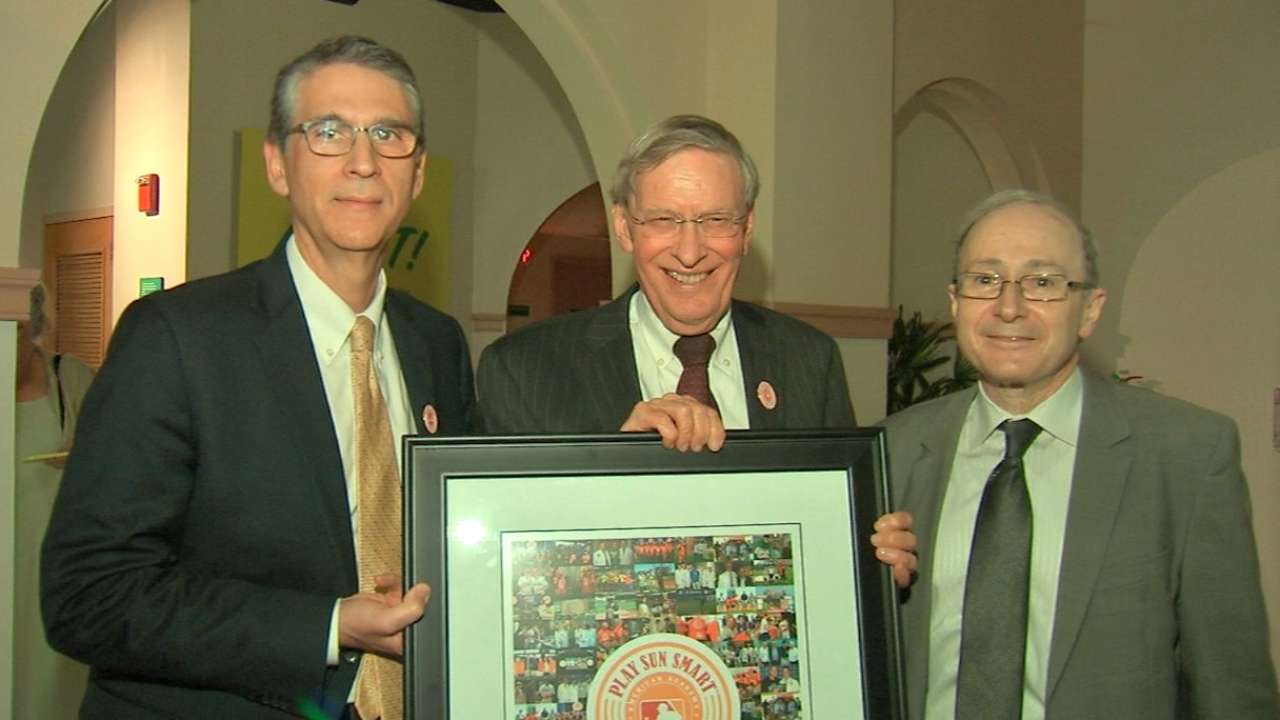 WASHINGTON -- It's been almost 15 weeks now since Bud Selig stepped back to become the first Commissioner Emeritus in baseball history. At 80, he remains healthy and vigorous and still maintains a busy schedule.
And one of the reasons he's in such good shape is what drew him to The Smithsonian's National Zoo on Tuesday night.
More than a decade ago, to his great surprise, Selig discovered that he had melanoma. Skin cancer. Under the care of Dr. Allan Halpern, he made a full recovery. That became the impetus for Major League Baseball to partner with the American Academy of Dermatology and the Major League Baseball Players Association to create Play Sun Smart, an initiative that focuses on educating players and fans about the issue.
The zoo dedicated a shade structure Monday at the sea lions exhibit that is expected to protect 1.2 million visitors per year as part of Melanoma and Skin Cancer Awareness Month, and MLB kicked off its annual Play Sun Smart campaign on Sunday.
So it was fitting that Selig was on hand to receive a framed award from Dr. Halpern to thank him for his commitment to the cause.
"I was shocked to find out I had melanoma," Selig said in a brief acceptance speech. "I never sat out in the sun. It was going through what I never thought I'd have to go through, and that made me aware of the dangers and determined to spread to all of our fans what you have to do to be careful and safe."
Since Rob Manfred succeeded him as Commissioner on Jan. 25, Selig's pace has let up only slightly.
"Things are less hectic, except I have so much personal stuff going on that it keeps me as busy as I want to be kept busy. And that's very busy," he said with a smile. "I talk to Rob and everybody else. It's not as frenetic for me as it was for 23 years. But I've had so many other things going on.
"It's been a great transition and, by the way, it's been a great transition for baseball. One owner said to me it was the most amazing, seamless transition he'd ever seen. And that's exactly what we set out to do. These kinds of situations aren't always as seamless."
Selig has been teaching at the University of Wisconsin-Madison and at Marquette in Milwaukee. He continues to organize his thoughts for the book he plans to write. He still binge watches baseball games daily and looks for the same things he looked for when he was Commissioner.
"I'm still concerned with time of game. Have been for some time, and I'm happy to see we're making some progress," he said. "I've lived and died in this sport, in one way or the other, back to 1964. That's over 50 years. It's different, but I get my fill of baseball every day."
Selig's phone still rings, too.
"I talk to a lot of people. I have a lot of owners calling me, and they just want to know how I am. I think they're worried about me in some way. And when I tell them everything is all right, they move on to something else," he said, smiling again.
When Selig stepped aside, owners kidded him that he could now openly root for the Brewers, the team he used to own, once again. For the record, he's only been to Miller Park once this season, on Opening Day.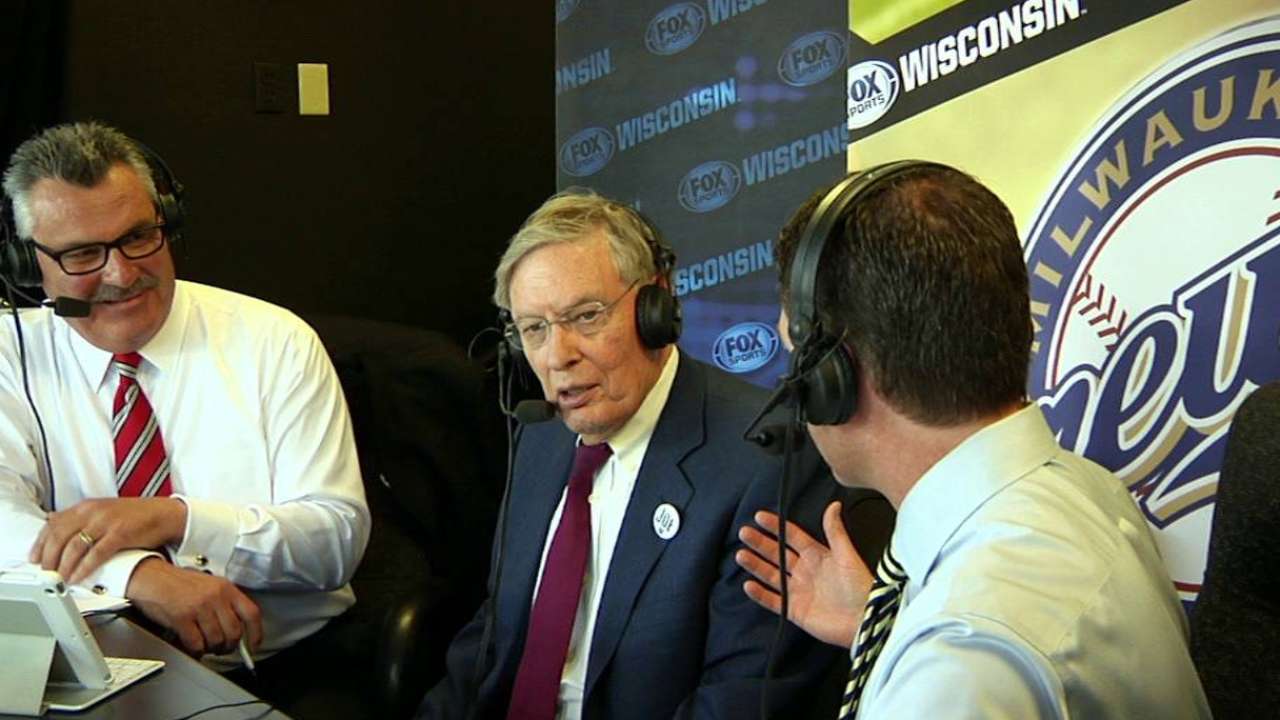 He plans to see more games as the season goes on, but also plans to visit Wrigley Field, see the White Sox and other teams. He said he cheers for a lot of teams for a variety of reasons.
Still, there's no doubt that he has a deep attachment to the Brewers. And that hasn't been easy since the Brew Crew got off to a slow start and dismissed manager Ron Roenicke over the weekend. But it also demonstrated once again how deeply entwined Selig is with baseball.
"It's been very tough," the Commissioner Emeritus admitted. "I talk to [owner] Mark Attanasio all the time. But Craig Counsell, as you know, was hired as the new manager. His dad worked for me. So I've known Craig for 36 years. I've known him from the time he was 10 years old. So I'm getting a kick out of that."
Paul Hagen is a reporter for MLB.com. This story was not subject to the approval of Major League Baseball or its clubs.