Springer undergoes tests after crash into wall
Astros right fielder robs Rangers' Beltre of hit with tremendous catch
HOUSTON -- Astros right fielder George Springer was being tested for a possible concussion late Tuesday and wasn't expected to play in Wednesday's series finale against the Rangers after crashing into the wall in the seventh inning while making a tremendous catch on an Adrian Beltre fly ball.
Springer, who has made several highlight-worthy catches against the Rangers early in his career, ran off the field under his own power after making the catch, but manager A.J. Hinch said the club isn't taking any chances with their up-and-coming outfielder. The Astros lost to the Rangers, 7-1.
"Knowing George, if I walked in after the game and I said, 'How you feeling?' He says, 'I'm going to be fine, I'm going to be in there,'" Hinch said. "That's not what I asked. I asked, 'How you doing?' not 'What do you want to do?' I'm not planning on playing him tomorrow."
Astros trainers could keep a close watch on Springer throughout the night if they felt it was necessary before re-evaluating him Wednesday. Players who exhibit concussion symptoms can be placed on the seven-day disabled list. Springer wasn't available to the media after the game.
"I'm not fully aware exactly what tests those are, but as we would any time a guy gets hit in the head with a fastball, he has a collision with a player -- sometimes you see it with a guy getting hit with the stolen base, banging on a guy's knee -- these are all standard tests that we would run any time the head's involved," Hinch said. "But it jarred his contact [lens] a little bit, so I think that was a little bit weird for him when you can't see out of one eye a little bit. We learned that was just the contact moving. We'll talk to our doctors, we'll go through the protocol to keep him safe."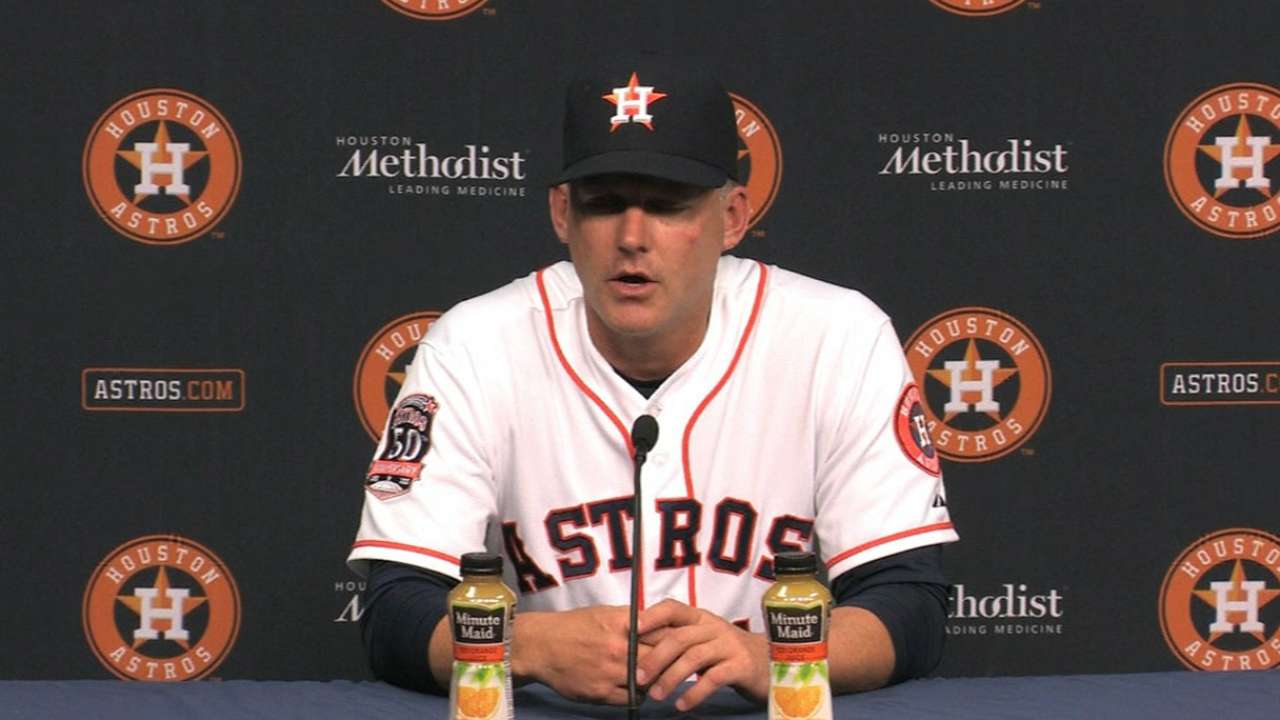 Springer's high-flying, all-out style of play in the outfield has endeared him to his teammates, even if it might cost him a few days of playing time. Springer only knows to play the game hard, but the Astros want to keep him healthy, too.
"Our outfield takes great pride in every fly ball being caught," Hinch said. "So I think it's difficult to ask a player to play at a throttle-down level. But certainly we're always talking to him about his awareness of where he is in relation to the wall, in relation to a teammate with the communication. You know we'll continue to work with him, but I'll take George Springer and his style of play on my team any day."
Center fielder Jake Marisnick ran over to Springer after he hit the wall to check on him.
"That was unbelievable," Marisnick said. "That was a great grab and that just kind of shows the character of him and this team. It's 7-1 and he's making that play for this team. It was awesome."
In the sixth inning Monday, Springer slid on his back as he crossed into foul territory to corral a ball off the bat of Jake Smolinski, securing the catch as he collided with the wall.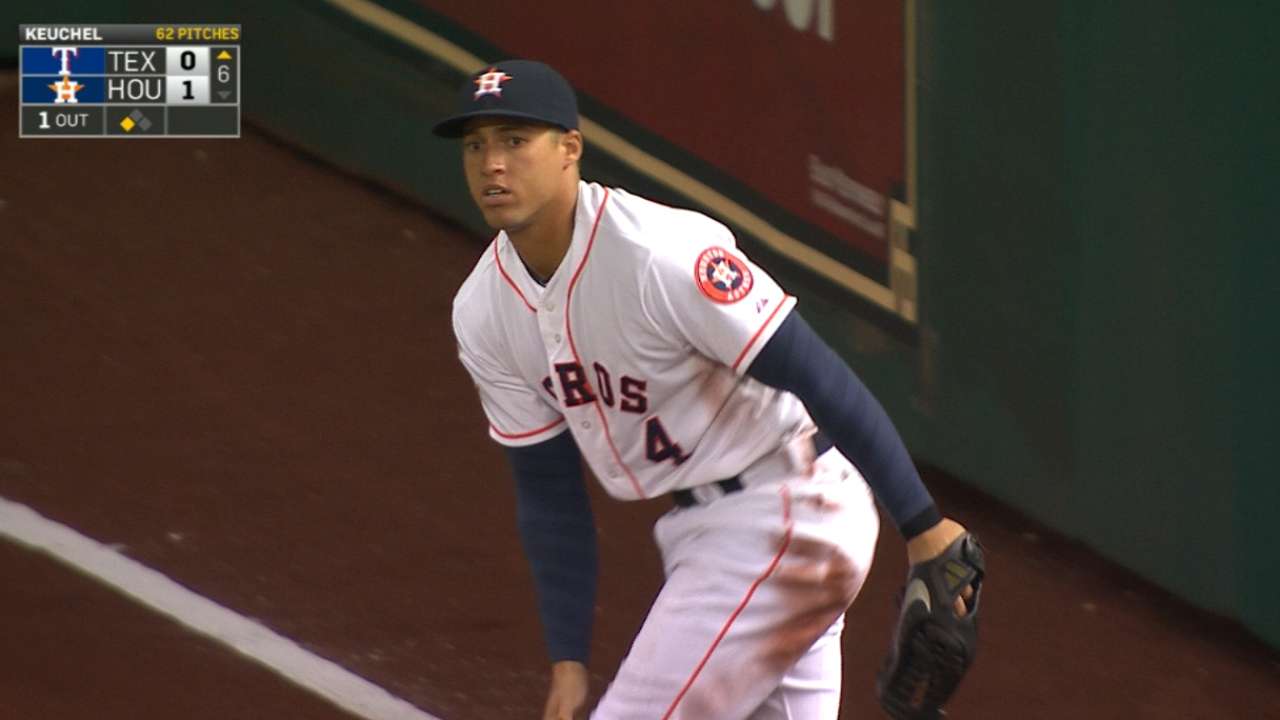 Springer robbed Leonys Martin of what would have been a walk-off grand slam on April 12 in Arlington when he reached high above the right-field wall to bring back a home run.
Springer was playing Beltre deep, which helped his cause. For example, when he robbed Martin of a grand slam, he traveled 93.7 feet with a route efficiency of 99.1, according to Statcast™.
Against Beltre, he traveled just 62 feet, which shows the Astros were respecting Beltre's opposite-field power. His route efficiency (97.5) was not as high as it was on the Martin catch, but it didn't really need to be, as he had a lot less ground to cover due to his positioning.
The ball had an exit velocity of 101 mph off of Beltre's bat.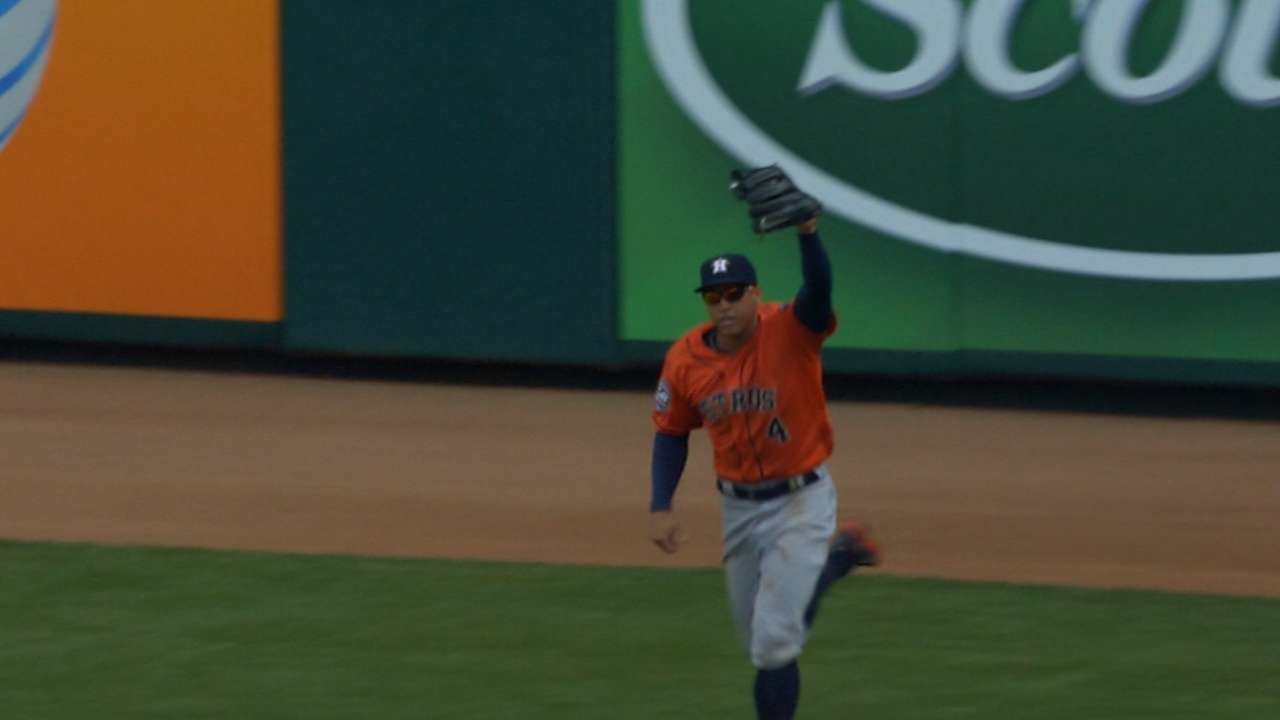 Last July, Springer made the signature catch of his rookie season against the Rangers when he made a no-look grab while crashing into the wall in center on a ball hit by Alex Rios.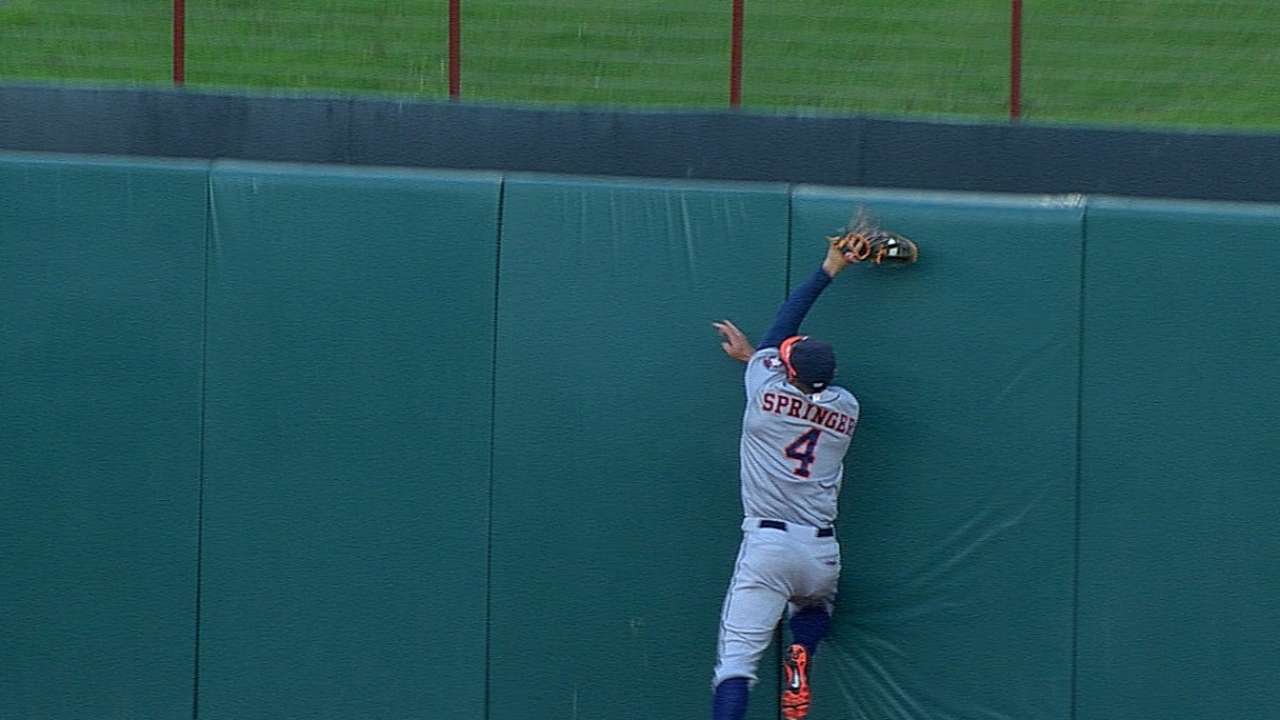 Brian McTaggart is a reporter for MLB.com and writes an MLBlog, Tag's Lines. Follow @brianmctaggart on Twitter. This story was not subject to the approval of Major League Baseball or its clubs.