Tribe's Perez always has mom in his heart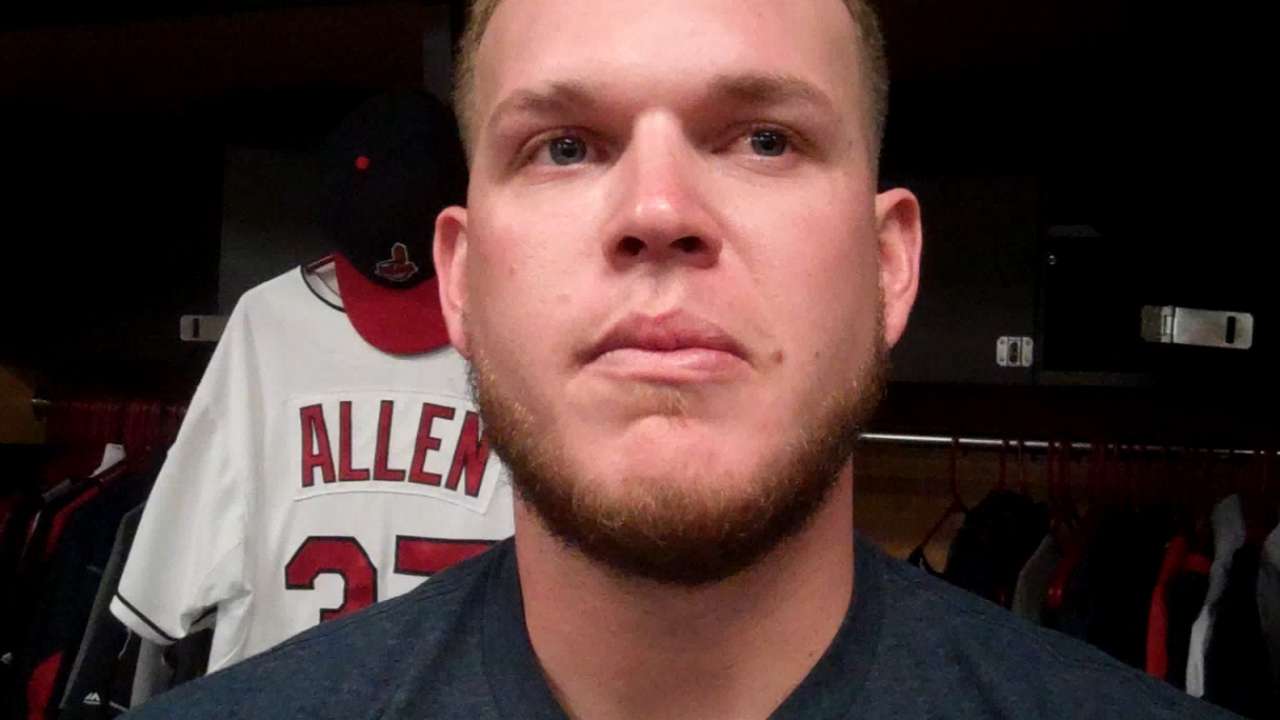 CLEVELAND -- Two thousand miles separate Roberto Perez from his mother, Lillian Martinez, who still lives in their native Puerto Rico.
That doesn't mean she isn't with him along every step of his journey through life and his baseball career.
A tattoo of her name on his right wrist ensures that Perez and his mother are never separated in spirit. Every time Perez is squatted behind home plate, he throws the ball back to the pitcher with that right hand. Every time Perez stands before his team's dugout during the singing of the national anthem, he places that right hand over his heart.
Two more tattoos -- a star on each hand -- remind Perez of his two guiding stars in life. His 2-year-old son, Roberto Andres, and his mother.
Martinez raised Perez as a single mother, after Perez's parents divorced when he was just a 1-year-old. In addition to the motherly instincts, Martinez had to assume the paternal responsibilities as well.
Perez describes his mother as a hard-working woman. She drives trucks back in Puerto Rico. She'll fix your alternator if you need a hand. She was a softball player. That athletic ability helped raise a Major League son.
"In Puerto Rico, baseball is not huge like it used to be," Perez said. "Growing up, the part where I'm from, there's no baseball players. She used to take me to the ballparks, where in other cases, the daddy would always take their kids to the park."
Whether Perez has a good game or a bad one, he and his mother talk every night. She downloaded the MLB At Bat app so she could watch all his games. And if it wasn't for her support during one of the most trying times of Perez's life, she might not be able to watch him play every night.
During the 2013 season, while Perez was playing in Triple-A and was one step away from reaching the Major Leagues, he was diagnosed with Bell's palsy -- a form of facial paralysis.
Perez wanted nothing more than to achieve his dream of playing in the big leagues. He couldn't even close his left eye while he slept.
"When she found out that I had it, she couldn't believe it," Perez said. "She didn't even know what it was. Every day she would try to call me, wondering what the doctors were saying, but she just told me to pray to God and to stay positive. Things happen for a reason. She was so supportive of me during that time. I was so down. I wasn't having a good season and I wanted to play in the big leagues, but I couldn't with that going on."
By now, Perez has achieved his dream. He's a big league catcher, currently playing everyday for the Cleveland Indians. And although 2,000 miles is a long distance, Perez never has to worry about his mother being far away from his heart.
August Fagerstrom is an associate reporter for MLB.com. This story was not subject to the approval of Major League Baseball or its clubs.