Billingsley's comeback an example of perseverance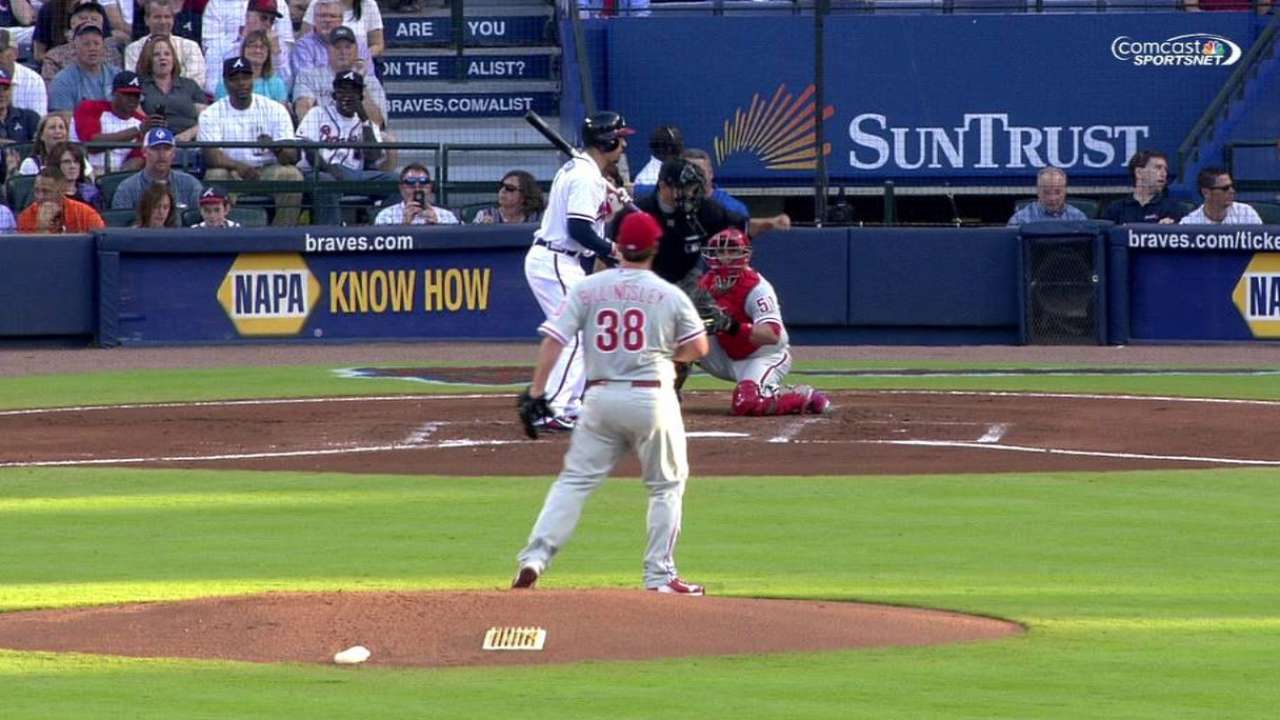 ATLANTA -- Chad Billingsley persevered through two elbow surgeries in 14 months to return to the big leagues Tuesday.
The challenge of persevering through one rough start must seem minor by comparison.
"Definitely not the way I envisioned it going but a couple of mistakes and I paid for it," Billingsley said following Tuesday's 9-0 loss to the Braves at Turner Field. "It's part of being back out there again, but I felt good."
Billingsley allowed eight hits, six runs, one walk and two home runs in five innings in his first appearance in a big league game since April 2013. He had Tommy John surgery that same month and followed that procedure with right flexor tendon surgery in June 2014, making Tuesday's comeback the result of more than two years of rehab.
"It really didn't kick in until about an hour before the game getting ready," Billingsley said about any nerves. "It was very exciting."
But he allowed a two-run home run to Freddie Freeman in the first inning and a three-run home run to Kelly Johnson in the fourth inning as the Braves took a 6-0 lead. The fourth inning started with a couple hits, but unraveled when Phillies third baseman Cody Asche let a potential double-play ball roll past him.
"Turn one more double play and that's two runs off," Phillies manager Ryne Sandberg said. "It's a closer game and it's a whole different feel to the game, I think. But it's also an outing that [Billingsley] can build on. I think he got some things behind him as far as how he felt. His velocity was pretty good and he showed some good curveballs and changeups."
Billingsley will have the opportunity to make amends Sunday afternoon against the Mets at Citizens Bank Park. Of course, he will get his opportunities to pitch regardless. The Phillies are terribly thin in starting pitching and they need him.
Cliff Lee is lost for the season with an elbow injury. David Buchanan has been optioned to Triple-A. Sean O'Sullivan, who opened the season as the team's No. 5 starter, is on the DL, although he is making a rehab start Thursday. Severino Gonzalez made a couple starts on the road trip, but he was just optioned back to Triple-A.
Miguel Alfredo Gonzalez had been signed in August 2013 to be a starter, but he is injured again and might never come close to living up to his $12 million contract.
"I got a lot of ground balls today," said Billingsley, who got seven groundouts and two fly outs. "That's the positive thing I took away from today. Made some pitches, got some ground balls, double play there. Overall, not the results, but very encouraging.
"Arm feels good and just going to keep getting better every time out there, feeling more comfortable and I'm looking forward to it."
The Phillies signed Billingsley to a one-year, $1.5 million contract in January. They figured it was a low-risk move. If Billingsley comes close to the way he pitched for the Dodgers from 2008-12, when he posted a 3.70 ERA, they could have a nice rotation piece that contending teams might want before the July 31 Trade Deadline.
If not, then it didn't cost them much.
"It was two pitches I would like to have back. You can always say that after every start," Billingsley said. "Sometimes it goes the other way where they pop it up or something or swing through it. It's nice to be able to say that. I haven't been able to say that for the past couple of years."
Todd Zolecki is a reporter for MLB.com. Read his Phillies blog The Zo Zone. Follow him on Twitter. This story was not subject to the approval of Major League Baseball or its clubs.