How far will Statcast's reach extend?
Kenny, O'Dowd among analysts debating impact of revolutionary new technology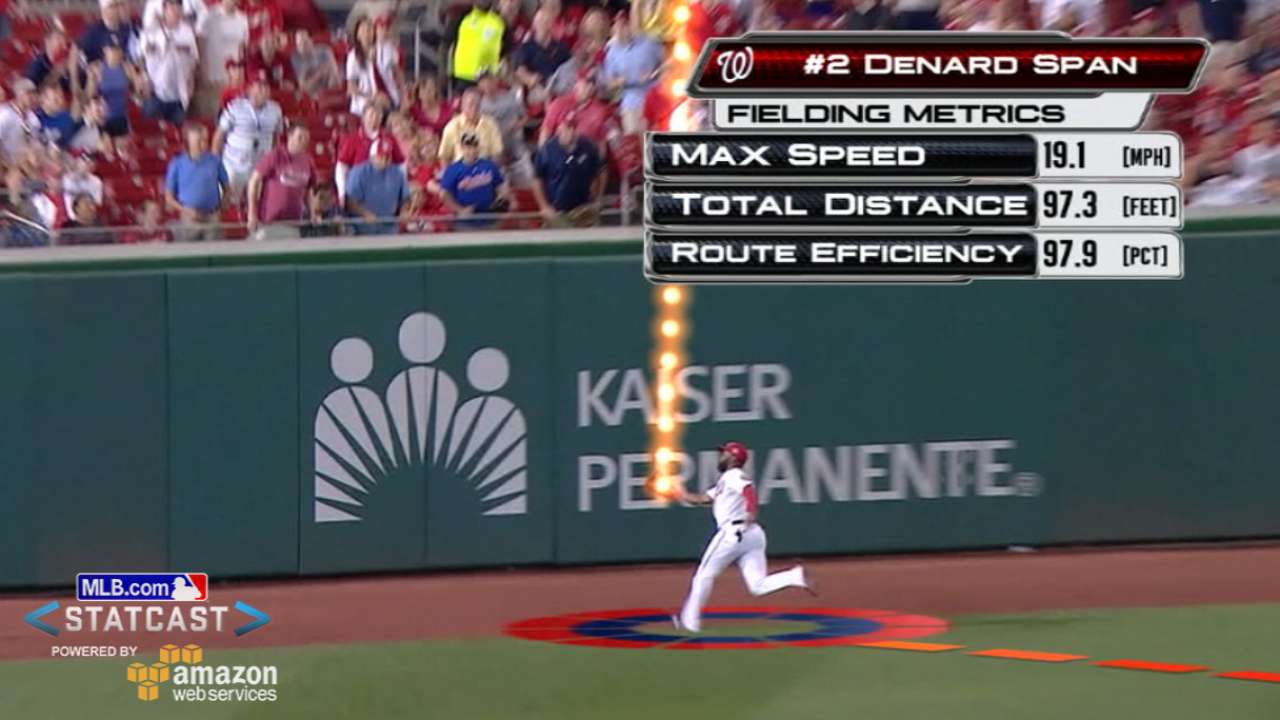 Statcast™ is already providing fans with a new way to evaluate nearly every aspect of the game, from towering home runs to highlight-reel defensive plays and seemingly everything in between. But what about on a larger scale?
MLB Network analyst Brian Kenny led a panel discussion on Tuesday surrounding the potential long-term impact of the revolutionary tracking technology. For the Statcast™ breakdown, Kenny was joined on the MLB Now set by former Rockies general manager and current MLB.com columnist Dan O'Dowd, as well as Dan Okrent, the inventor of rotisserie league fantasy baseball, and Albert Chen from Sports Illustrated.
"We're going to have to absorb these numbers," Okrent said, "and try to figure out, are we learning something new or being distracted by too many numbers?"
That's already been a seemingly endless debate in the world of baseball, especially with the recent spike in the use of sabermetrics. For Kenny, a sabermetrics guru of sorts, he's already seen firsthand the way that Major League front offices are approaching the innovative Statcast™.
"I love the numbers, but sometimes you just want to say, 'That's a great catch,'" Kenny said. "On the other hand, I was out at the saber analytics conference this offseason, and some teams had one guy that was going to try to figure it out and other people had an entire group -- and were hiring a whole staff -- to pour into [the Statcast™ data] to try to get some sort of a competitive advantage."
Having spent 15 seasons as a Major League GM, O'Dowd knows that Statcast™ is going to help revolutionize the way teams evaluate players. From possibly changing the way scouts analyze potential prospects to altering a front office's approach when deciding whether or not to sign or trade for a player, Statcast™ will offer up an entirely new -- and objective -- data set to take into consideration.
"Competitively," O'Dowd said, "you're now going to be able to evaluate talent much more specifically than just saying, subjectively, 'I think he can do this' or 'I think he can do that.'"
Instead of replacing sabermetrics, however, Statcast™ may be utilized in unison with advanced metrics. While sabermetrics have greatly improved the methods for evaluating defensive players, Statcast™ can now tell precisely how quick a player's first step was, how efficient his route was in getting to the ball and exactly how fast he ran and how much ground he covered on a given play.
"We talk about defensive metrics -- Ultimate Zone Rating, Defensive Runs Saved; those are great guides," Chen said. "But they were far from an exact science. Here we get the precision, particularly on defense, and I think it's a game-changer for the analytical side."
Paul Casella is a reporter for MLB.com. This story was not subject to the approval of Major League Baseball or its clubs.