Perplexed by struggles, Weaver still confident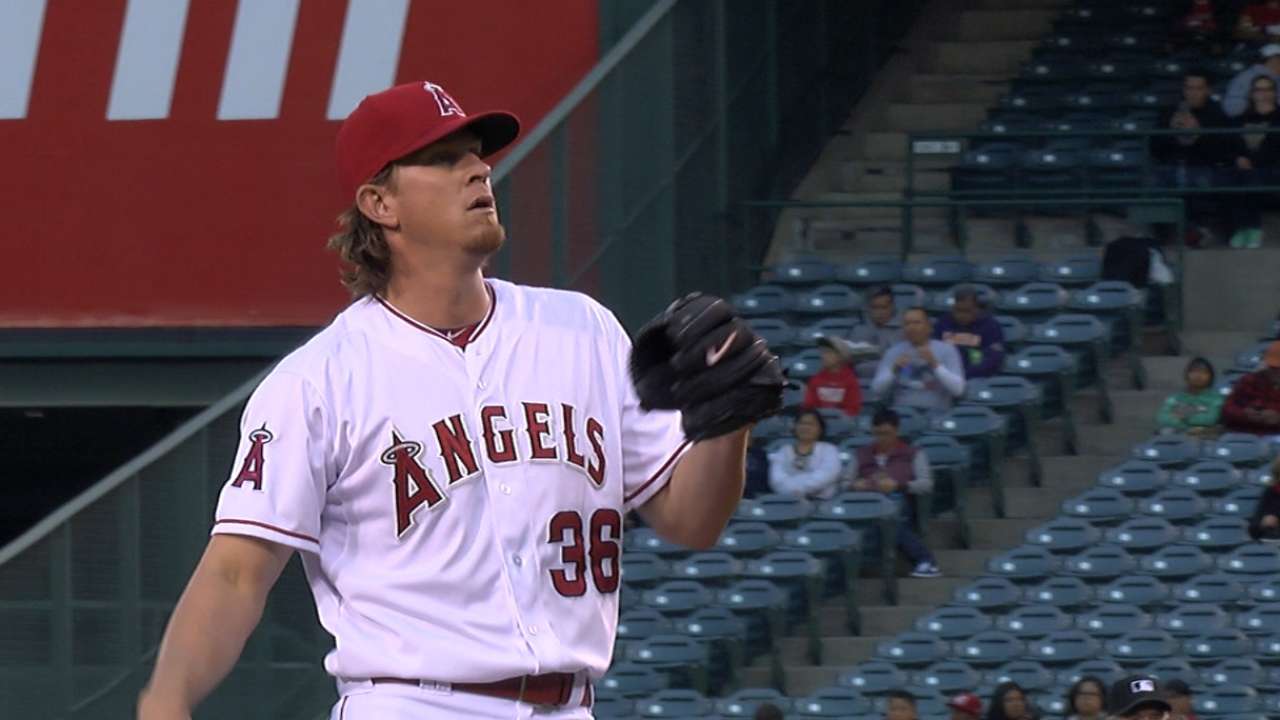 ANAHEIM -- The popular narrative currently surrounding Jered Weaver is that it's time for him to reinvent himself, because a Major League starting pitcher can't survive on 84-mph fastballs without some serious adjustments.
"Should I just start throwing left-handed or something?" Weaver said. "I mean, what do you want me to do?"
Whatever it is, Weaver understands that he has to figure out something.
The 32-year-old right-hander is 0-4 with a 6.29 ERA through his first six starts, a 34 1/3-inning stretch that has seen him give up 45 hits and strike out 15 batters. BrooksBaseball.net has Weaver's average fastball velocity at 84.24 mph, three full ticks slower than where it was each of the last two seasons and trailing only Mark Buehrle for the slowest among non-knuckleball-throwing starters.
"I just have to figure it out," Weaver said, "just like every other time."
How, exactly?
"Keep throwing," he said, "and something eventually clicks."
The odd thing is that Weaver's right arm feels great.
"It's frustrating because it feels so good," Weaver said, adding that in years past he has gotten good results when his arm felt worse. "It's just a weird deal, man."
Angels manager Mike Scioscia will keep Weaver on his regular turn -- his next start is Friday, against the Astros -- and believes his ace's problems stem from "release point" and "a timing issue in his delivery."
Fixing that won't necessarily get his velocity back, though.
"If he doesn't pick up any more velocity but he matches it with command," Scioscia said, "he's going to be fine."
Heading into 2009, his fourth year in the Majors, Weaver learned to throw a two-seam fastball and incorporated it heavily. But he doesn't plan to make any wholesale changes to his repertoire this year.
"I think what I have is good," Weaver said. "It's just a matter of getting something to click again, like I did toward the end of the year last year."
Weaver seemingly got stronger as the year went on in 2014, throwing his fastball an average of 88.11 mph in August. In the winter leading up to that season, Weaver adopted a strict massage therapy and stretching regimen that worked out some of the kinks in his shoulder. He maintained that last winter and has continued to lift heavy weights in between starts -- a routine he went back to in the middle of last season, which he believes made him stronger late in games.
But Weaver's fastball velocity -- 90 mph, on average, as recently as 2011 -- is down again, so he has to adjust.
On video, Weaver has noticed "little things here and there, but nothing that's going to drastically change what's going on."
"It's just like every other sport," Weaver said. "The older you get, your body changes with what's going on. As good as I do feel, something's just not clicking. I've never felt this good before, as far as strength and everything, and I've never gone through a struggle like this. That's why baseball is baseball. It's a humbling game. It's just a matter of what you're going to do to figure it back out."
Alden Gonzalez is a reporter for MLB.com. Read his blog, Gonzo and "The Show", and follow him on Twitter @Alden_Gonzalez. This story was not subject to the approval of Major League Baseball or its clubs.