Russell, Varvaro join 'pen in flurry of moves
Denorfia placed on DL; Germen optioned to Triple-A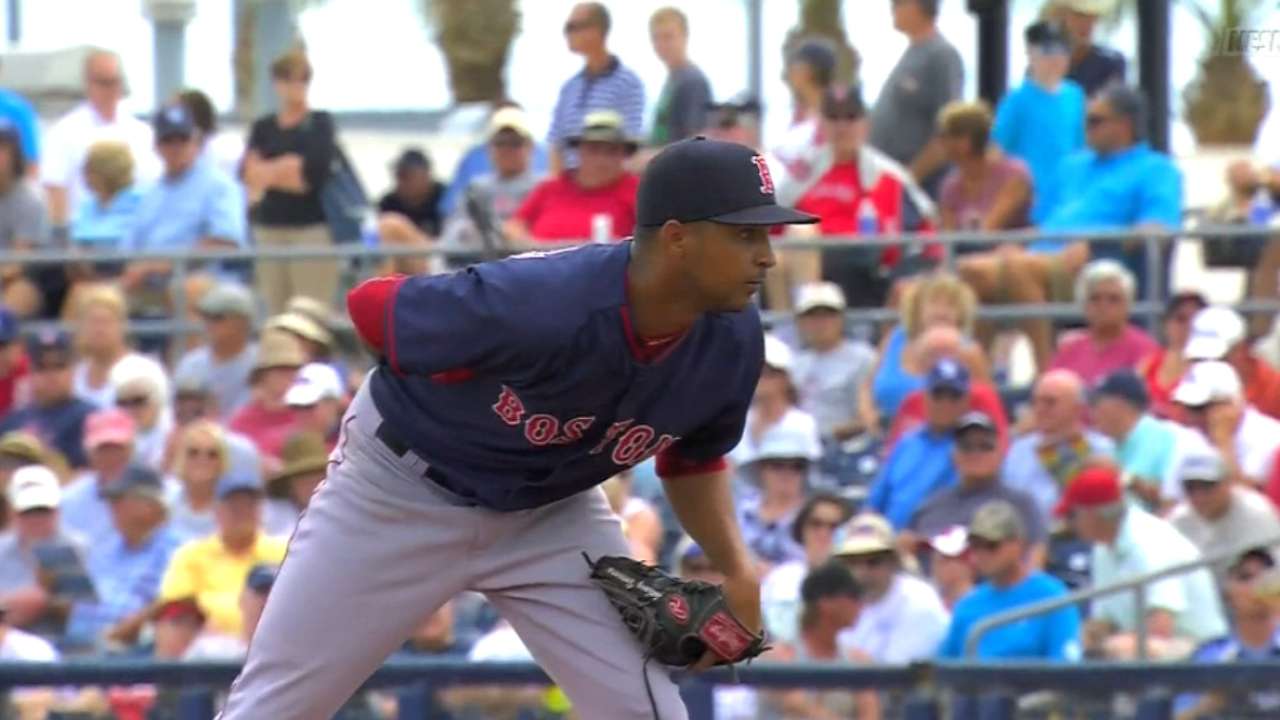 ST. LOUIS -- The Cubs re-stocked the bullpen on Tuesday, adding right-hander Anthony Varvaro and lefty James Russell.
Varvaro, who was claimed off waivers from the Red Sox on Sunday, was called up from Triple-A Iowa, while Russell's contract was selected from the Minor League team. The Cubs optioned right-hander Gonzalez Germen to Iowa and placed outfielder Chris Denorfia on the 15-day disabled list to make room on the 25-man roster. Right-hander Blake Parker was designated for assignment to make room on the 40-man roster for Russell.
"They're badly needed right now," Cubs manager Joe Maddon said of Varvaro and Russell.
Russell returns to the Cubs, who he came up with after being drafted in 2007. The lefty was dealt to Atlanta last July and was in the Braves camp this spring, but he was released on March 29. He signed a Minor League contract with the Cubs on April 8. In seven games at Iowa, the lefty gave up four hits, did not walk a batter and struck out 12 over 9 2/3 innings. He has three saves.
"We were excited he signed back with us," general manager Jed Hoyer said. "He was a tough guy to trade, we all liked him. He's gone down there and gotten things together. We just feel like we need the extra pitching."
Hoyer said there was good debate as to what move to make, and the consensus finally was that they needed more pitching.
"I love being at 12 pitchers because I think it gives Joe more versatility on the bench, especially with three catchers," Hoyer said. "It's a luxury we don't have. ... Right now we'll be at 13 [pitchers], and we'll be at 13 until we feel we're rested enough to get away from that."
The Cubs do have reinforcements. They could be close to getting right-hander Justin Grimm back. He's been on the disabled list all season with a strained right forearm but threw one inning for Iowa on Monday, and all reports were good. Neil Ramirez, also on the DL with a strained right shoulder, will throw off the mound Wednesday in Mesa, Ariz., where he's rehabbing.
"I think when bullpens do get frayed is what's happening to us now," Hoyer said. "When you can line up your seventh-inning guy, your lefty specialist, your eighth-inning guy and your closer, when you can line them up, you're dangerous. When you're scrambling, you end up with games like 10-9 because guys are in roles they're not accustomed to."
Carrie Muskat is a reporter for MLB.com. She writes a blog, Muskat Ramblings, and you can follow her on Twitter @CarrieMuskat. This story was not subject to the approval of Major League Baseball or its clubs.