Lagares adds to highlight reel with snag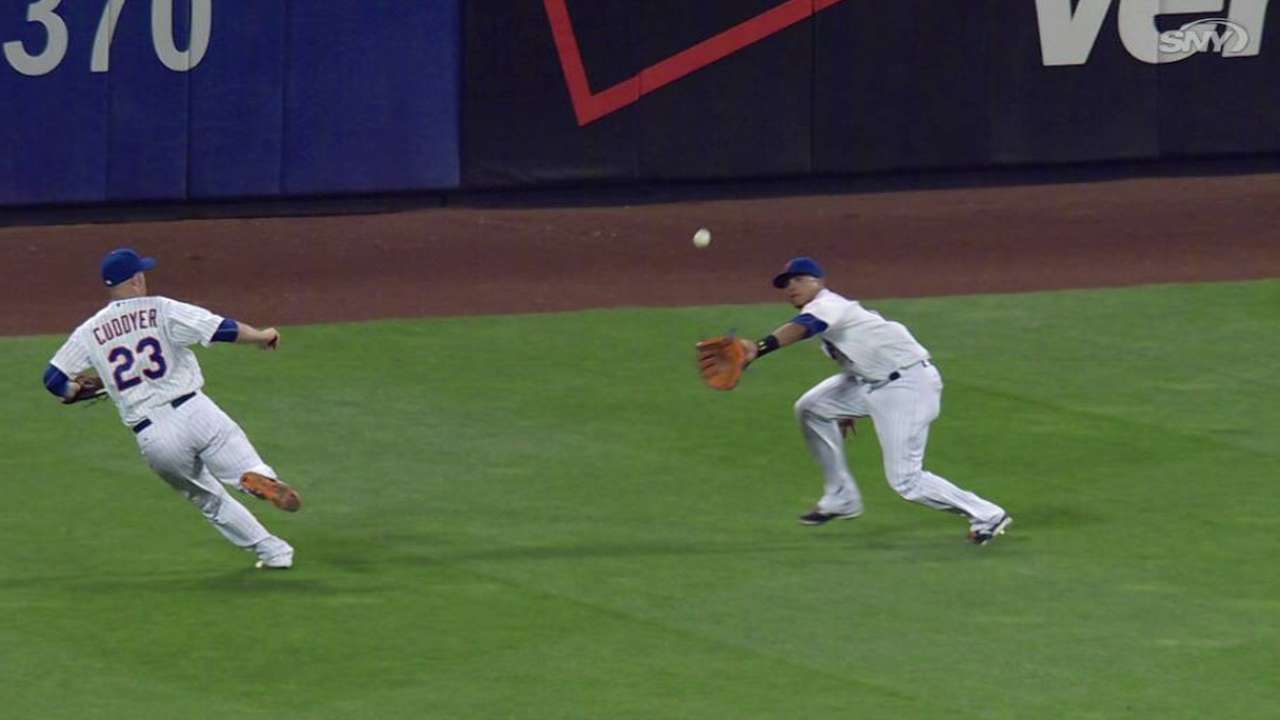 NEW YORK -- Mets left fielder Michael Cuddyer is deaf in his left ear, but he insists he hears Juan Lagares coming.
He's getting pretty used to the sound of Lagares' voice.
"He's calling me off balls that are hit right at me!" Cuddyer told manager Terry Collins after Lagares added another highlight-reel catch to his portfolio in Tuesday's 3-2 Mets win.
"He's the center fielder," Collins said. "Let him keep catching them."
Lagares needed to run at a top speed of 19.5 miles per hour and range 73.2 feet to catch this latest one and rob Everth Cabrera of extra bases in the fifth inning.
In the past two weeks alone, the reigning National League Gold Glove winner in center field has ranged both back and in to make sensational plays. Tuesday, he ranged to his right to track the ball, which he caught tumbling deep in the left-center-field gap. Cuddyer skipped over the lunging Lagares, who appeared shaken up even after barely avoiding collision.
"I felt in the moment like I couldn't breathe," said Lagares, who jammed his arm against his ribcage on the play. "But now I'm all right."
Lagares was examined by a trainer and stayed in the game.
Collins has had conversations with Cuddyer and Lagares about needing to improve outfield communication. Twice on Tuesday the pair nearly collided on in-between balls.
"When nobody calls it, I have to go hard to the ball and try to get it," Lagares said. "We didn't have a chance to call the ball in that situation. I didn't call the ball because I wasn't 100 percent I was going to get it. That's a hard play."
On Lagares' more impressive catch, his top speed registered at more than a full two mph faster than Cuddyer's. He also recorded a 98 percent route efficiency, according to data complied by Statcast™.
"He can flat out get the baseball," Cuddyer said.
We hear you, Michael.
Joe Trezza is an associate reporter for MLB.com. This story was not subject to the approval of Major League Baseball or its clubs.