Bryant showing impressive plate discipline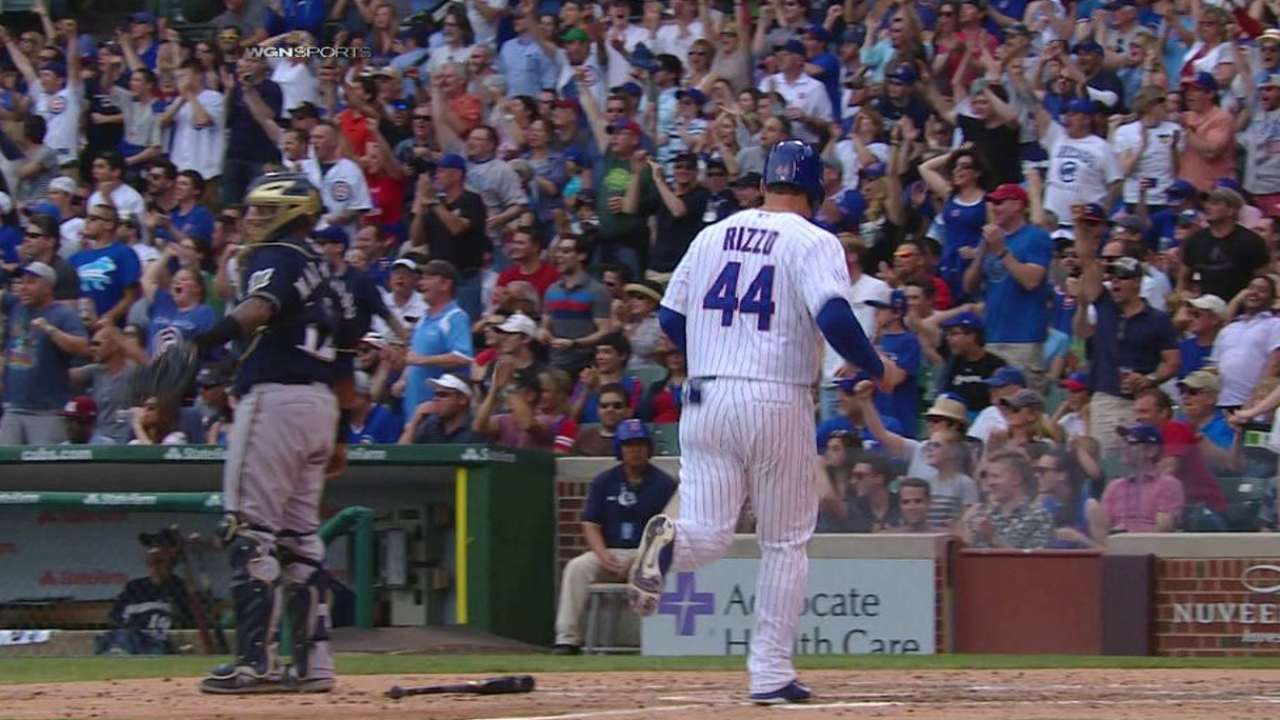 ST. LOUIS -- Kris Bryant is doing things no Cubs player has done before. He just still hadn't hit that first big league home run entering Tuesday.
The Cubs' top prospect reached base safely five times on Monday, hitting a single and drawing four walks. He also reached base safely five times April 18 against the Padres in his second Major League game. He's the first Cubs player since at least 1914 to reach base safely five times in a game twice within his first 16 games.
Bryant may not have hit a home run in his first 55 at-bats, but he did have a .458 on-base percentage with 16 walks in 16 games.
"If he keeps on-basing .450, I'll be pretty happy," Cubs general manager Jed Hoyer said Tuesday. "We've seen a lot of respect. [Monday], it was a 10-8 game with two outs and no one on and [the Cardinals] threw him a 3-2 slider and let the tying run come to the plate rather than challenge him. I don't think you see that very often with rookies.
"I think he's done an unbelievable job of staying patient, taking 16 walks," Hoyer said. "It shows a lot of maturity. Most 23-year-olds would be frustrated and swinging to try to get that monkey off their back. He hasn't done that."
Bryant moved up a notch and batted third on Tuesday for the first time this season as manager Joe Maddon tried to put the third baseman in a spot where he might get a pitch to hit. He's hit everywhere in the lineup, including leadoff in college, so Bryant downplayed the switch.
He's also drawn a lot of walks in the past, especially his junior year at the University of San Diego.
"I think that made me a better player, seeing a lot of offspeed pitches that are in the zone, and it kind of made me the player I am today," Bryant said.
"There's more to the game than just hitting home runs, especially nowadays. There's a lot being said about being on base and on-base percentage. I just try to be the complete player and help the team win any way possible. If I'm getting on base, I'm giving my team a chance."
Maddon says Bryant is being pitched to as if he's had 10 years in the big leagues, not 18 days.
"I give Kris a lot of credit [Monday] for not expanding his zone because they did not want to throw him a strike," Maddon said. "That's the whole season, what you saw [Monday]. For a young player, having your reputation precede you is incredible. The way data is collected and videos are processed and information, it would've taken at least three weeks to a month a couple years ago to get all that stuff out there, but it's out there immediately. Everybody's been playing the same game."
Maddon preached patience.
"By the end of the season, you'll see how good this kid actually is," Maddon said. "Is he struggling? I don't think so. He's just not getting opportunities right now."
Carrie Muskat is a reporter for MLB.com. She writes a blog, Muskat Ramblings, and you can follow her on Twitter @CarrieMuskat. This story was not subject to the approval of Major League Baseball or its clubs.