MLB.com Columnist
Fred Zinkie
Best of Fantasy411 Twitter chat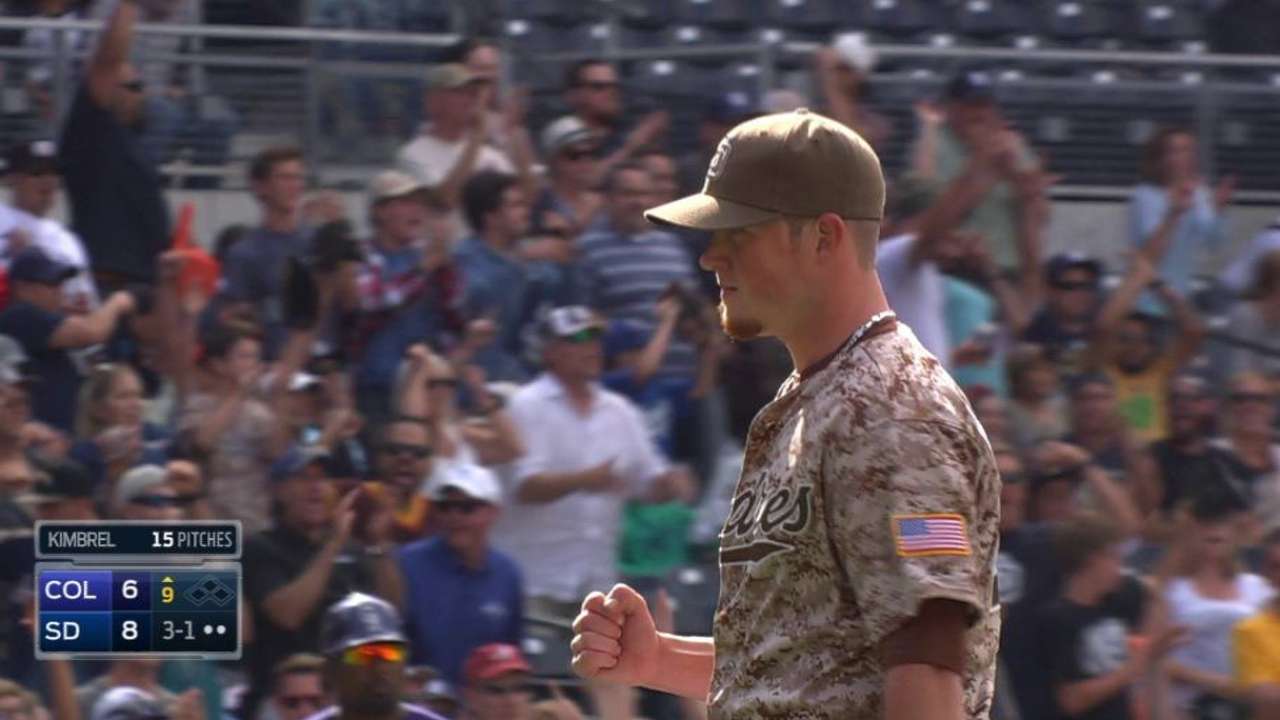 MLB.com fantasy guru Fred Zinkie fielded questions from fans during a live Twitter chat at @Fantasy411 on Tuesday. Check out the chat transcript below, the @Fantasy411 Twitter handle and MLB.com's fantasy home. Questions and answers have been edited for clarity.
Question: @JeJered I have 5 closers. Need starting pitching. Was offered Chris Sale for Zach Britton and George Springer.
Zinkie: Fair deal if you have extra RP.
Question: @icedtee12 I just traded Corey Dickerson for Corey Kluber and Craig Kimbrel. Did I make a good trade?
Zinkie: No, you made a great trade!
Question: @Meekaleak92 Giving up Kimbrel for Prince Fielder, good trade?
Zinkie: No. Kimbrel is a top-three closer.
Question: @CecilsGlasses Pick up Dan Haren or Aaron Harang?
Zinkie: Haren.
Question: @Dilloncolt_16 Should I drop Anthony Rendon after finding out about the oblique strain? Thanks in advance!
Zinkie: No. He has to be retained in all leagues.
Question: @LakeRaMan Need steals and have my choice of Dexter Fowler, Brett Gardner, Elvis Andrus or Leonys Martin. Who do you like?
Zinkie: Gardner.
Question: @jbshoesgetter Trade away Joey Votto and Kole Calhoun for Josh Donaldson?
Zinkie: Depending on your depth, it's probably too much to trade.
Question: @yankees92389 Andrew McCutchen for Kris Bryant. Keeper league.
Zinkie: McCutchen side.
Question: @tonycaruso6 Alex Colome, Mike Foltynewicz or Chase Whitley?
Zinkie: Foltynewicz.
Question: @wfromans Rumblings that Carlos Correa will be called up soon. What do you think?
Zinkie: Likely not soon enough to stash now in shallow leagues.
Question: @Dan_Radin Drop or bench Devin Mesoraco in single catcher league?
Zinkie: Bench.
Question: @LA_Frankie I have SP depth; should I drop Carlos Martinez to stash Marco Gonzales?
Zinkie: Not yet. Give Martinez another start.
Question: @PBCBeat Cole Hamels for Billy Hamilton or George Springer? I could use steals and have good pitching.
Zinkie: Yes, for Springer.
Question: @NHLQubes Thoughts on Brandon Morrow? Worth owning in 10-team mixed leagues?
Zinkie: Use him for favorable starts in 10-team, but not a permanent add.
Question: @sportsweather Got offered Wil Myers for Matt Holliday, worth it?
Zinkie: Stick with Holliday.
Question: @Bigfish116 Drop Yadier Molina for either Yasmani Grandal, Miguel Montero or Derek Norris?
Zinkie: Not yet. Give Molina a little more time.
Question: @MiccicheThomas Is Jake Marisnick worth dropping when Christian Yelich returns from DL?
Zinkie: Would be good to keep if you have room.
Question: @Ynal_Alouri Keep Josh Harrison through slump or add Chris Young, Kevin Pillar, Andre Ethier, Mark Canha or Colby Rasmus?
Zinkie: Could drop and ride hot hands. Ethier now.
Question: @bjbillinger Drop Shane Greene or Chris Tillman for Ian Kennedy? Or let Kennedy get another start before picking up?
Zinkie: Drop Greene and add now.
Question: @ChadBroChiII17 Michael Brantley for Corey Kluber. Fair deal?
Zinkie: Slightly prefer Brantley side.
Question: @mdkail1 Felix Hernandez, DJ LeMahieu and Joe Mauer for Jose Abreu, Josh Harrison and Joakim Soria. Which side do you like more?
Zinkie: Abreu side.
Question: @Fuagman What do you think of Shin-Soo Choo? I don't understand him. Worth picking up in points league?
Zinkie: Add, bench, wait.
Question: @MikeAronofsky Bench, trade or drop Victor Martinez? What's his value now?
Zinkie: Don't drop. Can bench in shallow leagues. Don't sell low via trade.
Fred Zinkie is the lead fantasy baseball writer for MLB.com. Follow him on Twitter at @FredZinkieMLB. This story was not subject to the approval of Major League Baseball or its clubs.