Mom key figure in growing Hale's love of game
PHOENIX -- As Chip Hale neared his first win as a Major League manager, his mom, Yvonne, sat in the Chase Field crowd, tension clearly visible on her face. The moment captured by the team's broadcast.
On the field, D-backs right-hander Addison Reed struck out the Giants' Angel Pagan to seal the 7-6 win on April 7.
"I know Pagan, and I thought of all people to be up at this moment," Yvonne said. "When he struck out, we were so happy."
Yvonne was familiar with Pagan, because she knows her baseball.
As the only child of Ted Moniz, Yvonne went to games with him and soaked up his deep knowledge of it as a result.
"He loved baseball, and I just kind of fell into it as well," Yvonne said.
Most Mother's Days, Yvonne would take her parents and her family to watch the Giants play at Candlestick Park, days that her son remembers fondly. Her love of the game, along with her husband Walter's, planted the seeds of similar feelings in Chip.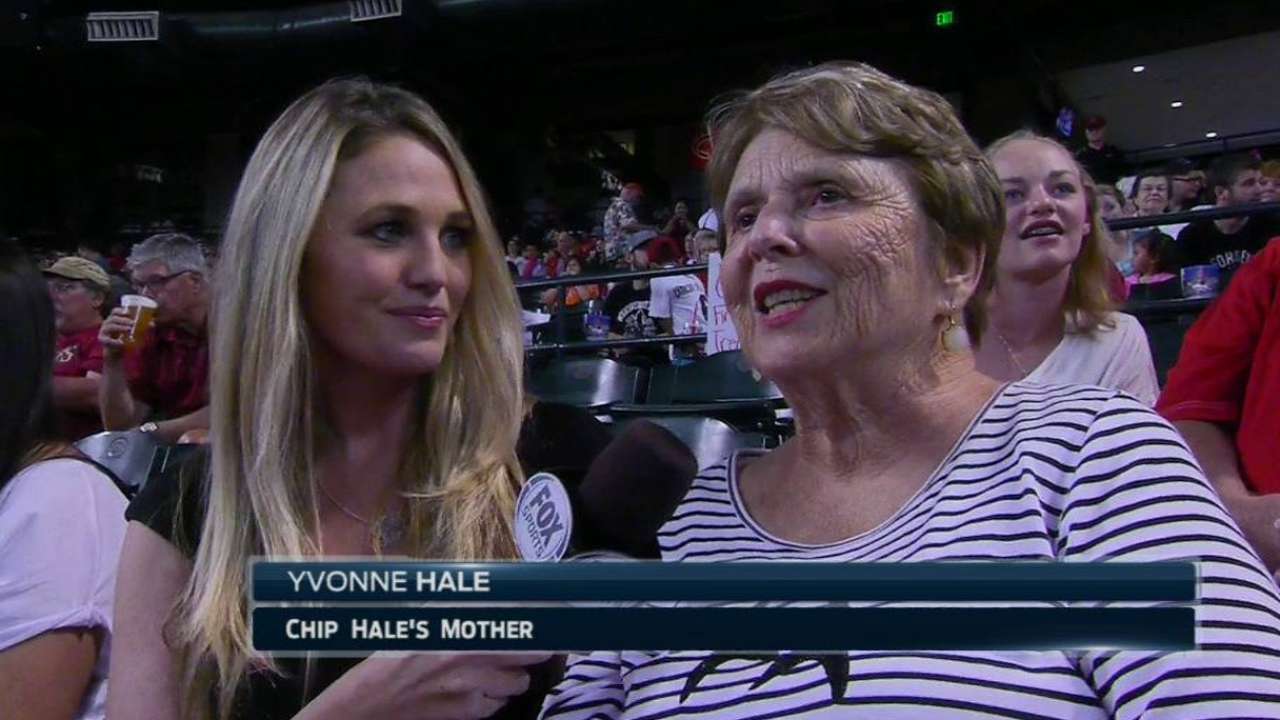 "We would listen to games together every night," Chip said. "I remember we always had the radio on, and I remember listening to [announcers] Lon Simmons and Bill King. Those were such good times."
Yvonne even influenced the way her son played the game.
"My mother had everything to do with me playing baseball and hitting left-handed," Chip said. "My grandfather, Ted Moniz, was a huge, huge baseball fan, and he used to sit with my mom and watch games and take her to games. He always talked about how being left-handed was an easier way to make it. So when I started to learn how to hit, she would always tell my dad to make me hit left-handed."
Yvonne attended all of Chip's Little League, high school and American Legion games, and even served as the team's scorekeeper in the early years.
But while Yvonne was supportive, she and Walter never pushed Chip to succeed, never demanded that he play, or gave him any indication that they would be disappointed if he struggled.
Success on the field, though, would not be a problem for Chip. He was an integral part of the 1986 University of Arizona team that won the College World Series, and he played seven seasons in the big leagues.
"I was the kind of mother who thought, 'Oh, if he could only get on the high school team, what a dream,'" Yvonne remembered. "And then, 'Oh, if he could only get on the college team.' So everything has been fulfilled beyond my expectations. I'm just so happy for him, because he really just lives for baseball."
Chip had to pay his dues to reach the big leagues, both as a player and a manager. He spent parts of 10 years in the Minors as a player, and then began his managing career at the Rookie level.
Along the way, there were times he was passed over for promotions, and other times when he interviewed for managerial jobs and did not get them.
"She's always been there to support me," Chip said. "She's probably written more letters and put them in her drawer and never sent them, [letters] about me not getting jobs. That was her catharsis, I think. She's why I'm here."
Steve Gilbert is a reporter for MLB.com. Read his blog, Inside the D-backs, and follow him on Twitter @SteveGilbertMLB. This story was not subject to the approval of Major League Baseball or its clubs.