Gennett comes off DL; Lucroy makes progress
Brewers second baseman has been sidelined since April 19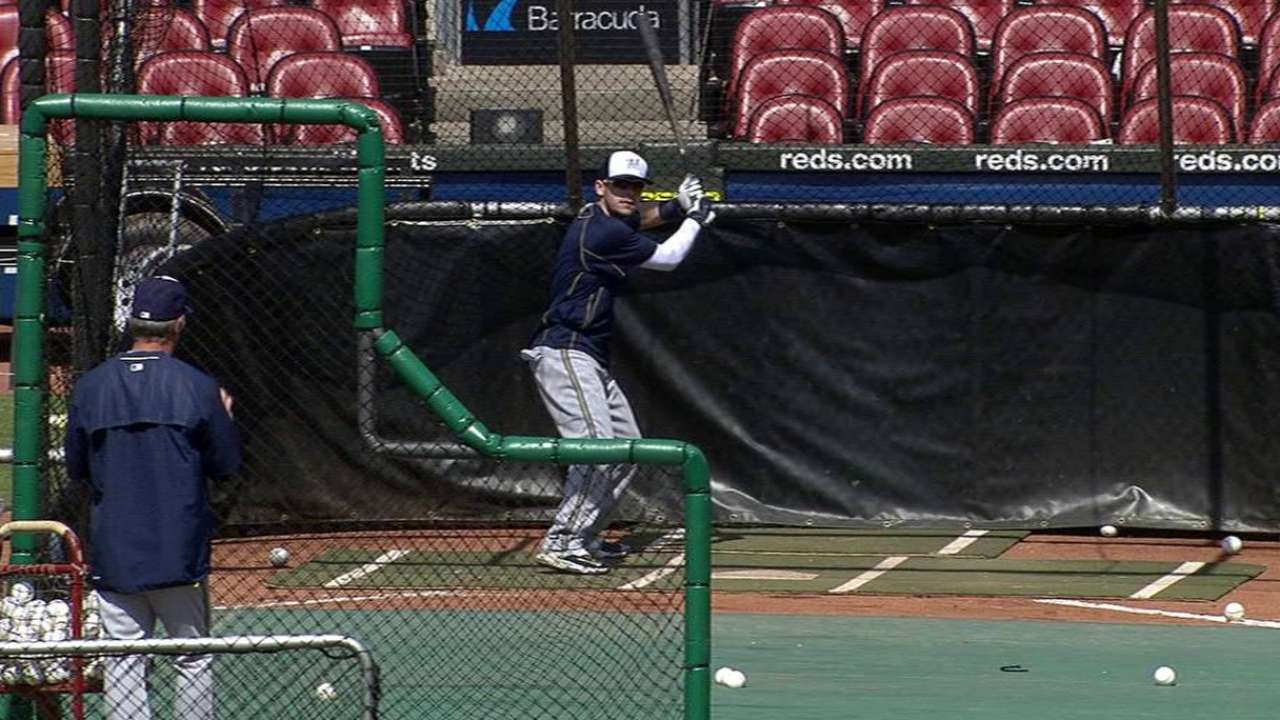 MILWAUKEE -- As second baseman Scooter Gennett was reinstated from the disabled list Tuesday to start against the Dodgers, catcher Jonathan Lucroy expressed hope that he won't be too far behind. Lucroy underwent an X-ray of his fractured left toe Monday, the result of which produced hope he'll fall on the shorter end of a projected four- to six-week absence.
"They see some signs of healing going on," said Lucroy, who is already more than two weeks into his recovery and has shed his walking boot. "I'm happy. I'm not slacking off on any of the rehab stuff, trying to stay in baseball shape."
Gennett got back into baseball shape from Friday to Monday with a rehab assignment at Class A Wisconsin, where he went 4-for-13 with a pair of doubles and a walk. The Brewers optioned outfielder Logan Schafer to Triple-A Colorado Springs to clear a spot for Gennett.
He had been sidelined since April 19, when Gennett suffered a nasty cut on top of his left hand while reaching for body wash in the showers at PNC Park. He no longer feels pain or stiffness in that hand.
"The first day, I was knocking off the cobwebs but the next three days felt good," Gennett said. "The last day, I hit pretty much every ball hard. I think that it was a good opportunity to work on some things during the game that maybe I wouldn't get to work on here, so who knows? Maybe I got even better in those few days down there."
Gennett was one of the Brewers hitters who struggled from the start of the season. He carried a .207/.303/.207 slash line into Tuesday night.
Last season, Gennett hit .289/.331/.449 in 137 games.
"We're starting to get back kind of what we thought we had at the beginning of the season," Brewers manager Craig Counsell said. "We're still missing one piece [Lucroy], but we're getting there.
"We'll try to get Scooter on track. He was a big part of this offense last year. It is just another piece. We need to get him playing to his capabilities."
Adam McCalvy is a reporter for MLB.com. Follow him on Twitter at @AdamMcCalvy. This story was not subject to the approval of Major League Baseball or its clubs.