Lat injury no problem for homer-hungry Teixeira
Tenth blast of season ties first baseman with Beltran on all-time switch-hitter list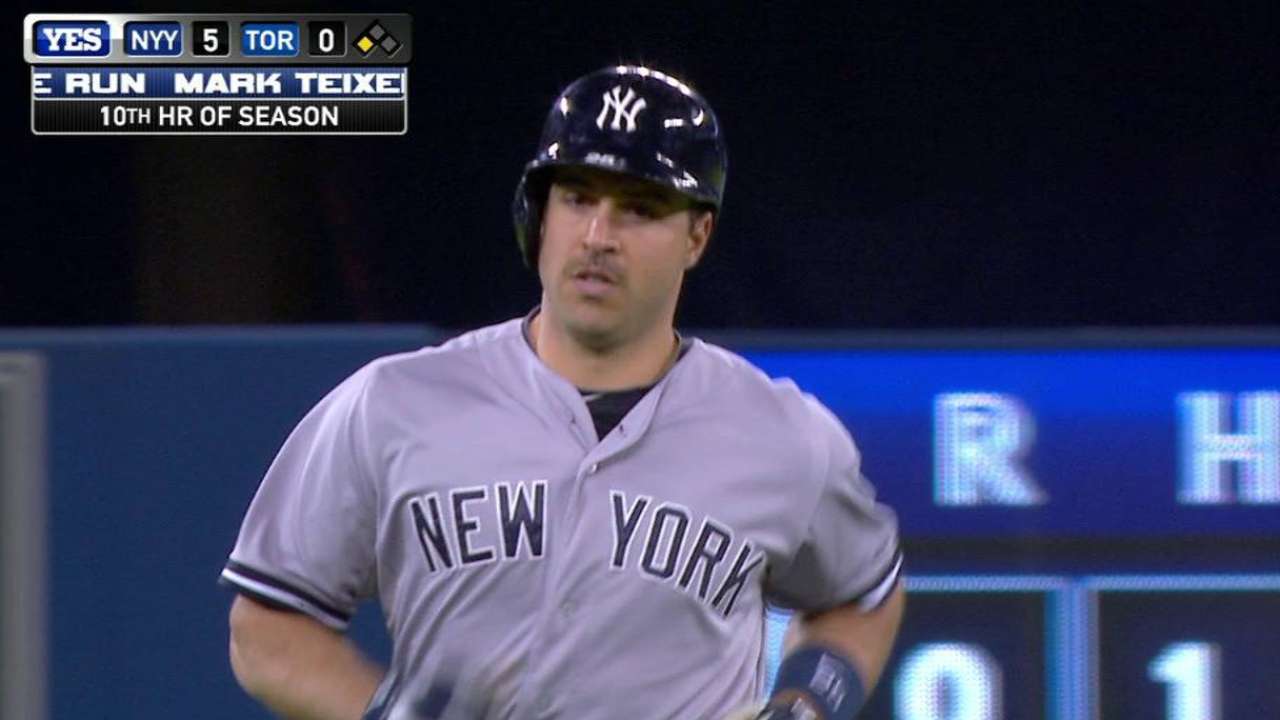 TORONTO -- If Mark Teixeira's nagging lat injury was bothering him, it sure didn't show in the fifth inning of the Yankees' 6-3 win over the Blue Jays on Tuesday.
Teixeira took the first pitch he saw from Blue Jays starter Marco Estrada and crushed it deep to right-center field for his 10th homer of the season and the 373rd of his career, moving him into a tie for fourth place with teammate Carlos Beltran on the list of home runs by a switch-hitter.
"It's weird," Teixeira said, when asked what it's like to tie a teammate on an all-time list. "It's great to be able to play with a guy like Carlos. I've played with Carlos and Chipper Jones and Lance Berkman, three of the best switch-hitters of our generation, so it's been a lot of fun playing with those guys, and hopefully we'll be battling on that list for the next couple of years. "
Teixeira sat out the series opener in order to rest his back injury, which has been affecting the left side of his body. The rest seemed to help as he belted his homer, chasing Estrada from the game while providing an offensive cushion that came in handy as the Blue Jays mounted a charge in the ninth.
Teixeira said he first experienced the ailment sometime before the Yankees' series against the Red Sox in Boston, and called it "just something you deal with."
"You deal with bumps and bruises all year, and yesterday [manager] Joe [Girardi] thought was a good day for me to take off and let it rest," Teixeira said. "It felt a little better today."
Jamie Ross is an associate reporter for MLB.com. This story was not subject to the approval of Major League Baseball or its clubs.