Mets wear NYPD caps to honor officer Moore
NEW YORK -- The Mets wore special NYPD caps during batting practice Tuesday in tribute to NYPD officer Brian Moore, who was shot and killed while on duty this past weekend in Queens.
It was a part of the ceremonies the Mets had in place to honor Moore before Tuesday's game against the Orioles. The flags in right field at Citi Field flew at half-mast, NYPD officers made up the color guard for the national anthem and a moment of silence was held before the game.
The Mets' organization has a history of strong support for the NYPD, so when it heard about the tragedy, it asked Major League Baseball for permission to wear the hats. New York also honored the families of two NYPD officers -- Wenjian Liu and Rafael Ramos -- in Spring Training and during its home opener.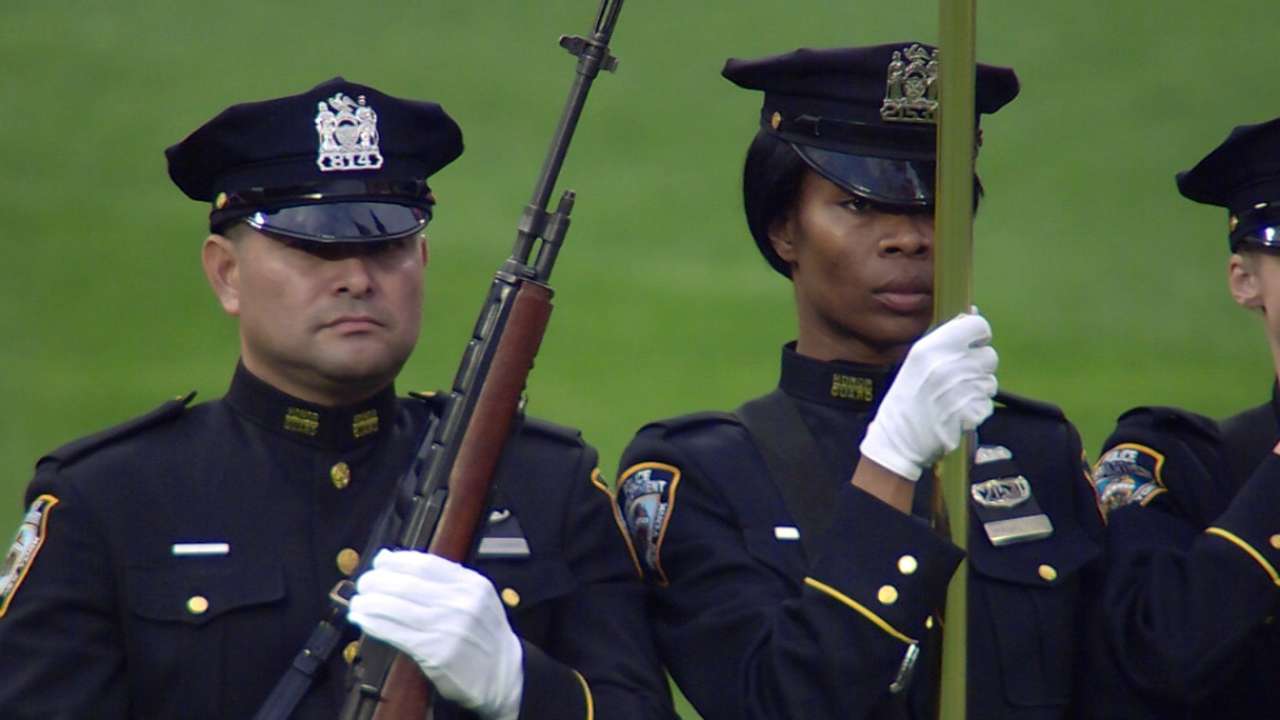 "Somehow, someplace along the line, hopefully we don't have to keep wearing these hats," Mets manager Terry Collins said. "We are honoring the true heroes. ... It's sad to think we have to wear them, but it's part of what we think is important."
Covering the neighboring 105th Precinct, Moore, 25, had made over 150 arrests since joining the department in July 2010. He was shot in the head Saturday, and initially officials hoped he would survive, but his family made the decision to take him off life support Monday. The Queens district attorney's office is seeking first-degree murder charges for the man accused of opening fire.
"We'll wear them with pride, and hopefully his family understands that its hard to understand what they're going through," Collins said. "But we're there for them."
Jamal Collier is a reporter for MLB.com. Follow him on Twitter at @jamalcollier. This story was not subject to the approval of Major League Baseball or its clubs.