Rosario to wait another day for first start
Twins want rookie outfielder to have time to get acclimated before starting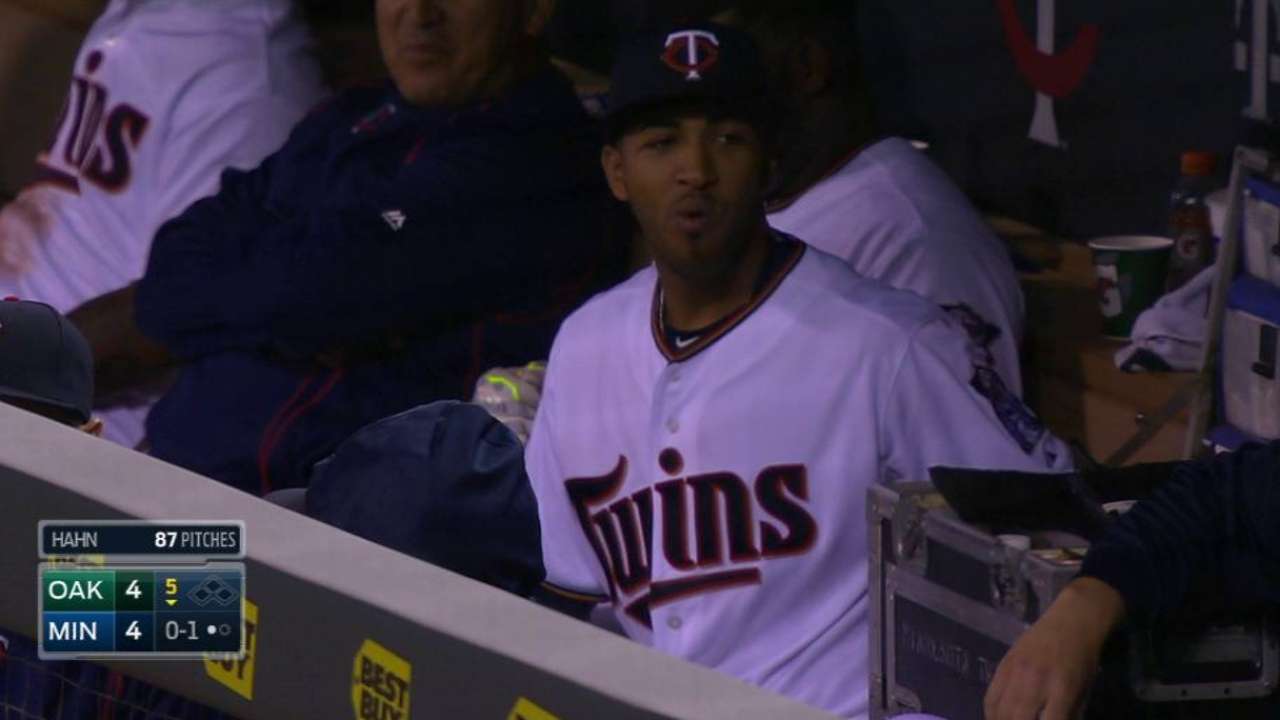 MINNEAPOLIS -- Outfielder Eddie Rosario, who was officially recalled from Triple-A Rochester on Monday, was held out of the lineup on Tuesday, so his first career Major League start will have to wait.
Rosario didn't arrive in Minneapolis until 8 p.m. CT on Monday, so Tuesday was the first time he was able to take part in pregame activities. Twins manager Paul Molitor said he wanted to give Rosario another day to get acclimated, and also said the lineup has been faring well, so he didn't want to tinker with it.
"A lot of times you'd like to get them out there as quick as you can, but I talked to my coaches last night and we decided to sleep on it and give it another day," Molitor said. "I like the way the lineup looked last night."
Rosario spent time before the game working with first-base coach Butch Davis to get a feel for the way the ball bounces off the outfield wall at Target Field. He said he was excited to get his first taste of the Majors, and that his parents, Eddie and Maria, flew in from Puerto Rico so they can see him make his debut.
"It's a dream," Rosario said through assistant hitting coach Rudy Hernandez, who served as his translator. "I'm very excited. At first I couldn't really believe it. It's my first time seeing all this. So I'm very excited."
Rosario, ranked as Minnesota's No. 9 prospect by MLB.com, was hitting .242/.280/.379 with three homers, a stolen base and 12 RBIs in 23 games at Triple-A. Molitor is familiar with him from his time as a roving Minor League instructor.
"He kind of has a quiet demeanor, but he's a guy who likes to be in the game and at the dish when the game is on the line," Molitor said. "The best at-bats I saw him in the Minor Leagues came late in games or against other top prospects. He finds ways to get things done. He just likes the moment."
The knock on Rosario is that he can lose that focus, but Molitor said Rosario has improved in that area. Rosario said he's worked hard to be more mature, as he was suspended for 50 games last year for a drug of abuse, later revealed as marijuana.
"I'm trying to take advantage of the second opportunity Minnesota gave me," Rosario said. "I'm trying to be more disciplined here. I talked to a lot of big leaguers and they told me discipline is the most important thing. If you can be disciplined here, you can be here for a long time. But you have to hit the ball too."
Rhett Bollinger is a reporter for MLB.com. Read his blog, Bollinger Beat, and follow him on Twitter @RhettBollinger. This story was not subject to the approval of Major League Baseball or its clubs.