Cozart out of lineup vs. Bucs with finger, wrist injuries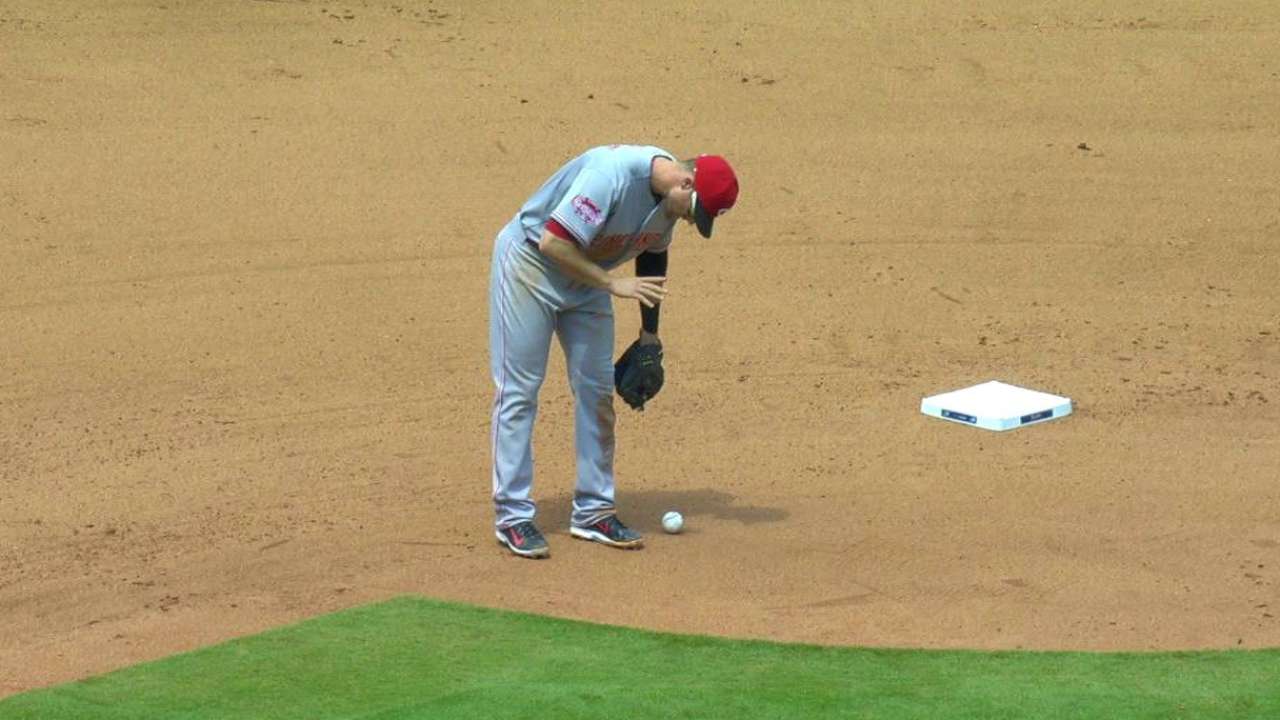 PITTSBURGH -- Reds shortstop Zack Cozart was expecting that Monday's off-day for the team would give him enough time to heal some wounds from Sunday's game at Atlanta. Unfortunately for Cozart, that was not the case on Tuesday, as he was out of the lineup for the 7-1 win over the Pirates.
Cozart was still bothered by a bruised right index finger and sore left wrist. During Sunday's 5-0 loss to the Braves, he was hit on the wrist by a pitch in the first inning and took a ground ball off his finger in the fourth that knocked him out of the game.
"It's not feeling great. My finger feels better but it's so bruised up, I can't really get a grip," Cozart said on Tuesday. "My wrist is barking a little more than I was expecting. I left the field Sunday and my wrist felt fine. I was just worried about my finger and the nail and everything. I woke up [Monday] and my wrist was pretty stiff. It's kind of the same today."
Cozart did not lose the nail from his finger, but said it looked nasty under the bandage. He also wore a compression bandage on his wrist. Both injuries received treatment and his status for a return is viewed as day-to-day.
"Hopefully if I can get the blood flowing or something, it will get better because I definitely want to be out there," Cozart said.
Kristopher Negron started at shortstop vs. Pittsburgh in the three-game series opener.
Mark Sheldon is a reporter for MLB.com. Follow him on Twitter @m_sheldon. This story was not subject to the approval of Major League Baseball or its clubs.