Hanley getting better, but return date unclear
Red Sox left fielder has improved range of motion in sprained left shoulder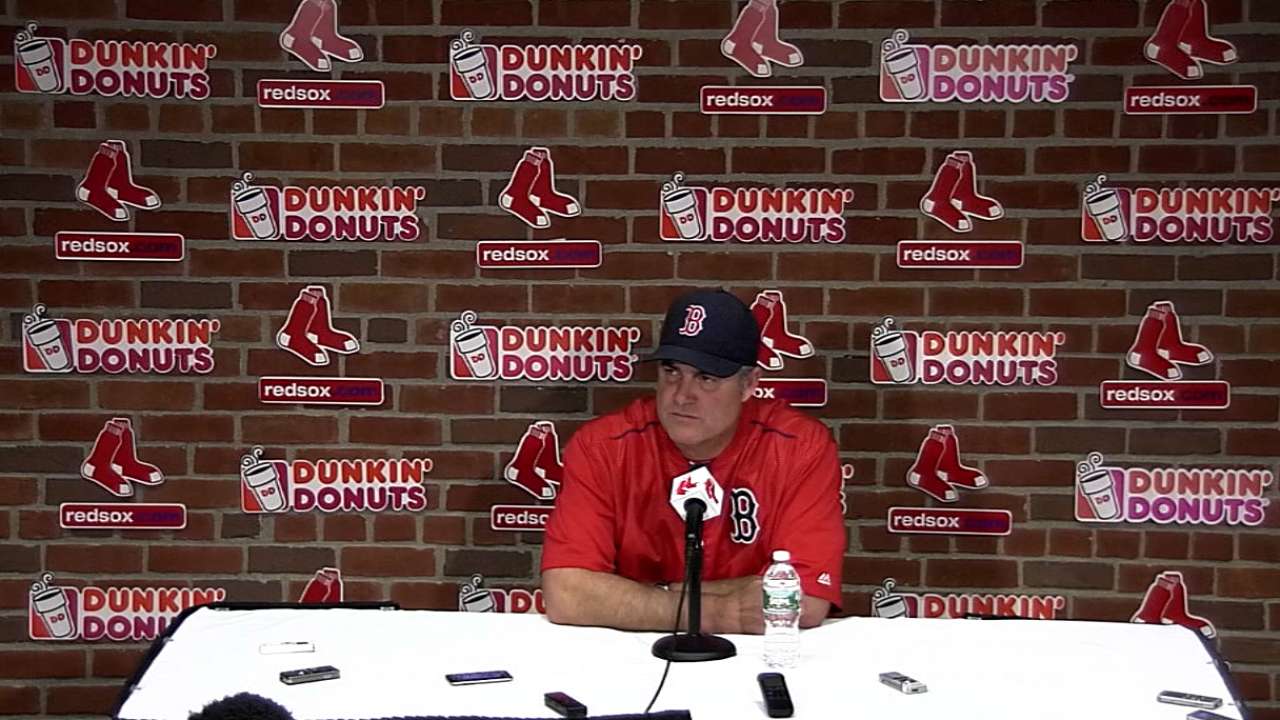 BOSTON -- Red Sox left fielder Hanley Ramirez reported to Fenway Park on Tuesday showing some improvement with the sprained left shoulder he suffered in Monday night's game against the Rays.
"He's dealing with a mild sprain of the left shoulder," said Red Sox manager John Farrell. "He's shown improvement in his range of motion today. We'll know more -- he's still day to day. And we should know more in the next two or three days on his status going forward. I think it was encouraging that he came in today with some increased mobility. Still, he's a little sore obviously. But maybe a little better than we anticipated coming in."
At the very least, Ramirez figures to be out until the start of the road trip Friday. And it's too early to rule out the slugger having to go on the disabled list, though the Red Sox certainly hope that can be avoided.
"Well we've got to get full range of motion first," Farrell said. "And that will probably let us know how long this will be before his return, so I don't want to get too far ahead of things yet. You know, if you look back to what we've done with other situations where it's not been a DL, you get to that midpoint, that seventh day, hopefully we would have much more clear information before the seven days arrive. That's usually been our marker when to put a guy on the DL or not."
Allen Craig, who replaced Ramirez in left Monday, made the start in left Tuesday.
"Yeah, any time you lose one player, it's going to provide opportunity," said Farrell. Any player that's been a starting player in the past, this is an opportunity to hopefully gain a little rhythm."
Ian Browne is a reporter for MLB.com. Read his blog, Brownie Points, and follow him on Twitter @IanMBrowne. This story was not subject to the approval of Major League Baseball or its clubs.