Solarte's versatility in high demand by Padres
Infielder called on to play multiple positions
Bill Center, longtime sportswriter for U-T San Diego, is an employee of the Padres.
SAN DIEGO -- Yangervis Solarte can't play everywhere at once, which creates a problem for the Padres. He is hitting .301 with four doubles, two home runs and 17 RBIs. Solarte has started games at every infield position except shortstop.
But right now, Solarte is needed at all three positions -- at once. He was at first base on Monday night in San Francisco because Yonder Alonso couldn't swing a bat a day after being hit in the upper back by a fastball thrown by Rockies right-hander Ken Roberts, who was making his Major League debut. Alonso is day to day.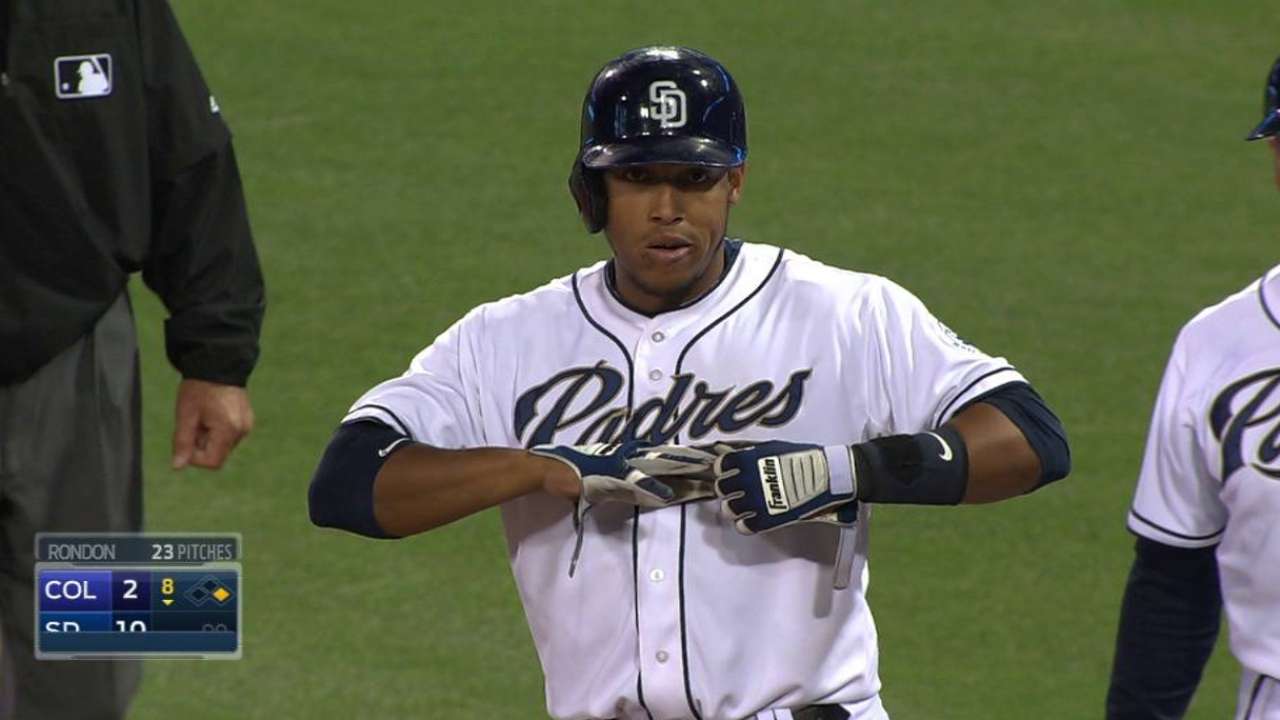 Solarte had become San Diego's regular second baseman against right-handed pitching because Jedd Gyorko was struggling mightily against right-handed pitchers (2-for-39) before hitting Sunday's tape-measure homer as a pinch-hitter against Colorado's Brooks Brown.
But now third baseman Will Middlebrooks is in as big a slump as Gyorko, who is hitting .150 after going 0-for-4 with two strikeouts on Monday.
Middlebrooks, who beat out Solarte for the starting job during Spring Training, is hitless in his last 17 at-bats, and is 2-for-29 since his eight-game hitting streak ended on April 22. He was 0-for-3 in San Francisco on Monday night, dropping his batting average to .198.
So, where does Solarte start?
The other possibility for help is the left-handed-hitting Cory Spangenberg, who is 6-for-19 with three doubles since April 22.
FROM THE SCOREBOOK
• Right-hander Tyson Ross reached the seventh inning Monday for the first time in six starts this season, pitching four scoreless innings after giving up two decisive runs in the third. After six starts this season, Ross is 1-3 with a 4.15 ERA. After six starts last season, Ross was 3-3 with a 3.68 ERA. But he was 3-1 last May, with a 2.08 ERA in six starts. Ross has given up 21 walks and three wild pitches in 34 2/3 innings this season, compared to 15 walks in 36 2/3 innings last season.
• Left fielder Justin Upton is 8-for-16 with two doubles, a homer, two steals, seven RBIs and five runs scored in a four-game hitting streak. He was 7-for-12 with the two doubles and homer and all seven RBIs in the three-game sweep of the Rockies.
• Right-handed reliever Dale Thayer has allowed one run on seven hits and four walks over 9 1/3 innings in his last eight relief appearances to lower his ERA to 1.50.
• The Padres' bullpen has given up two runs on five hits and two walks over its last 10 2/3 innings.