Graham's love for mom is conspicuous
Pitcher's stirrups help her watch on-field action
MINNEAPOLIS -- With his blue stirrups pulled up high to his knees, Twins reliever J.R. Graham is easy to spot on a baseball field.
But it's for a good reason, as Graham does it so that his mom, Julie, can recognize him on the field. She's legally blind -- diagnosed with a rare retina disorder called Best Disease -- so it's something Graham does to help her, and isn't for fashion reasons.
"It started out with white cleats, because other kids wore black cleats, but the stirrups didn't start until I was about 12 or 13, and ever since, it just kind of stuck," said Graham, a Rule 5 Draft pick. "It's to stand out, and there's a reason for it."
As Julie remembers it, Graham was a shortstop in Little League in their hometown of Livermore, Calif., when he first went to the white cleats so she could spot him on the field. He moved on to the stirrups shortly thereafter, and she's appreciative he has her in mind when he does it.
"I just remember telling him, 'I love your white cleats, because then I know automatically it's you,'" Julie said. "It helped me cue in and see when he was running or if he hit the ball. And I guess that cued in for him, because ever since then, he's tried to do something different to make him stand out so I could spot him."
Julie's vision first starting deteriorating at age 8, and she was diagnosed with the rare retina disease just two years later. Her central vision issue impairs her ability to read and to make out objects at a distance.
But with the combination of Graham's stirrups and her wide-angle binoculars, she can watch her son pitch from the stands -- even if she sometimes gets some strange looks for using binoculars so close to the field.
"When we sit behind home plate, instead of binoculars that cue in on one thing, I can see where the ball goes or fielders converging on the ball," Julie said. "So the binoculars help immensely. Otherwise, I wouldn't really be able to tell what's going on."
The Grahams -- Julie and her husband, Brian -- were able to make the trek from Northern California to Detroit for Opening Day in early April once they found out J.R. made Minnesota's roster. They also went to Minneapolis a week later to watch the home opener at Target Field.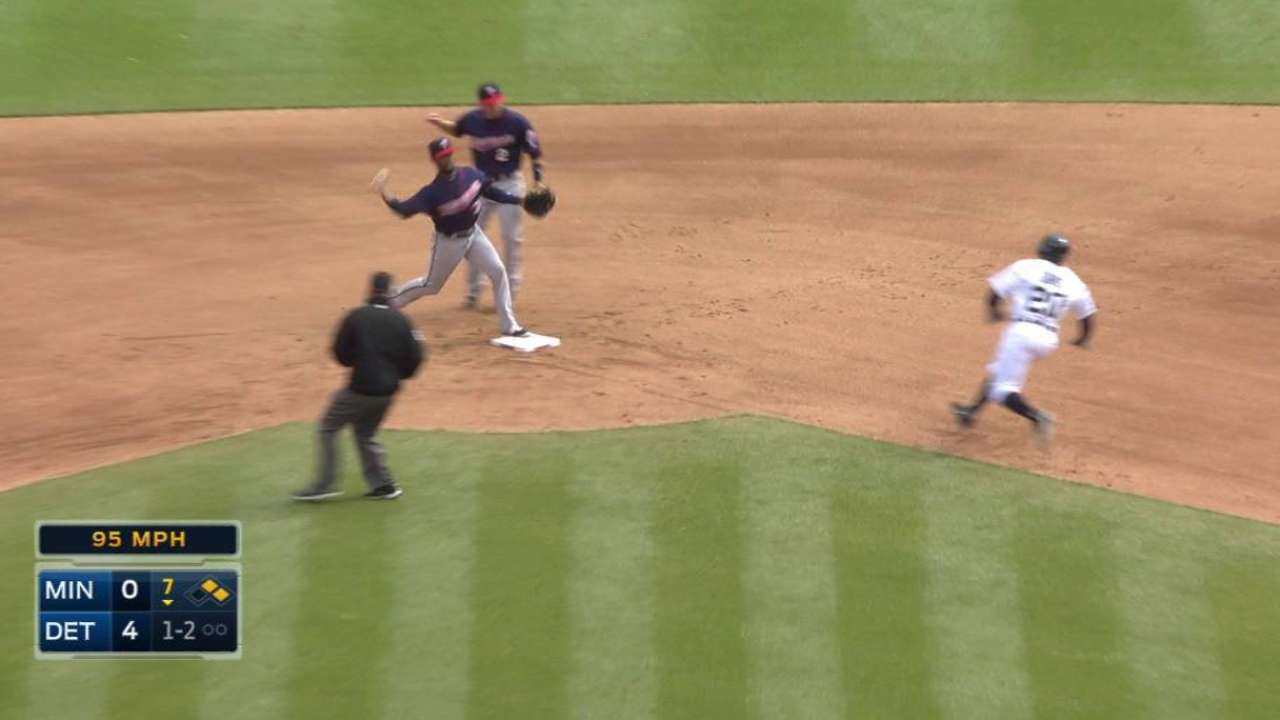 While J.R. stood on the foul line during introductions, it was a realization of his goal of reaching the Majors, and of course, it was easy for his mom to recognize him as the lone Twins player wearing stirrups.
"Oh my gosh, it was amazing," Julie said. "We went to Detroit first, but both [days] were very emotional. The whole week leading up to it was so emotional. It's hard to put into words. You see all that hard work and dedication and his dream come true. The whole journey for us has been amazing."
Graham credits his parents for helping him reach the Majors. After starring at Livermore High School, he went to Santa Clara University, initially trying his hand at being a position player, before converting fully to pitching.
The move worked out, as Graham was drafted by the Braves in the fourth round of the 2011 First-Year Player Draft and quickly became a top prospect as a starting pitcher. He was one of the highest-rated prospects in baseball in 2013, but a strain in his right shoulder limited him to just 35 2/3 innings that season. Graham moved to relief in '14, and showed he was healthy, but Atlanta opted not to add him to the 40-man roster.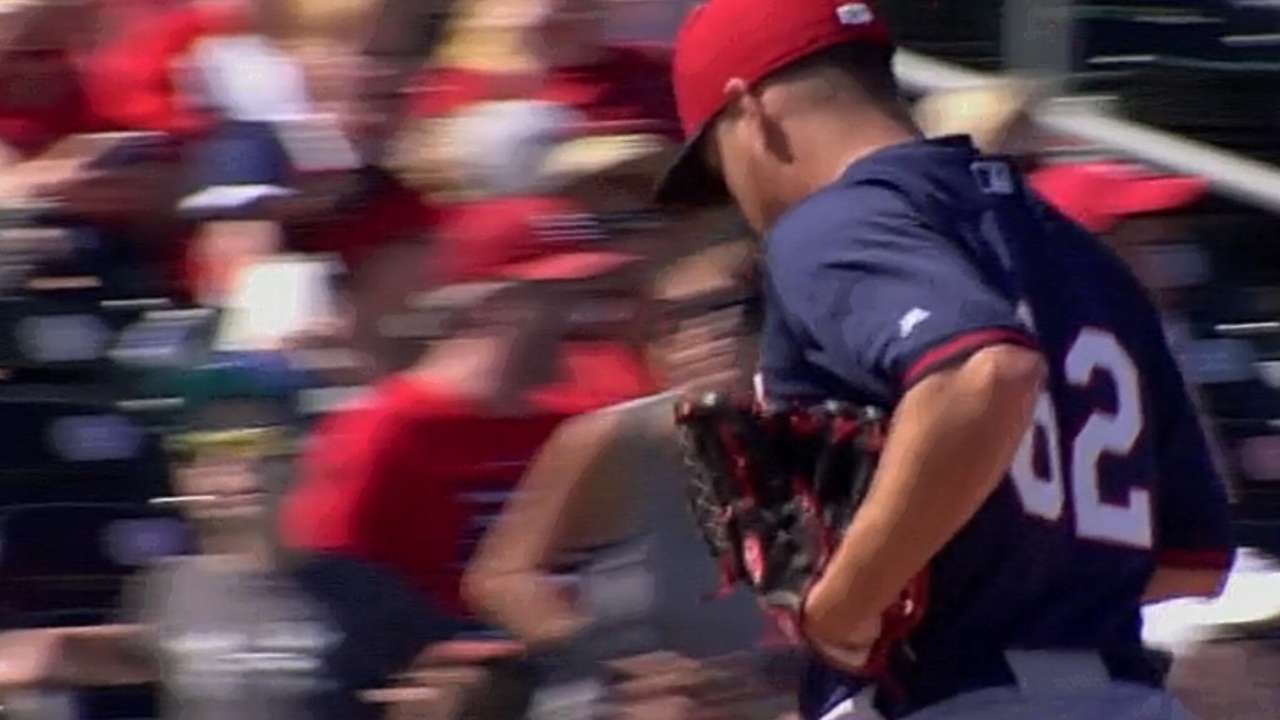 It was a shock for Graham, ranked No. 16 among Minnesota's prospects by MLB.com, but he was selected by the Twins in the Rule 5 Draft, and with a strong showing in Spring Training, he made the team and will be up with the club all season. If he's not, he has to be offered back to the Braves.
"Getting picked in the Rule 5 was just a relief mentally, because it was, 'Somebody still believes in me like I believe in myself,'" Julie said. "Because he thought he was healthy and could help a team. So there was some relief and excitement, and that carried over into spring."
Graham's relief appearances have been sporadic early this season, but the 25-year-old is still regarded as an important part of the future of Minnesota's bullpen. The hard thrower made the jump straight from Double-A to the Majors, and said he'll always remember having his family there for his debut on Opening Day.
"It was just everything I worked for growing up and the realization of the dream coming true," Graham said. "To have my family there was pretty special, because they sacrificed a lot for me. So to have them there was a very special moment."
But as Julie puts it, it was never viewed as a sacrifice by her, as she's enjoyed the ride on her son's path to the Majors, and is excited for what the future holds.
"I know people say we made a lot of sacrifices, but we don't look at it that way," Julie said. "We wouldn't change it. It was a lot of fun for us. It's just been an amazing journey every step of the way."
Rhett Bollinger is a reporter for MLB.com. Read his blog, Bollinger Beat, and follow him on Twitter @RhettBollinger. This story was not subject to the approval of Major League Baseball or its clubs.