Royals Minor League report: May 4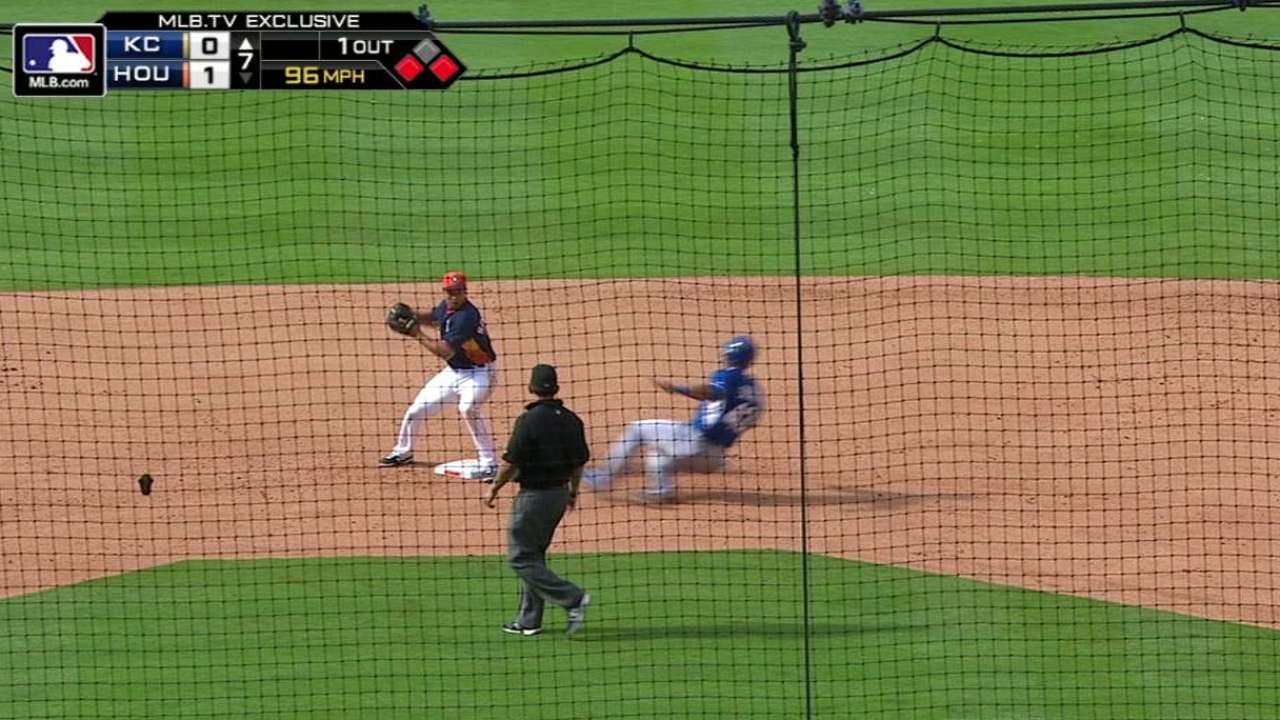 Omaha 8, Round Rock 3
WP: Christian Binford (1-3)
HR: Matt Fields (2)
All nine starters had at least one hit as Omaha won the opener of an eight-game homestand. Whit Merrifield's single in the first moved his hitting streak to 18 games, which is the longest this year in professional baseball. Merrifield stole two bases and scored twice. He is batting .370 during the streak (27-for-73), with 17 runs scored. Matt Fields belted a two-run homer and Cheslor Cuthbert drove in a pair. Christian Binford (5.0 IP+2, 8 H, 2 ER, 0 BB, 2 SO, 1 HR) posted his first Triple-A win.
NW Arkansas Naturals (15-9)
NW Arkansas 7, Tulsa 2
WP: Andy Ferguson (3-0)
HR: Anderson De La Rosa (1), Dusty Coleman (1), Mike Bianucci (5), Balbino Fuenmayor (4)
The Naturals slugged four home runs en route to a franchise-best ninth straight win. Anderson De La Rosa's two-run homer in the fifth gave the Naturals a 2-1 lead. Dusty Coleman, Mike Bianucci and Balbino Fuenmayor added solo homers. Jorge Bonifacio recorded three hits and an RBI. Andy Ferguson (6.0 IP, 3 H, 1 ER, 1 BB, 9 SO, 1 HR) is 3-0 with a 0.69 ERA and 34 K's in 26.0 innings.
Wilmington Blue Rocks (13-11)
Wilmington 4, Winston-Salem 3
WP: Eric Skoglund (2-1)
SV: Robinson Yambati (6)
HR: Zane Evans (4), Daniel Rockett (1)
Wilmington held off a ninth-inning rally to finish 3-1 vs. Winston-Salem. Every Wilmington starter recorded at least one hit, with Zane Evans and Daniel Rockett hitting solo homers. 2014 third-rounder Eric Skoglund scattered two runs and seven hits over 6.0 innings, striking out three without issuing a walk. Andrew Edwards followed with 2.0 perfect innings.
Lexington Legends (10-15)
Lexington 11, Asheville 2
WP: Emilio Ogando (1-1)
HR: Ryan O'Hearn (5), Elier Hernandez (3), Luis Villegas (2)
Lexington scored nine times over the final two frames, finishing 3-1 at Asheville. Eight players had at least one hit and one run. Humberto Arteaga was 4-for-5 plus two RBI and two runs. Emilio Ogando (3.0 IP, 0 ER) won in relief of Nik Stephenson (6.0 IP, 6 H, 2 ER, 2 BB, 4 SO).