Rondon to continue rehab process in Detroit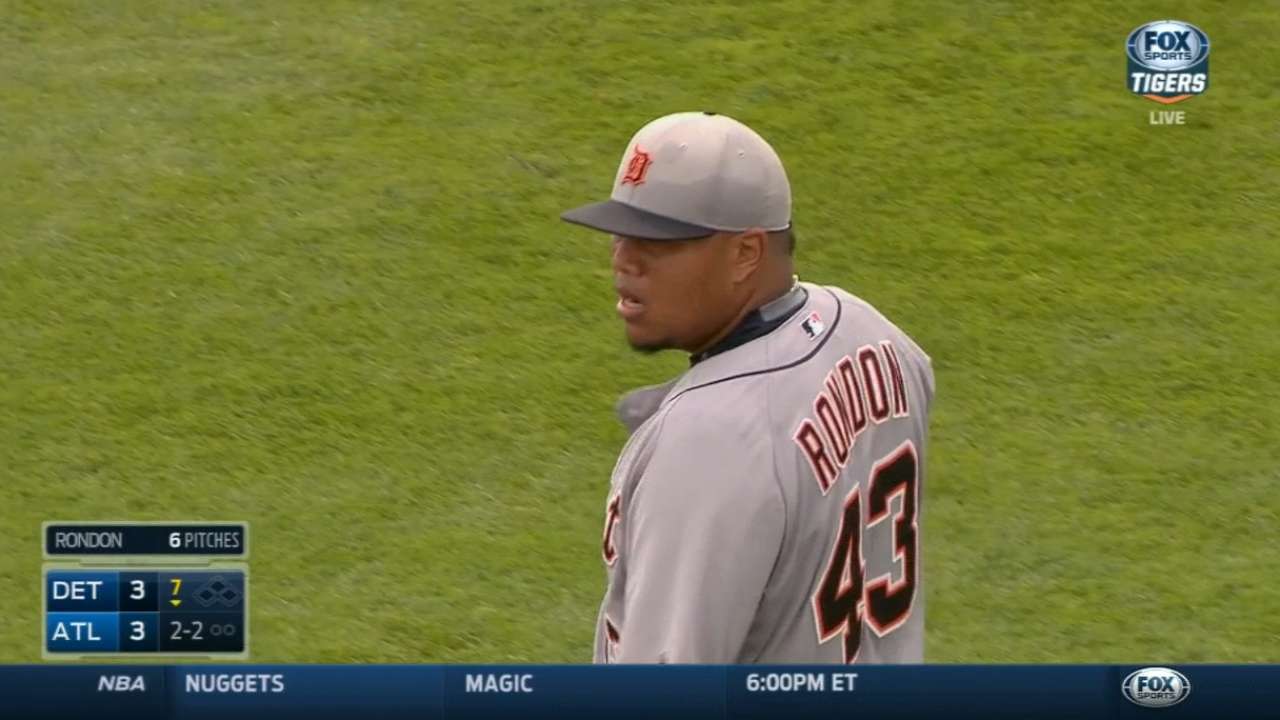 CHICAGO -- Bruce Rondon will rejoin the Tigers in Detroit when the team returns to Comerica Park on Friday, but he will not be returning to pitch yet. If anything, his return is an effort to get him headed down that path again under the watch of the big league staff.
"We're bringing him back to Detroit to kind of get him underneath our group," head athletic trainer Kevin Rand said.
Rondon, who has been on the 15-day disabled list since Opening Day with biceps tendinitis, threw to hitters last Thursday at the Tigers' Spring Training complex, but he experienced what Rand called "a little bit of soreness" afterward.
"We sent out his diagnostics to be reviewed, which came back with exactly the same diagnosis we've had," Rand said.
Rondon will throw again Friday once he arrives, so that the Tigers' staff can evaluate where he's at in his rehab process.
"We're just kind of in a holding pattern 'till we bring him up," Rand said. "We'll get a chance to assess him, and then move him forward from there."
Rand didn't call it a setback. At the same time, he said, "I wouldn't necessarily call it a step forward. It's because the weather has warmed up now, we feel it's better that he's up here with us, rehabbing with us at this point."
Rondon's injury was thought to be minor when it happened in the final days of camp, amidst what was expected to be his final hurdle toward making the Opening Day roster following Tommy John surgery last year. Rondon was scheduled to pitch back-to-back days when the injury popped up. Last week was the first time he has faced hitters since getting hurt.
The Tigers have tried to avoid putting timetables on injuries, but Rand acknowledged some frustration that Rondon's rehab has gone this slowly. At the same time, he said Rondon's previous injury remains a factor.
"I had hoped that he'd be through the program by now and be either pitching or out on a rehab assignment," Rand said. "It hasn't happened yet. But it's just taking a little longer, that's all. And of course, we're going to be a little bit more cautious with him because of the history he's gone through.
"He had a UCL construction done last March, so he's still coming through that. He's had no issues with that, and we want to make sure that he doesn't have any issues with that, so we're taking a little bit more cautious approach with him. It's been a little bit slower process with him, mainly because he's still trying to protect that elbow."
Rondon's return took on more urgency with Joe Nathan's Tommy John surgery. Joakim Soria has solidified the closer role in Nathan's place, but the move thinned out Detroit's pitching ranks behind him. Rondon's return would go a long way toward addressing that.
Rondon's move seemingly reflects some urgency.
"He's coming back to prepare himself to pitch," Rand said.
Jason Beck is a reporter for MLB.com. Read Beck's Blog and follow him on Twitter @beckjason. This story was not subject to the approval of Major League Baseball or its clubs.