Avila's hard work in BP pays off with homer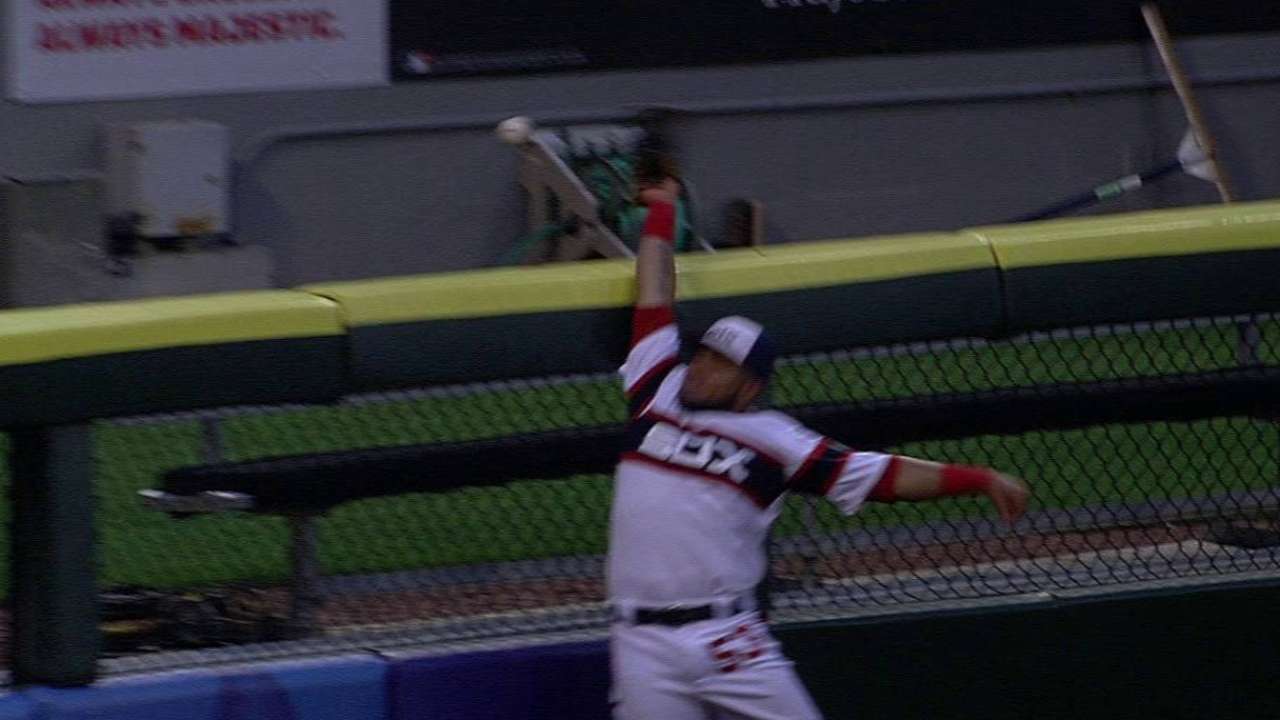 CHICAGO -- Alex Avila bristled at the question whether he thought his opposite-field homer Tuesday was headed out in the Tigers' 5-2 loss to the White Sox.
"I don't know why everybody always asks that about home runs," he said. "I hit it good, but you never know."
Especially when the left fielder has it in his glove.
For a split-second, Melky Cabrera looked like he had robbed Avila of his second home run of the season. Cabrera had made the leap to get his glove over the fence and in the path of Avila's loft near the left-field corner. Then the ball popped out, landing in the White Sox bullpen.
It's the same result Avila would've gotten had Cabrera not touched the ball at all. It was also one of two hits Avila had on the night, adding a seventh-inning single up the middle. Combined with Sunday's two-hit, three-RBI performance in Kansas City, it marked Avila's first back-to-back multihit games since last August in Pittsburgh.
"The last few games he's looked good," manager Brad Ausmus said. "He looked good in batting practice the last couple games, but he still won't play tomorrow."
That will be James McCann's game with lefty Chris Sale on the mound, meaning Avila will sit on his .214 average for another night.
"I feel good," Avila said. "It's easy to look at averages, but the difference between hitting .200 and .250, .260 at this point is like two hits, like the line drive that I had caught today."
That was a line drive toward right field that third baseman Conor Gillaspie, shifted in that area, caught right at him.
"I'm not going to be a guy that probably hits .300 because of that shift," Avila said. "It's hard to get a hit up the middle and to the right field. It's not like I can hit everything to left field."
With that mentality, Avila is trying to make solid contact and let the rest take care of itself. He's also open to bunting against the shift, like Mike Moustakas and Eric Hosmer did against the Tigers last weekend, but only in certain situations.
"I'll bunt for sure," Avila said, "but I'm not going to bunt when there's two outs or when they're playing me on the grass. That's what teams will do. They'll play a guy on the grass until there's a couple of strikes. They'll take that chance and leave that section at shortstop open to play against the bunt, and try to get you to hit it where there's three guys on the right side of the field."
Jason Beck is a reporter for MLB.com. Read Beck's Blog and follow him on Twitter @beckjason. This story was not subject to the approval of Major League Baseball or its clubs.