Shark buckles down, tames first-place Tigers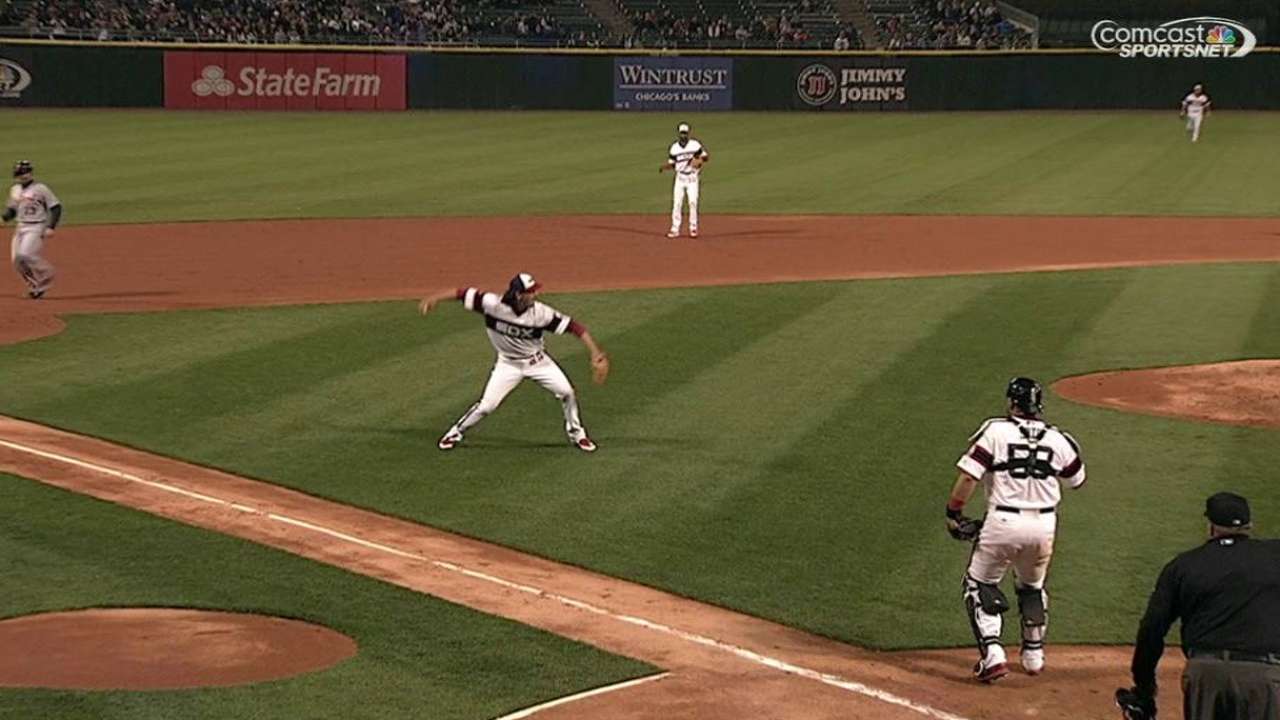 CHICAGO -- The White Sox five-game losing streak came to an end Tuesday night at U.S. Cellular Field by virtue of a 5-2 victory over the Tigers. The South Siders improved to 7-3 at home, to go with their 2-11 road record.
Jeff Samardzija (2-2) earned the victory, allowing two runs on seven hits over seven innings, while striking out seven and walking one. Samardzija's night came to an end with runners on first and second in the seventh, when he took Ian Kinsler's line drive up the middle off his right arm and still recovered to nail him at first. Zach Duke and David Robertson completed the victory.
"A good night for us offensively and pitching," White Sox manager Robin Ventura said.
Detroit scored in the first inning and added an Alex Avila home run in the second off Samardzija, a long drive to left that hit in Melky Cabrera's glove, bounced out and flew over the left-field fence. But it wasn't enough to support starter Shane Greene, who lasted just 2 2/3 innings. Greene yielded five runs on five hits and four walks, throwing just 26 of 57 pitches for strikes.
"Maybe I got away from myself a little bit and started overthrowing," Greene said. "I've just got to keep working."
MOMENTS THAT MATTERED
K Force: Miguel Cabrera represented the tying run in the fifth inning after two-out singles from Anthony Gose and Kinsler, but Samardzija needed just three pitches to dispatch quite possibly the game's best hitter, fanning Cabrera on a 94-mph fastball.
"He didn't do anything with that fastball previously in the game, so I just kind of thought if he's going to do something, make him hit the ball the other way later in the game," said White Sox catcher Geovany Soto of the Cabrera approach. "That's how it went. Jeff was hitting that corner all day, so I went there."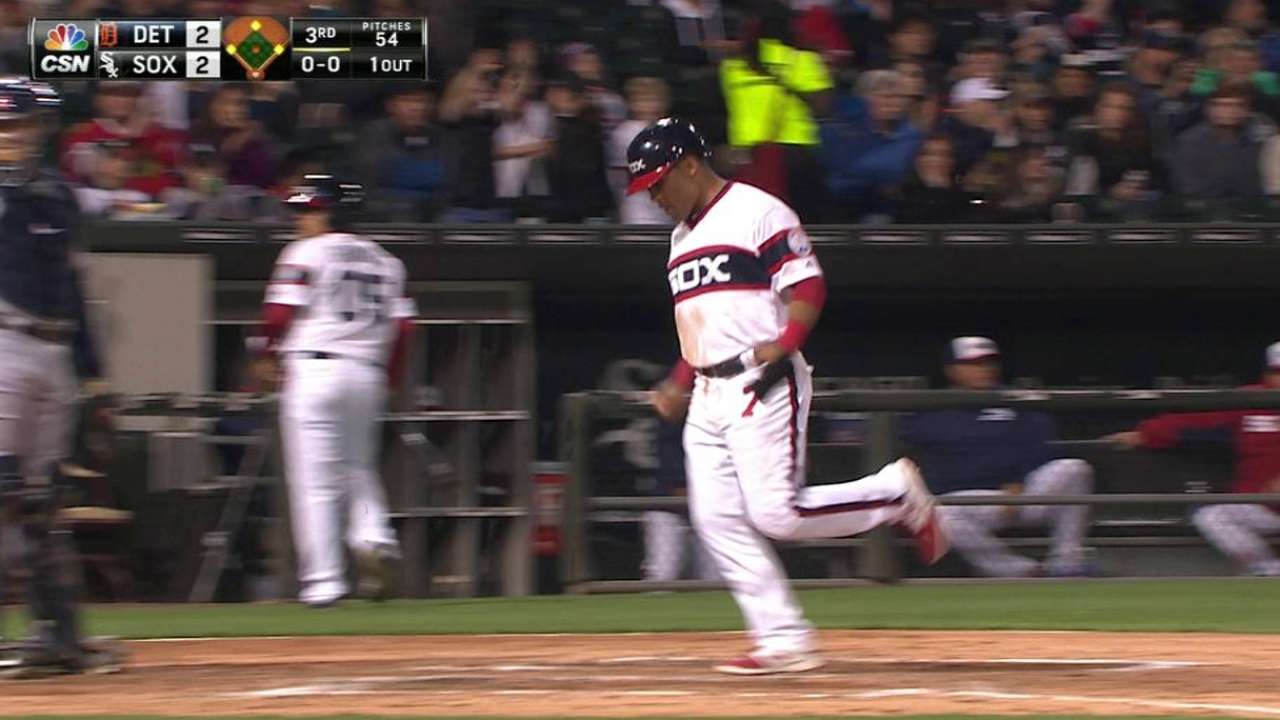 Greene but inefficient: Greene had survived four walks in his last meeting against the White Sox to toss seven innings of one-run ball. He walked four more in Tuesday's rematch, including three in a row in the third inning to drive in one run and load the bases for a four-run inning. More >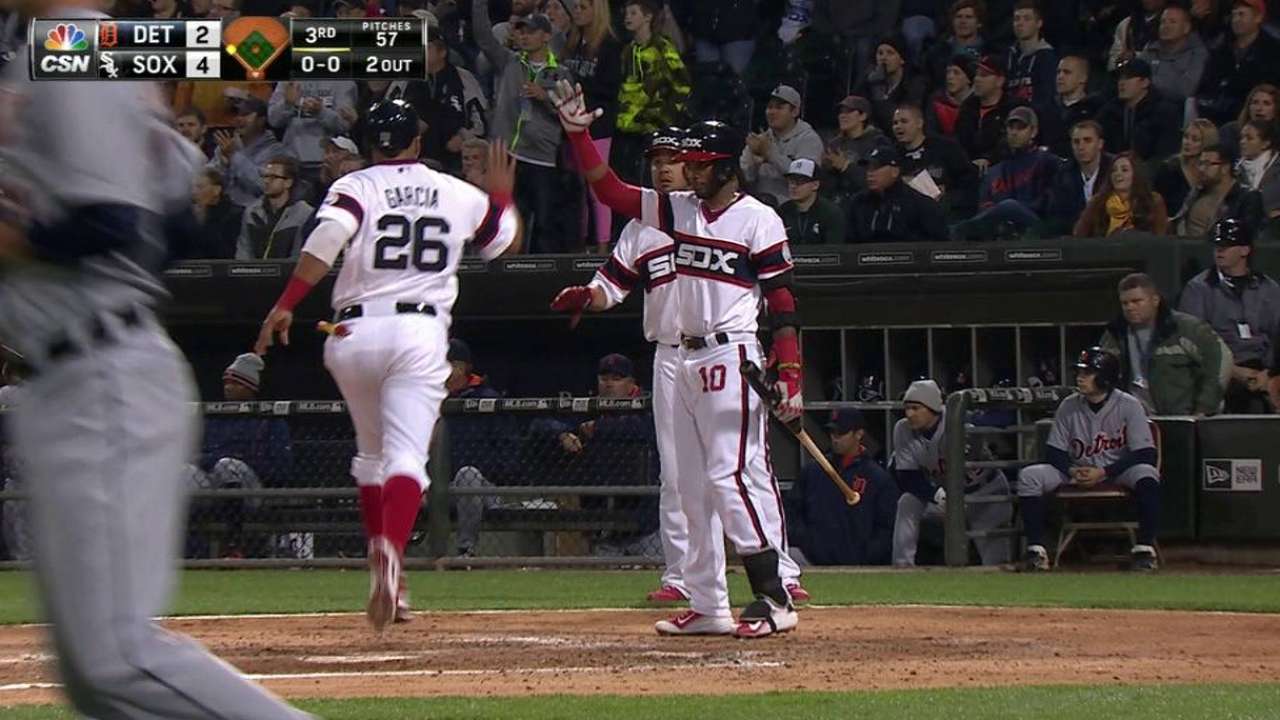 Patience is a (new) virtue: The White Sox, who entered the night ranked 13th in the American League in on-base percentage, took what Greene gave them. And what he gave them was three straight walks in the third inning to force home a run.
"We worked the count and didn't chase out of the zone, and that's half the battle up here," said White Sox third baseman Conor Gillaspie, who tripled home two runs in the four-run third spurred on by those free passes. "It's great to get a team win like that. It feels good."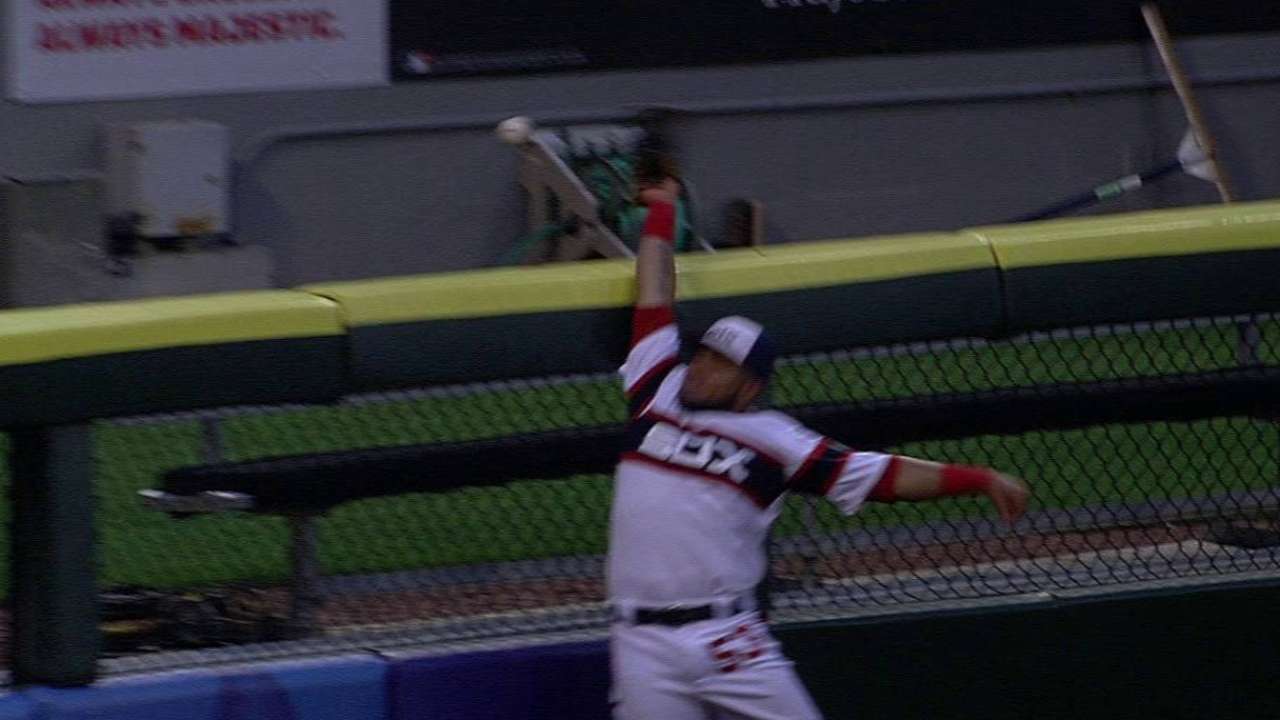 Avila strikes again: A game after Avila hit two singles and drove in three runs in Kansas City, he hit an opposite-field loft that Cabrera nearly kept in the park with a highlight reach over the left-field fence. Instead, the ball bounced out of Cabrera's glove and into the bullpen for Avila's second home run of the year. Avila added a seventh-inning single for his first back-to-back multihit games since last Aug. 11-12 at Pittsburgh. More >
QUOTABLE
"Obviously we're not going to hide behind anything. That was a terrible road trip for us, and we weren't happy with the way it went. But it wasn't the most normal road trip in the world with what happened in Baltimore and everything. So we just needed to regroup and understand that we have a great team here and we just need to go out and do what we do." -- Samardzija, on the White Sox ending their five-game losing streak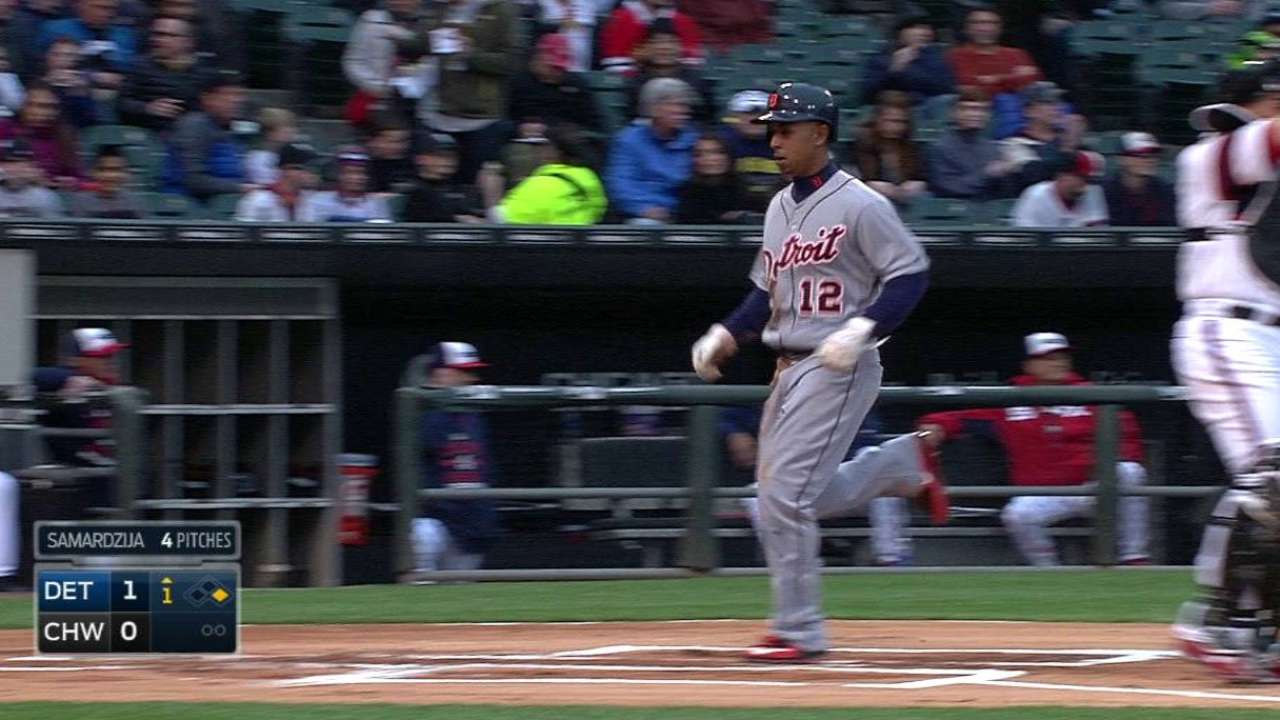 THAT ESCALATED QUICKLY
It took Detroit only four pitches to grab the lead off Samardzija in the series opener. Gose singled on the first pitch, swiped second and moved to third on the second offering and scored two pitches later on Kinsler's single to center. Samardzija escaped the inning on pitch No. 8, when Cabrera grounded into a double play.
"With all things said, the way it went, I was happy to get out of those first couple of innings with just one," Samardzija said. "For me, that's it. If I can escape the inning with just a single digit, that's fine. Just avoid those crooked numbers."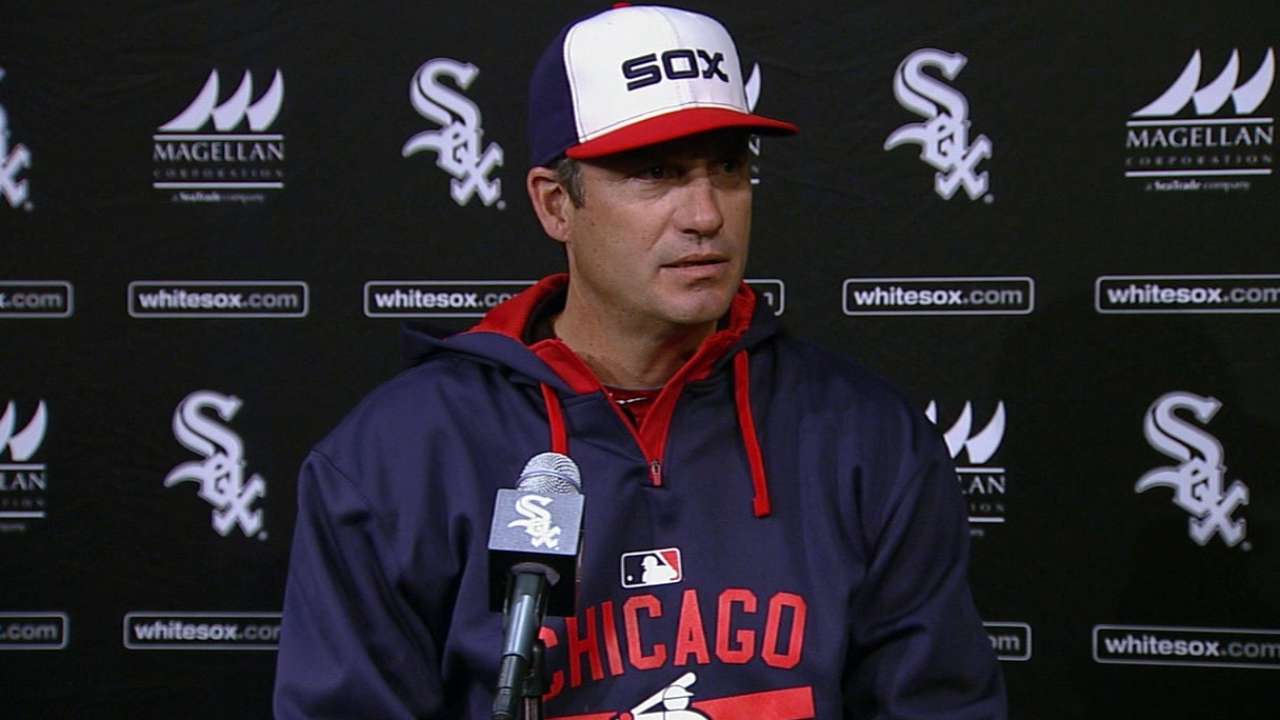 STRANGE NUMBERS
The three errors committed by the White Sox on Tuesday give them 20 for the year. They have 16 home runs (12) and stolen bases (four) combined. They have not homered since Jose Abreu went deep against Corey Kluber in the first inning on April 22.
"No team stays that consistent if you can't clean up your defense," Ventura said. "Good pitching will help you out with it, but good pitching becomes great pitching when you can play defense."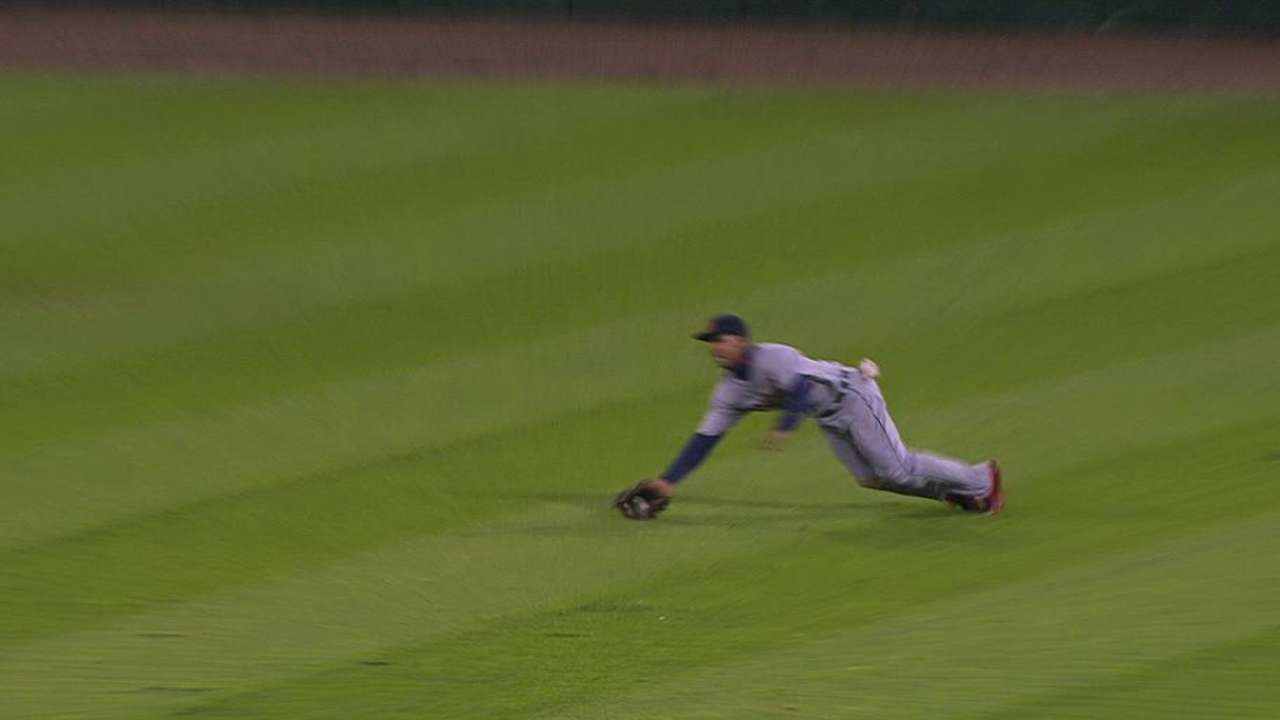 REPLAY REVIEW
What was initially ruled a sixth-inning single for Soto became a highlight catch for Gose upon replay challenge by Tigers manager Brad Ausmus. Second-base umpire Manny Gonzalez initially ruled that Gose trapped the sinking liner, but replays showed the ball bounced up off the webbing of his glove and in, not off the grass. It marked the third call overturned in five challenges this season for Ausmus.
WHAT'S NEXT
Tigers: After missing out on the White Sox during their three-game series in Detroit last month, Alfredo Simon gets them Wednesday night at 8:10 ET in the middle game of the three-game series, trying to bounce back after giving up six runs over 4 1/3 innings at Kansas City for his first loss of the season.
White Sox: After allowing a career-high nine runs over three innings, including seven in one inning, ace Chris Sale will try to bounce back against the first-place Tigers.
Watch every out-of-market regular-season game live on MLB.TV.
Scott Merkin is a reporter for MLB.com. Read his blog, Merk's Works, and follow him on Twitter @scottmerkin. Jason Beck is a reporter for MLB.com. Read Beck's Blog and follow him on Twitter @beckjason. This story was not subject to the approval of Major League Baseball or its clubs.