Giavotellas shorten distance with baseball
Home run last year on Mother's Day a perfect gift
Johnny Giavotella brought tears to Cindy's eyes last Mother's Day. Then with the Royals, the Angels' second baseman was called up for a three-game series in Seattle, won Sunday's finale with a three-run homer and wished his mom a happy Mother's Day on the postgame show.
That's great and all, but now Cindy is going to expect another one this year.
"No, no, of course not," she said, laughing. "I'm just happy with a good single up the middle."
Cindy has enjoyed a lot of baseball from her New Orleans living room this last month, while watching her diminutive 27-year-old son establish himself as an everyday player in the Major Leagues. Giavotella moved from Kansas City to Southern California via trade last offseason, won the everyday job in Spring Training and finished the first four weeks batting .288 with a .346 on-base percentage and 10 RBIs.
"He finally got his shot to prove himself," Cindy said in a phone conversation. "So far, he's done that and much more."
Giavotella grew up in the suburbs of New Orleans, with a sister, Gina, three years his junior. Cindy taught computers at a local elementary school, while Giavotella's father, Johnny Sr., sold roofing and siding.
"They always raised me that nothing in life is given to you," Giavotella said. "You have to go out and earn it; go out and work hard to get what you want."
Nobody in Giavotella's family ever really made it in baseball, but he got his love for sports -- and an unrelenting work ethic -- from his father. Giavotella played almost every sport growing up, then starred at football and baseball in high school and stuck to baseball at the University of New Orleans, ultimately getting picked by the Royals in the second round of the 2008 First-Year Player Draft.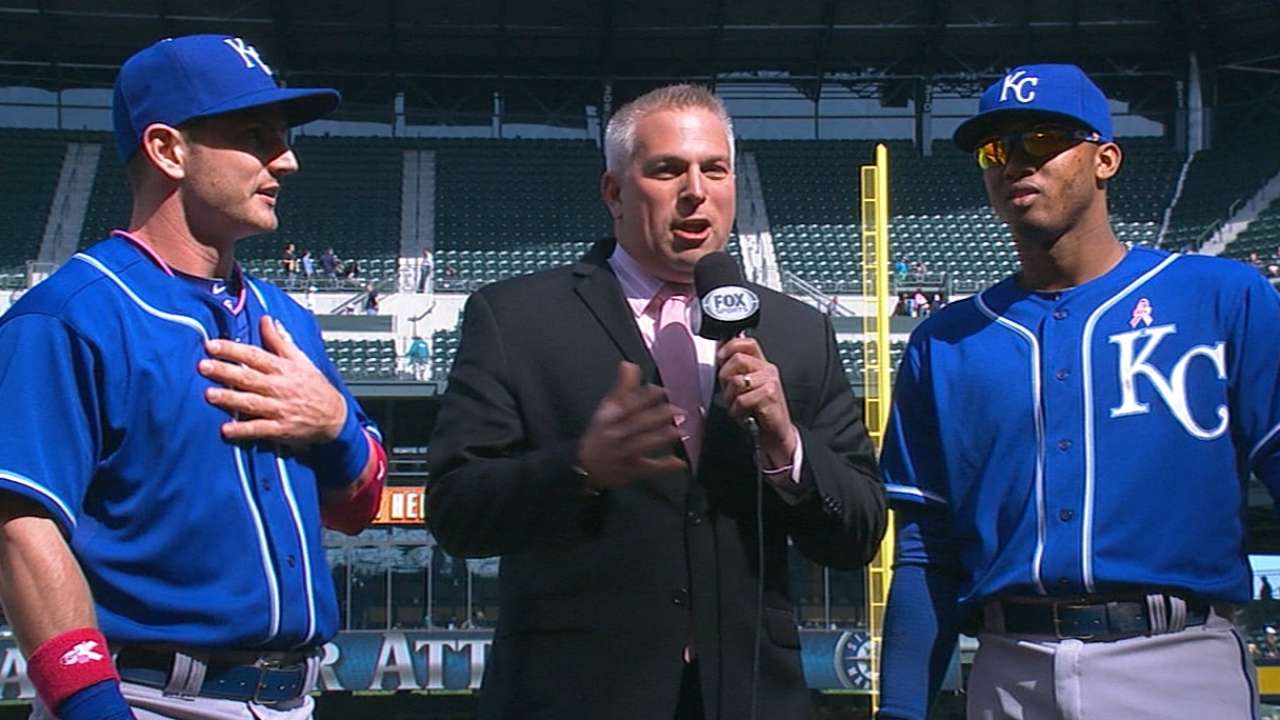 Giavotella was the smallest, but also the best, on almost every team he grew up playing on. He's listed at 5-foot-8, so only three Major League players -- Alexi Amarista, Jose Altuve and Jimmy Rollins -- are shorter this season.
But Giavotella said he "never really looked at my size as a disadvantage. I always used it as a way to motivate me to prove to everybody I could do things they didn't think I could do."
"He had to prove to everybody else that he was capable of doing his job as good as anyone despite his size," Cindy said. "But maybe that's what allowed him to excel even more so."
Giavotella had his opportunity to stick in the big leagues once before, but it didn't last long. It was 3 1/2 years ago, down the stretch with Kansas City in 2011. Chris Getz wasn't hitting, so the Royals turned to Giavotella, who was coming off a scorching four months at Triple-A Omaha, for added punch at second base.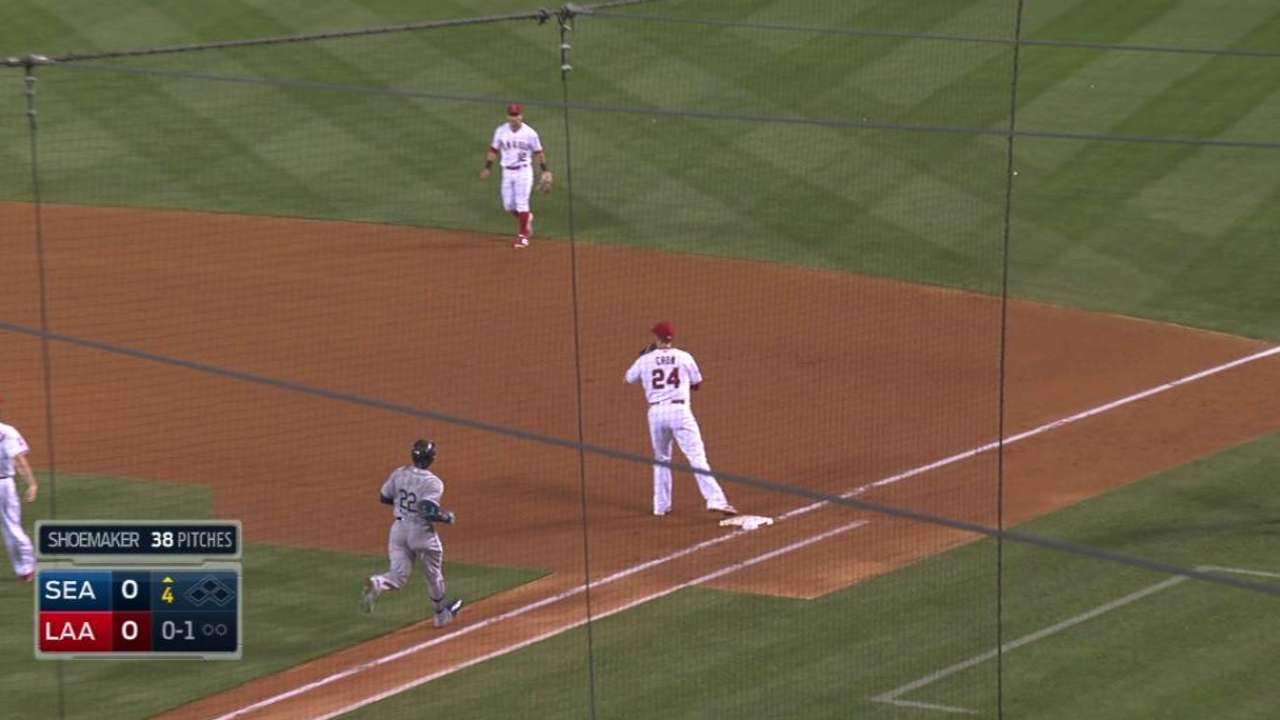 Then Giavotella posted a .247/.273/.376 slash line in 46 games, underwent offseason hip surgery, batted .250 the following spring, started the 2012 season in the Minor Leagues and never really got a chance again in Kansas City.
Giavotella knew it was time to move on when the club signed Omar Infante to a four-year, $30.25 million contract in December 2013, and he finally got the chance 12 months later, when the Royals placed him on waivers.
Giavotella was vacationing in Venezuela when he found out, and he texted his mom to brace her for potential news.
"I told my husband, 'With the talent that he has, somebody would be very stupid not to pick up him up,'" Cindy recalled. "It turned out perfect."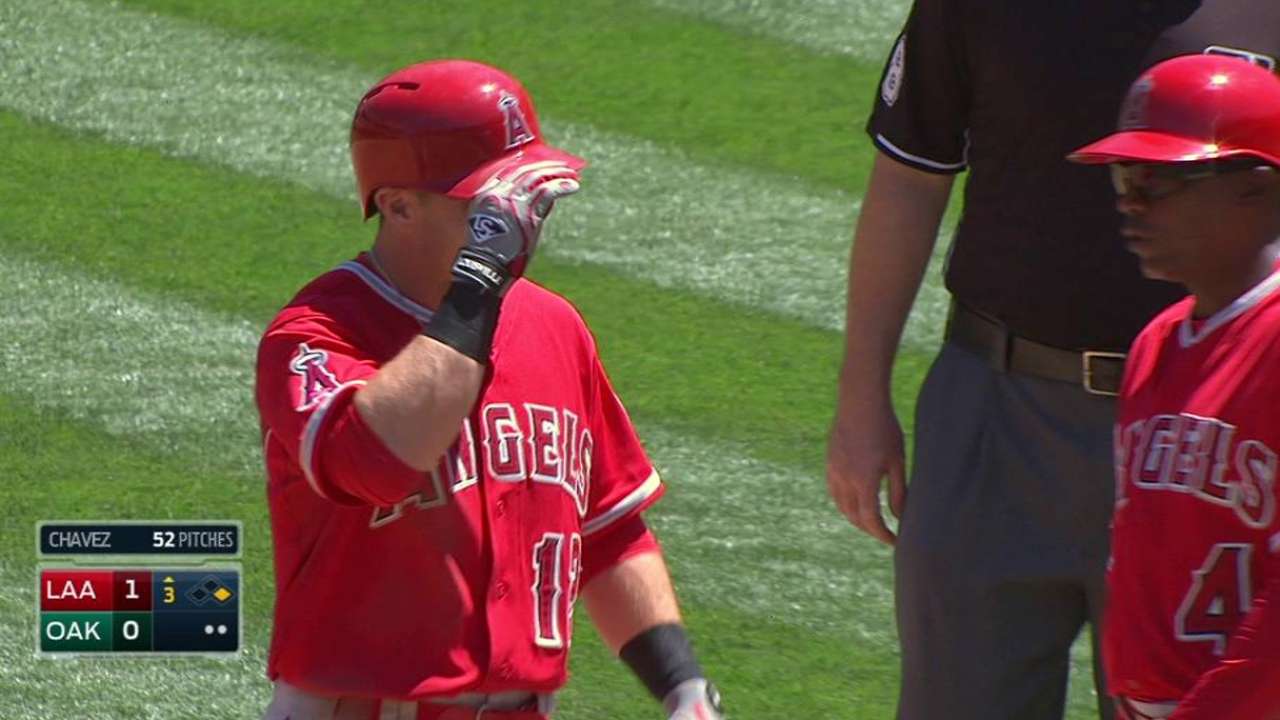 Cindy likes to say she and the Angels were born the same year, 1961. She's a devout Catholic, and she instilled reverent faith in her son, who described her as "the most selfless person I've ever met."
Giavotella isn't sure if he'll homer on Mother's Day again, but he's pretty confident he'll get a chance to.
"I think she's just very proud, to be honest," Giavotella said. "She sees the hard work that I put in day in and day out, and for me to get a job and to be doing well so far this season makes her really proud. I know she goes home every night and is excited to watch me play."
Alden Gonzalez is a reporter for MLB.com. Read his blog, Gonzo and "The Show", and follow him on Twitter @Alden_Gonzalez. This story was not subject to the approval of Major League Baseball or its clubs.