Before MLB debut, an emotional time for Muno
Mom's presence at Mets infielder's first game 'a dream come true' following stroke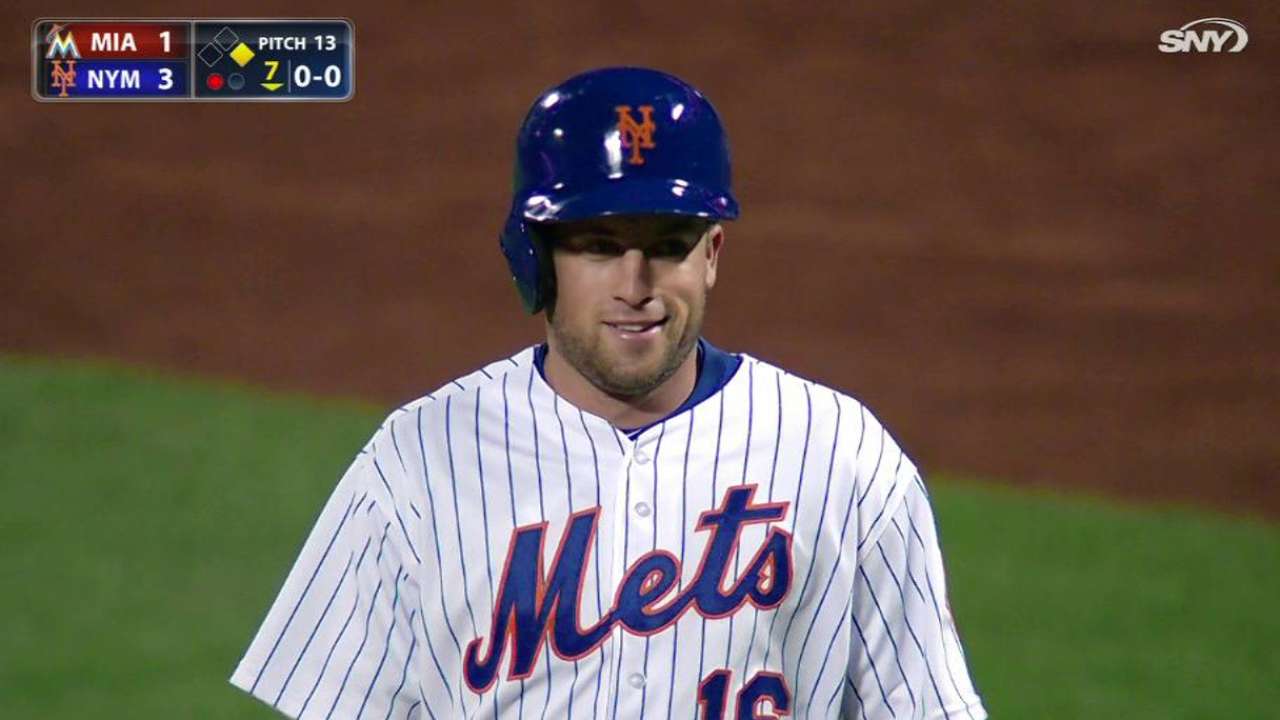 NEW YORK -- Danny Muno's cell phone buzzed as he walked through Las Vegas' McCarran International Airport, the day now etched into his memory. It was his mother, Anne, calling to tell him she had suffered a stroke one week earlier.
Unable to remember the last time he cried, Muno stood in the airport weeping as he talked to Anne, so long a portrait of health, lying in a hospital bed. Anne was a former Division I track competitor, Ironman triathlete and firefighter, who once rescued a 400-pound man in a diabetic coma by helping carry him down a flight of stairs.
"That's why it was such a shock and so scary to me," Muno said, recalling the conversation after debuting as an infielder for the Mets on April 17. "She's been extremely healthy her whole life. And then for her to call me out of nowhere and tell me she's had a stroke, it was one of the scariest things I've ever experienced."
Muno left Las Vegas behind for a flight to Los Angeles, sitting at Anne's bedside "on nerves the whole night" as she suffered through a second, smaller episode.
"She means the world to me," Muno said. "She means everything."
Less than two weeks later, Muno was back playing for Vegas when manager Wally Backman pulled him aside to deliver a better piece of news: The Mets were bringing him to the big leagues. Muno's first call was to his mother, who in turn called the hospital.
"I was like, 'Oh my God,'" Anne Muno said. "'I've got to go.' I packed my bags, and as soon as I got the OK from my doctors, I was gone."
So Anne Muno caught an overnight flight to New York City, landing in time to watch her son single and steal a base in his MLB debut. Upon arriving at the ballpark, Anne learned that David Wright had given up his seats behind home plate for her family to use. When Danny met his mother after the game, he presented her with the ball from his first big league hit.
"It was a dream come true," Muno said. "She's wanted me to achieve my dream my whole life. For her to be a part of it, to be here and recovering, it was very emotional. Just to see the smile on her face and the happiness that I was able to bring her was amazing."
Anne remained in New York City for more than a week, transferring some of her medical appointments to a Manhattan hospital. She stayed within walking distance of Citi Field and rode the Mets' family bus to and from Yankee Stadium for all three Subway Series games, delighting at the police escort leading the way.
Then came a flight back to California and a return to reality. Approximately two months from now, Anne will undergo a CT scan to determine whether the blood clot in the back of her head, which triggered her stroke, has dissolved. If it has, she will be able to avoid surgery.
It is a potential happy ending that seemed wholly uncertain when Anne experienced the first of her stroke symptoms in March. Returning from some errands near her home in Southern California, Anne laid down on a couch to rest, hoping her bout of wooziness would pass. Had Danny not called from Florida to say hello that afternoon, she may not have woken up in time to realize something more sinister was at work in her body.
"I could have died," she said.
The subsequent diagnosis was a lightning bolt for Anne, a 1978 college track and field champion at Cal State Northridge, where she ran the 800- and 1,500-meter races and the two-mile relay. Later, Anne ran at UCLA, then as a Nike-sponsored athlete at races around the world. She participated in three Ironman triathlon championships in Hawaii from 1984-86.
One of four people in her family to win a college national championship, Anne was the only daughter of USC football player Aramis Dandoy, whose 86-yard punt return for a touchdown in 1955 still stands as the longest in Rose Bowl history. Anne's ex-husband and Danny's father, Kevin, won a football title with Notre Dame in 1977. Danny himself won a College World Series with Fresno State in 2008, knocking his brother's University of San Diego team out of the tournament.
After college, Anne worked as a flight attendant, later training to become a firefighter. She remained in that job until injuring her back in the episode with the diabetic, then took work as a surgical technician at the hospital that admitted her in March.
Fifty-six years old at the time, Anne had no history of high blood pressure or cholesterol -- none of the usual warning signs. Triathlons may be a part of her past, but Anne still walks on the boardwalk near her home nearly every day.
And yet for Danny, equally shocking was the fact that he was oblivious of his mother's stroke for a week. Adamant about not disrupting her son's Spring Training schedule, particularly given his chance to make the team, Anne refused to tell him she was hospitalized until after he left Florida.
Once she did, Danny took the next flight home.
"It was hard for me not to say something to him, but I knew he would come home, and I didn't want him to," Anne said. "I had everything I needed. I wanted him to finish Spring Training."
Even then, Anne was optimistic. But she could not have envisioned her life less than three weeks later, sitting in Wright's box seats with her family crowded around her, Danny on the field.
"It was an emotional roller coaster," Anne said. "It was just crazy. I was thanking the Lord that I was alive, and then I was thanking the Lord once again for giving my son a chance to play in the big leagues."
Anthony DiComo is a reporter for MLB.com. Follow him on Twitter @AnthonyDiComo and Facebook. This story was not subject to the approval of Major League Baseball or its clubs.