Bumgarner's gem rescues Giants' defense
Ace allows two hits in 7 1/3 innings to mask team's four errors
SAN FRANCISCO -- Perhaps lost in Madison Bumgarner's masterful performance during Monday's 2-0 Giants win over the Padres was the fact that San Francisco committed a season-high four errors.
But Bumgarner's brilliance wiped out any miscues on the field, as he held the Padres hitless for six innings before the Padres broke through with harmless back-to-back singles to lead off the seventh. In all, Bumgarner worked 7 1/3 innings, allowing two hits and a walk while striking out six.
For the first time since June 19, 1933, the Giants pitched a shutout despite committing four errors.
"We made him work a bit extra today," Giants manager Bruce Bochy said of Bumgarner.
The Giants defense set a sloppy tone early, as San Diego leadoff man Wil Myers reached on a throwing error by Casey McGehee to start the game. Bumgarner wasn't immune to the defensive shortcomings, either, as he had an errant pickoff throw go toward the seats down the right-field line in the third inning.
As for Brandon Crawford's throwing error that allowed Jedd Gyorko to reach second base to lead off the fifth inning? Bumgarner responded by retiring the next three batters in order.
"I felt like we established everything pretty early," Bumgarner said of his pitches. "Command felt good on everything. Threw some good changeups. Everything felt like it was there."
The Giants also made things a bit interesting in the ninth when Brandon Belt couldn't corral a throw at first base, allowing Justin Upton to reach base and the game-tying run to come to the plate. But Santiago Casilla finished the game and preserved the shutout, against the National League's top run-scoring offense.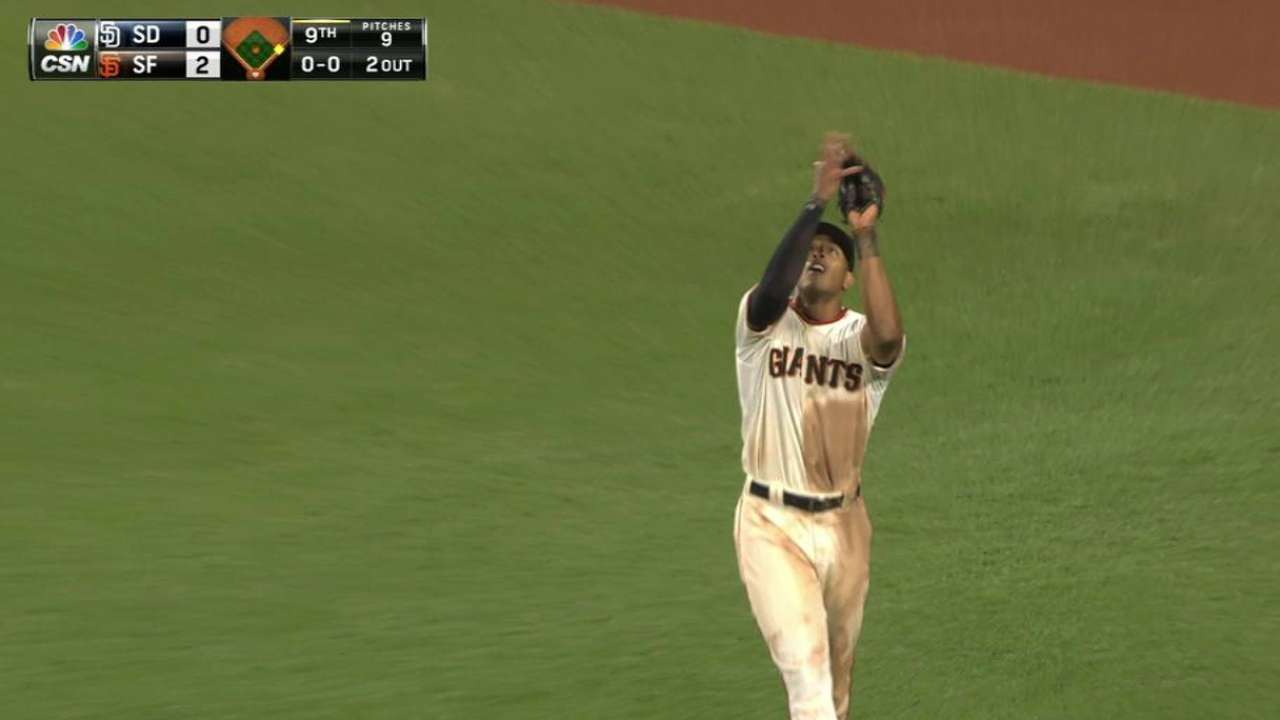 Bochy was also disappointed his team wasn't able to push across more runs against San Diego starter Tyson Ross in the third. Despite loading the bases with no outs, San Francisco scored just one run the rest of the inning after Belt struck out and McGehee hit into a double play.
"We should have scored a few more runs," Bochy said. "It would have been nice to add on there a couple of times. ... Because of Madison, we got away with mistakes offensively and defensively."
Alex Espinoza is a contributor to MLB.com. This story was not subject to the approval of Major League Baseball or its clubs.