Padres can't repeat success vs. Bumgarner
San Diego musters no hits in first six innings against Giants ace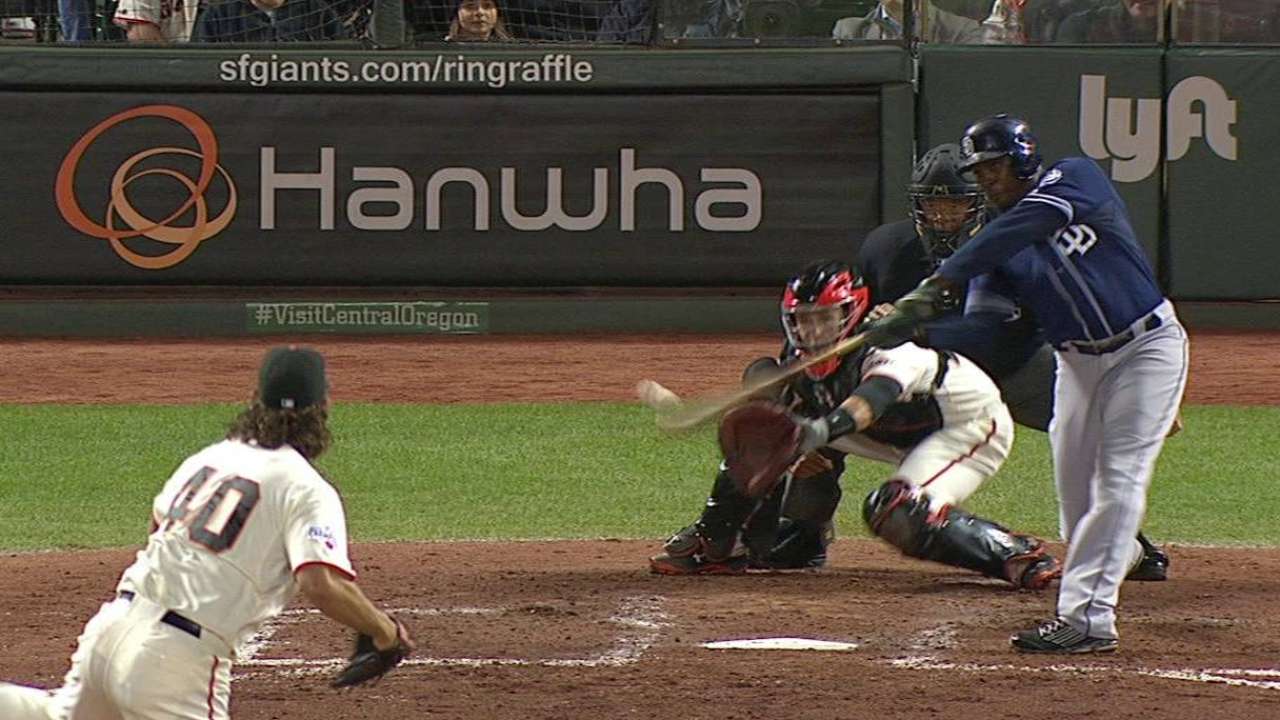 SAN FRANCISCO -- A little over three weeks ago, Giants pitcher Madison Bumgarner struggled through a rough start against the Padres at Petco Park, allowing five earned runs on 10 hits in three innings before getting an early hook.
It was a far different story Monday, as Bumgarner handcuffed the Padres, taking a no-hitter into the seventh inning in what became a 2-0 victory by the Giants at AT&T Park.
This marked the third time this season the Padres' vaunted offense -- which entered the game with the most runs (131) in the National League -- has been shut out, and the second time that the Giants have done so.
"He's good. He's really good," said Padres center fielder and leadoff hitter Wil Myers. "When you have a good pitcher on the mound and he's on, it's tough to do much with him."
For six innings, the Padres didn't do anything against Bumgarner -- no hits, which likely stirred the fan base in a bad way, especially since the Giants have three no-hitters against the Padres since 2009 -- Jonathan Sanchez (2009) and Tim Lincecum (2013 and 2014).
What was the difference between this start -- 7 1/3 scoreless innings from Bumgarner -- and that miserable start April 11 in San Diego?
"A little crisper fastball, the velocity was up a tick. Better use of the breaking ball ... a sweeping slider that got underneath our bats a few times," said Padres manager Bud Black. "We hit a couple balls to right that were hit pretty solid.
"We didn't really drive the ball tonight. He had us in check."
That doesn't mean the Padres didn't test Bumgarner.
San Diego pitcher Tyson Ross had some of the hardest contact all night against Bumgarner, as he was robbed of a hit in the third inning when shortstop Brandon Crawford made a dandy play. Ross later flied out to deep right field to end the fifth inning.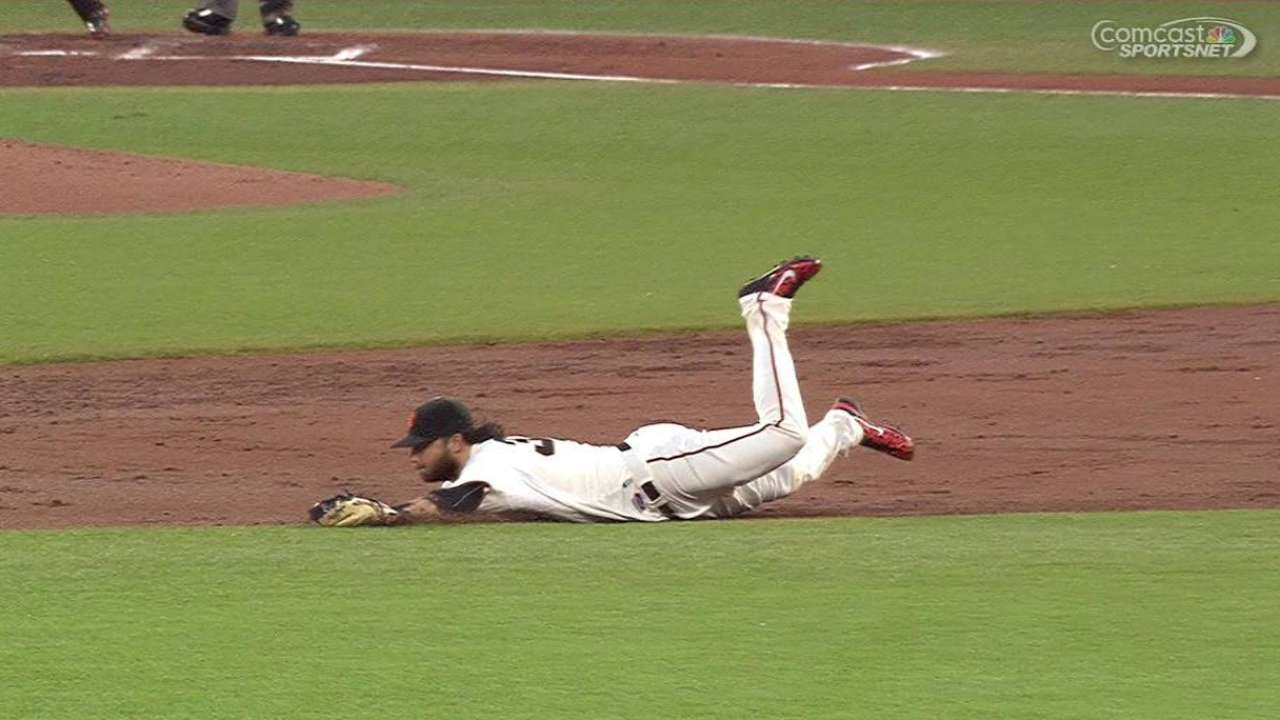 Then in the sixth inning, Derek Norris ran into a Bumgarner fastball pretty well, sending it to the warning track in left field where Nori Aoki made the grab.
"They gave us some opportunities, they opened the door a little and we couldn't capitalize," Black said.
The Padres got to Bumgarner -- if you could call it that -- as Justin Upton and Yangervis Solarte singled to start the seventh inning. But Bumgarner got the next three hitters to end the inning and the threat.
"He didn't miss arm-side at all tonight against us. I think that's why he didn't have success the first time against us," Myers said. "He didn't really leave any balls over the plate."
Corey Brock is a reporter for MLB.com. Keep track of @FollowThePadres on Twitter. This story was not subject to the approval of Major League Baseball or its clubs.