Shoemaker's gem derailed by Cruz and Co.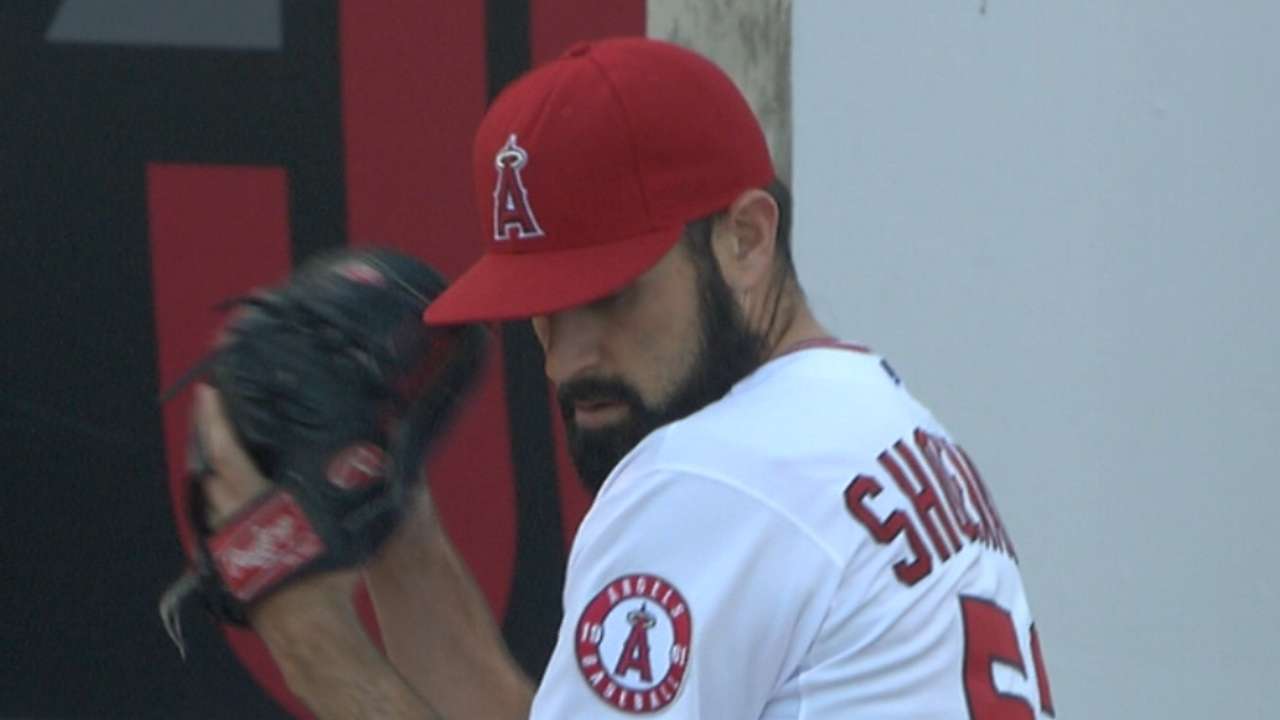 ANAHEIM -- For six innings on Monday night, Angels right-hander Matt Shoemaker was in cruise control, allowing the Mariners just one hit. Then, Nelson Cruz took control.
The Mariners right fielder led off the seventh with his 14th home run. An out later, Logan Morrison connected for his second. Seth Smith added a third homer off Shoemaker with one out in the eighth, and that was just enough for Felix Hernandez and friends to hand the Angels a 3-2 loss in the first game of a three-game series at Angel Stadium.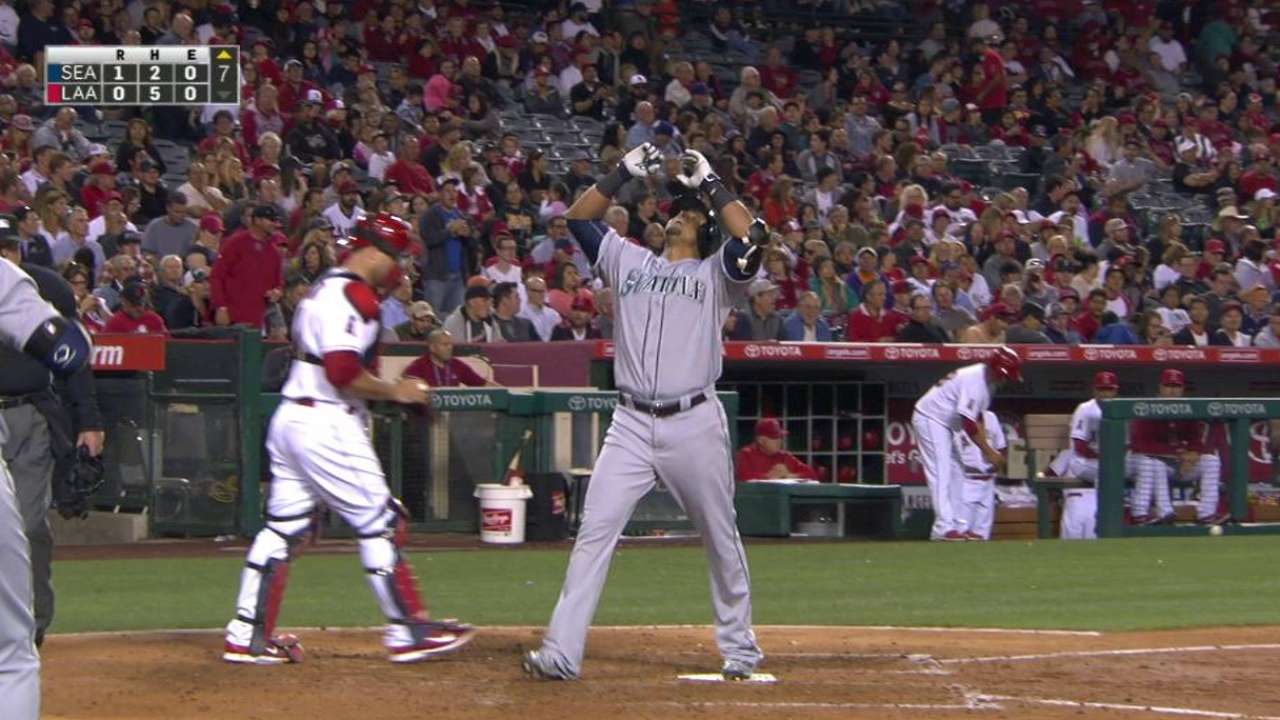 Cruz struck out twice against Shoemaker before his homer changed the game.
"That was pretty big," Mariners manager Lloyd McClendon said. "Their pitcher was pitching a whale of a ballgame, too. He had us shut down, and that was probably the only pitch he left up to Cruz all day and he took advantage of it."
Asked how many of his pitches were off target, besides the three home-run balls, Shoemaker said, "Not many."
"That's the frustrating part," he continued. "We [he and catcher Chris Iannetta] were really on it today. Then we got to the seventh inning. Those were some bad pitches. At the end of the game, a few just got away from me.
"Morrison's wasn't quite as much of a mistake, but it wasn't where I wanted it. With Cruz, it was 1-2. That pitch wasn't executed properly."
Shoemaker matched his career high with 10 strikeouts in 7 1/3 innings. He gave up four hits, and walked one.
"Matt gave us a chance to win," manager Mike Scioscia said. "He went at Felix, pitch for pitch. He pitched a great game. He made a couple mistakes they didn't miss. That was the difference."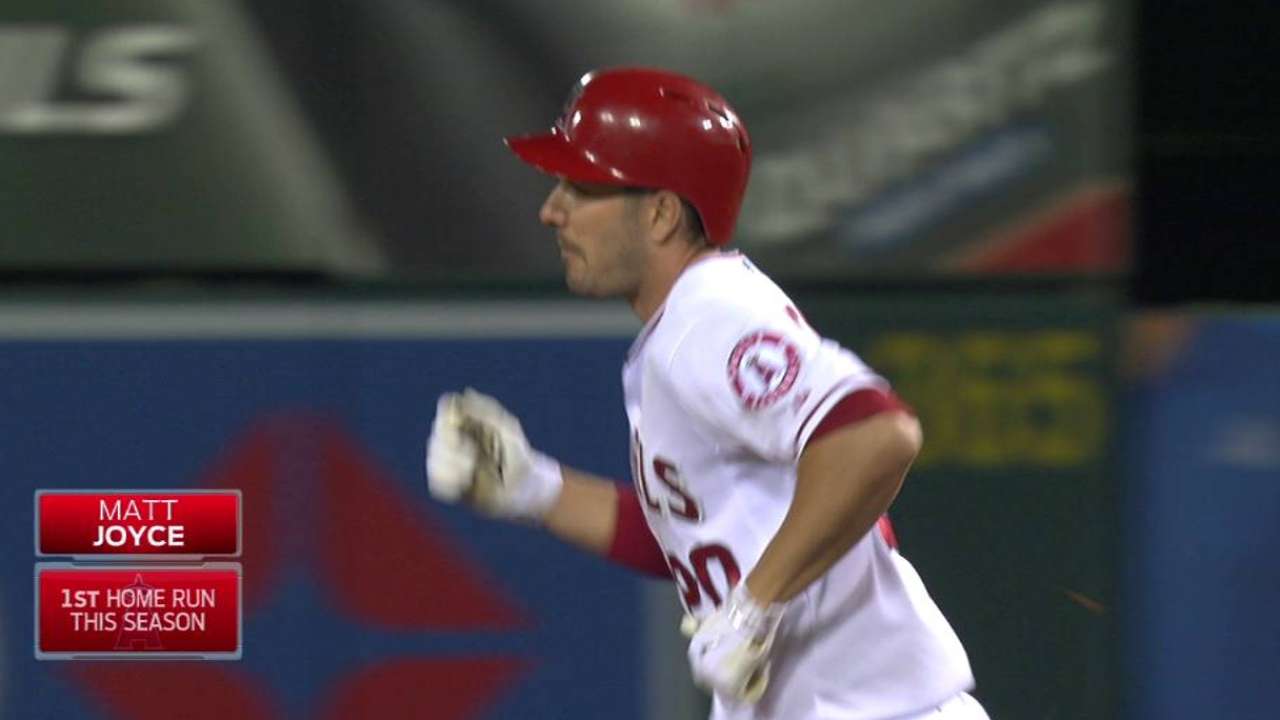 Matt Joyce did the only damage against Hernandez, hitting his first Angels home run in the seventh inning, a shot to right-center on a 3-1 pitch. It was his first homer in 91 at-bats, since he connected for the Rays against Matt Barnes of the Red Sox on Sept. 23.
David Freese homered off Mariners closer Fernando Rodney in the ninth, but the game ended when pinch-runner Collin Cowgill was thrown out at second on a steal attempt by Mike Zunino.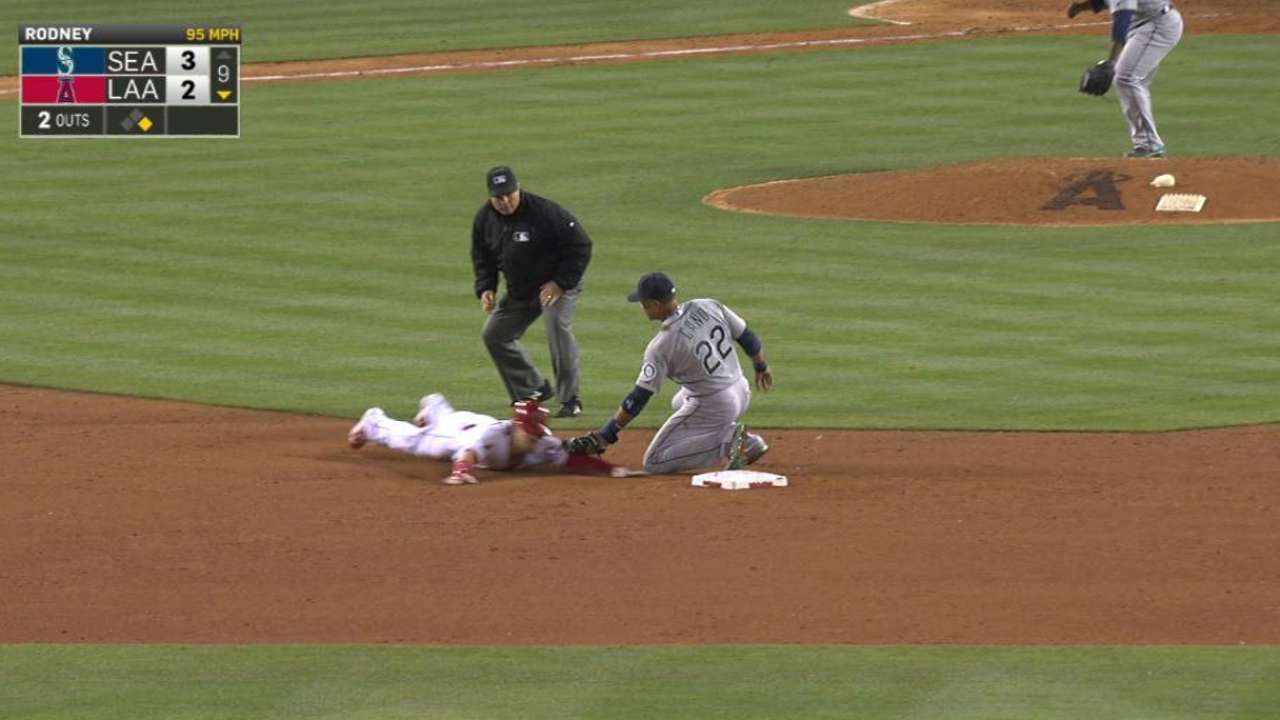 "We were trying to get something going," Scioscia said. "Fernando is a pitcher who usually gives you a window [to steal]. Collin was on his own, he just didn't get his jump."
But the Angels are hopeful Joyce's home run will provide a spark.
"It's nice to get the first one out of the way," Joyce said, "but not as soon as I'd hoped. Hopefully, this will kick-start things."
The left fielder was in a 4-for-46 tailspin this season when he connected for just his second hit in 23 career at-bats against Hernandez.
"Matty's been working hard," Scioscia said. "He had some good swings tonight. He got us on the board with that home run."
Joyce was greeted in the dugout by what seemed to be an extra-enthusiastic reception.
"There's a number of guys on our team that have had tough starts," Scioscia said. "Everybody in that room is pulling for each other. That's good to see."
Earl Bloom is a contributor to MLB.com. This story was not subject to the approval of Major League Baseball or its clubs.