MLB.com Columnist
Lyle Spencer
MadBum exacts revenge on NL West rivals
Giants ace masterful in atoning for subpar April start at Petco Park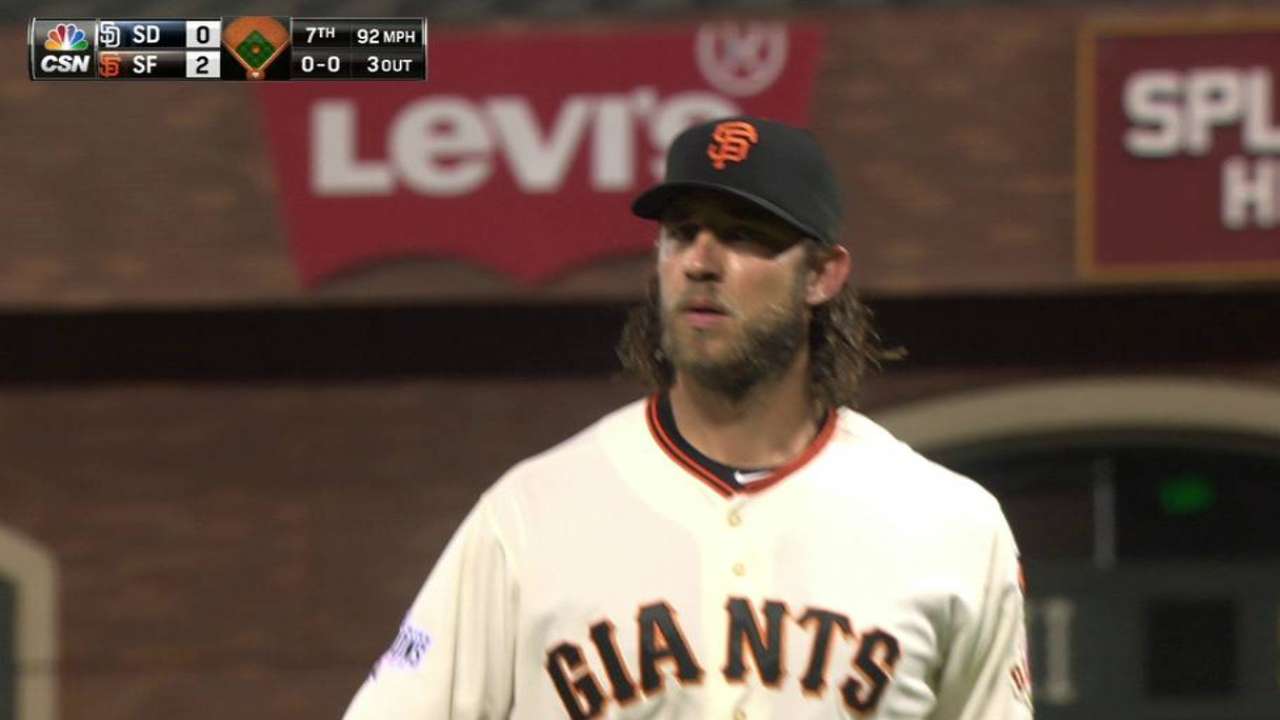 SAN FRANCISCO -- Three weeks earlier, in San Diego, the Padres had been downright rude to Madison Bumgarner. The Southern gentleman couldn't have cared much for it, even if he elected to keep his thoughts to himself.
Getting even, and maybe just a tad mad, Bumgarner did to the Padres on Monday night in a 2-0 Giants victory at AT&T Park what they had done to him at Petco Park in producing 10 hits and five runs across three innings on April 11. He humbled them -- and then dismissed the subject as quickly as he'd dispatched the rebuilt National League West rivals.
"They've got a good team," said Bumgarner, a man of few words. "There's a lot of talent in the NL West. It should be a good season."
Manager Bruce Bochy acknowledged what his pitcher chose to avoid: the notion of an emotional edge bubbling to the surface in the aftermath of a rare bad outing by an intensely competitive athlete.
"I know he was upset with himself in that start," Bochy said. "Really, it was two different pitchers. He was off a little bit [in San Diego]. His pitches were flat; he wasn't hitting his spots. His velocity, breaking ball, everything were so much crisper tonight.
"The guy is human. I do think it gives him a little added incentive to bounce back and pitch a good game after a team gets him. He was out of sync there early [in the season]. Sometimes it takes two or three games to get settled in. That's who he is. He's as good as there is."
For six innings, the Padres were hitless, but Bumgarner said he was "a pretty good ways away from that" and wasn't thinking about a no-hitter. He added that he didn't know what no-hit stuff in the Major Leagues felt like, since he's never thrown one. This isn't high school ball in North Carolina, where Bumgarner did get that done.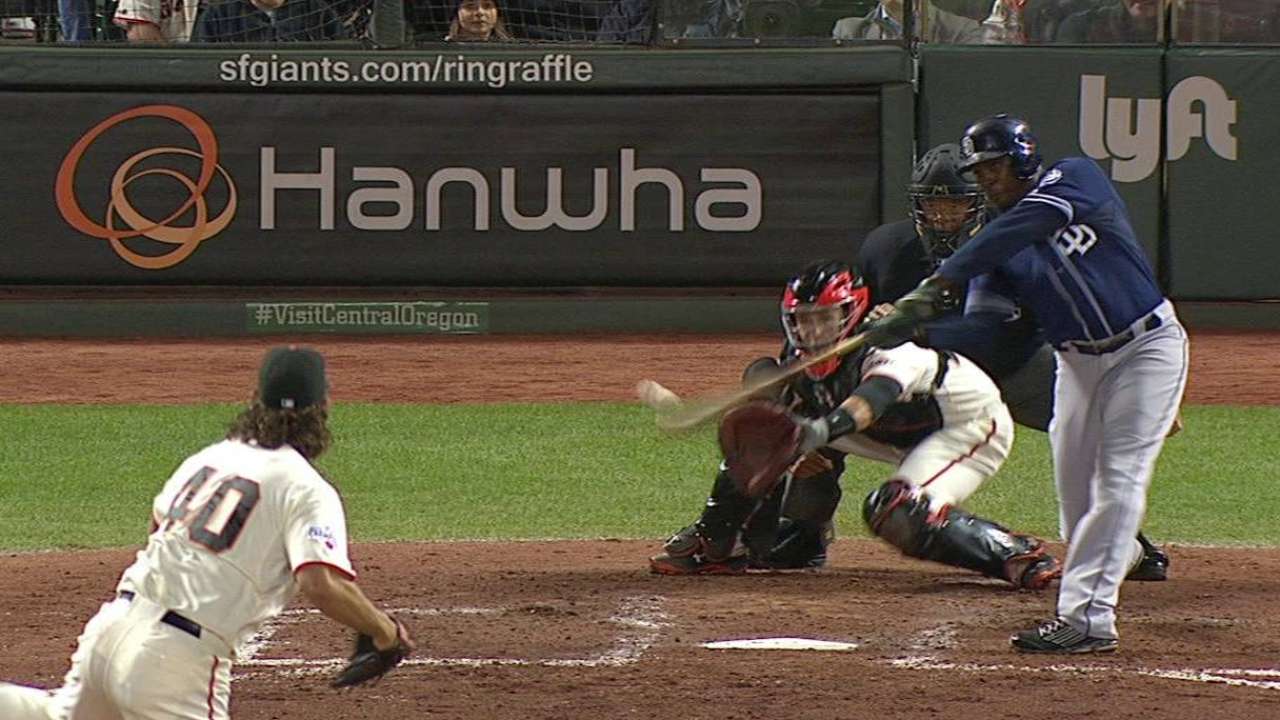 When Justin Upton broke the spell with a soft two-strike single to left leading off the seventh and Yangervis Solarte followed with a sharp single to center, these new and improved, dangerous Padres looked poised to erase a two-run deficit.
Bumgarner had his own ideas. He struck out Jedd Gyorko, retired Will Middlebrooks on a fly ball to center and struck out Clint Barmes.
"That seventh inning was really impressive," Bochy said. "He gave up the two hits, settled down and picked us up. He had great stuff -- good fastball, slider, curve, changeup."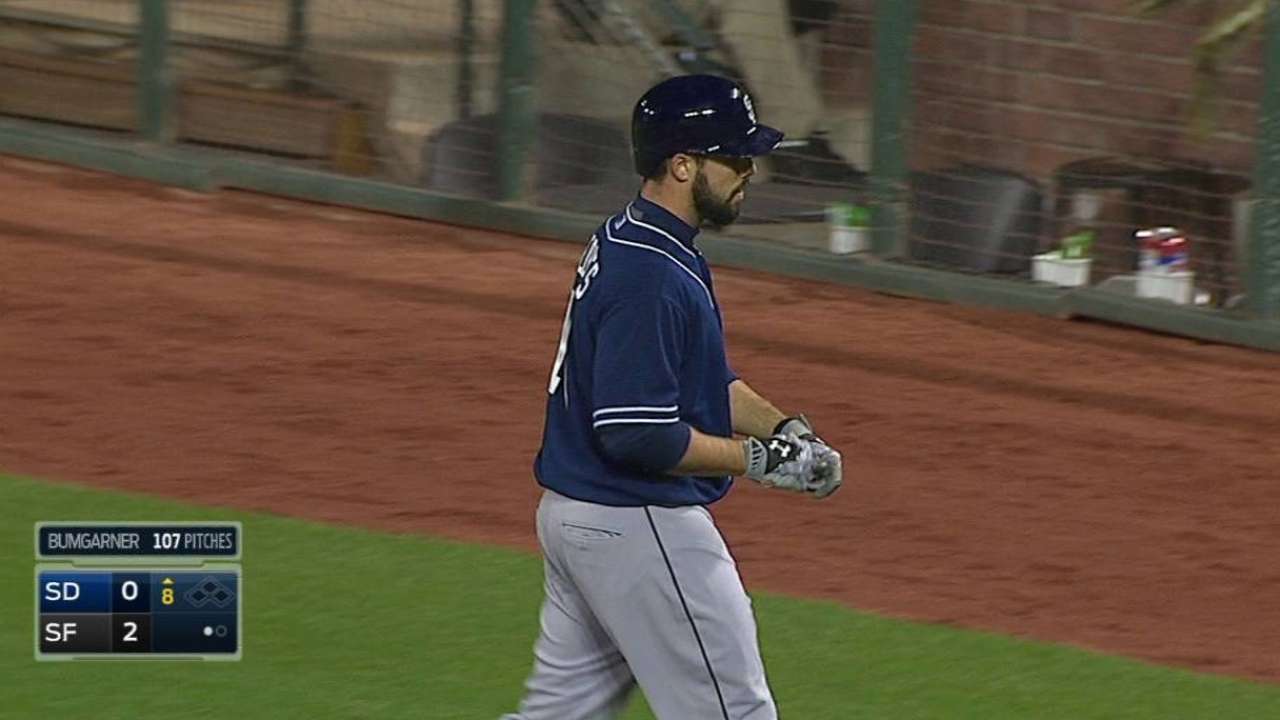 After striking out promising catcher Austin Hedges in his Major League debut to open the eighth, Bumgarner departed, having fanned six with one walk. Bochy was leaving it to his bullpen to get the Giants to .500, and the mission was accomplished on command of the leader.
Sergio Romo struck out the two men he faced, and Santiago Casilla got the save despite a poorly executed flip on a comebacker that first baseman Brandon Belt couldn't handle for an error.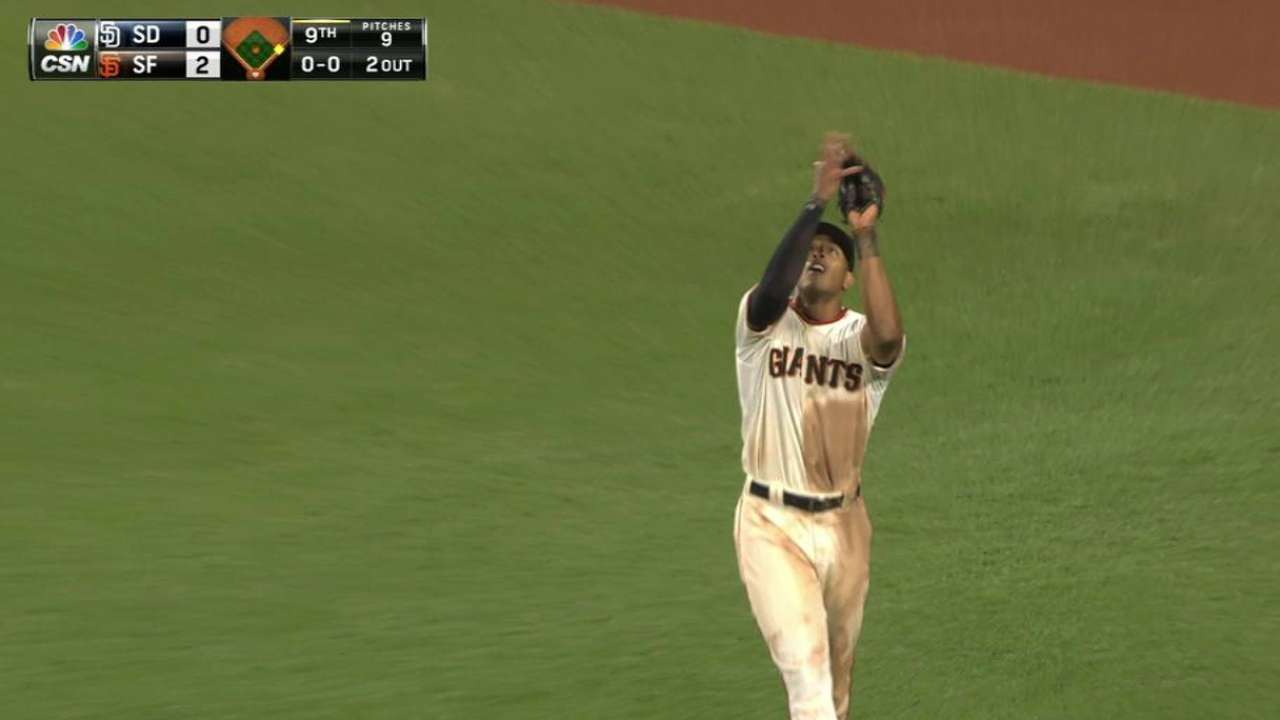 "We had to create a little interest with that play at first base," Bochy said, tongue firmly in cheek.
Since an eight-game losing streak left them at 3-9, the Giants have gone 10-4, getting that championship glow back in the process.
The Padres came into the series averaging an NL-best 5.04 runs per game, but the dynamic new lineup featuring Matt Kemp and Upton was blanked for the third time.
Bumgarner, the defending NL Silver Slugger Award winner, delivered his first hit of the season off Tyson Ross in the fourth inning, but he was stranded at third.
"I'll take a 1-for-3 off that guy any day," Bumgarner said.
When the Padres were finished with him three weeks ago, Bumgarner was 1-1 with a 5.40 ERA. He's 3-1 now, having met Clayton Kershaw and the Dodgers twice, and his ERA is down to 3.03.
MadBum is back in form, and everything is starting to feel just about right in the land of the champs.
Lyle Spencer is a national reporter and columnist for MLB.com. Follow him on Twitter @LyleMSpencer. This story was not subject to the approval of Major League Baseball or its clubs.