Escobar's 5-hit night spurs Nats' offense
Third baseman comes through with go-ahead knock in 4-run 8th inning
WASHINGTON -- Yunel Escobar is the quintessential man of few words. And as usual Monday night, the Nationals third baseman got right to the point discussing Washington's dramatic 6-4 victory over the Marlins at Nationals Park.
"That," Escobar said, with bullpen catcher Nilson Robledo interpreting from Spanish, "was the best game of my career."
Escobar went 5-for-5, including a two-run single to right off reliever Bryan Morris that capped a four-run eighth-inning rally that overcame a 4-2 deficit and gave the Nationals a sixth win in their past seven games.
"This," Escobar said, "is the team I have waited for."
What Escobar -- and the entire Nationals organization, really -- has waited for was a game that would shake up an offense that had scored just two runs in its past three games -- a pair of 1-0 wins and a 4-0 loss, all to the Mets.
Entering Monday, Washington had batted just .154 in its past three games, stranding 33 runners and hitting .120 (3-for-25) with runners in scoring position.
That Escobar led the Nationals' 12-hit outburst against Miami -- they went 3-for-8 with runners in scoring position -- should not have been a surprise. Batting .311 with two home runs and seven RBIs, he has hit in 18 of 23 games.
"He doesn't get outside himself," manager Matt Williams said. "He understands situations. He understands what's needed in that given at-bat. He's got an idea of what the pitcher is going to do. He studies the hitters before him and simply has an approach when he goes up there. Those kinds of at-bats are at-bats that prolong innings. They get you wins like they did tonight."
"He's a professional hitter and a professional ballplayer," shortstop Ian Desmond said. "We absolutely love him."
Desmond did his share as well, lining a two-run home run to center field in the eighth off Morris to tie the score at 4.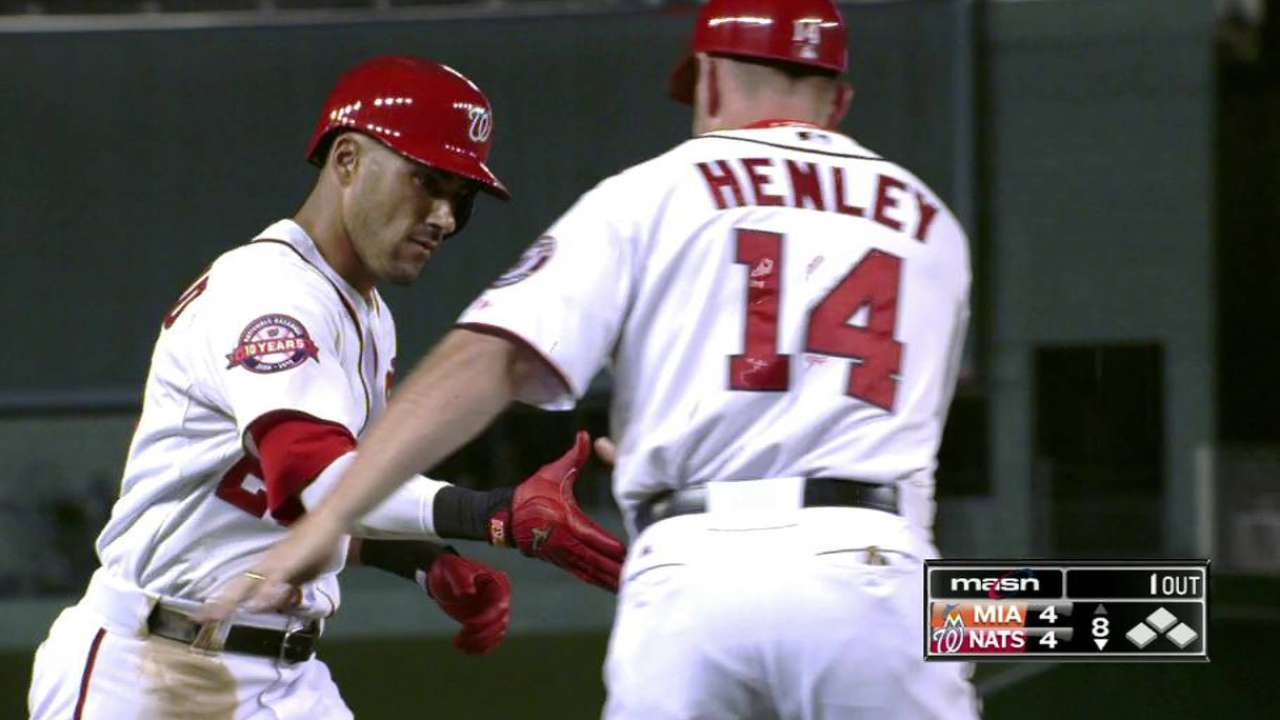 "Swing hard in case you hit it," Desmond joked of his strategy. "I hit it good but didn't know if it was high enough, but it made it over. It was a good one.
"We're a resilient group. We've got a lot of guys in here who believe in each other and are pulling the same end of the rope. It's fun to be part of."
For Escobar, it was more of a surprise than anything when Miami elected to pitch to him in the eighth with two runners on and first base open. But as is his way, Escobar, acquired in January from the A's for reliever Tyler Clippard, boiled it down to its shortest, sweetest elements.
"I just tried to get a hit," he said. "Play the game to win."
Damian Cristodero is a contributor to MLB.com. This story was not subject to the approval of Major League Baseball or its clubs.