Replay review helps seal dramatic comeback
Braun legs out infield single to knock in game-winning run vs. Dodgers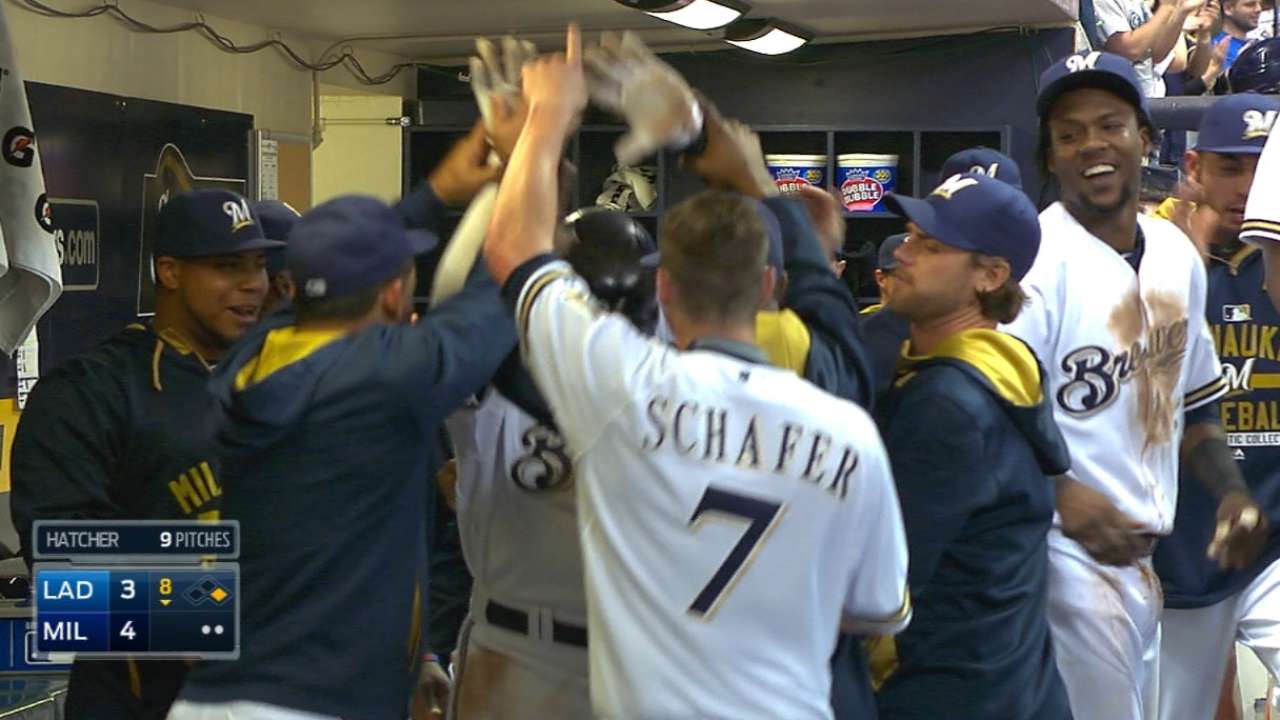 MILWAUKEE -- The Brewers' first lead of the Craig Counsell era hung in limbo for one minute, 40 seconds while the umpires viewed a replay. It was one of many tense moments in the eighth inning of Milwaukee's 4-3 win over the Dodgers on Monday at Miller Park.
Crew chief Jerry Meals took a second look at Ryan Braun's go-ahead, broken-bat infield single in the eighth inning. First-base umpire Paul Emmel had called Braun safe, and the replay center in New York did not see enough in the replay to change that ruling. The call stood, and the Brewers were on their way to a victory in Counsell's managerial debut.
"I thought I was safe," Braun said. "I'll take every one I can get. I feel like I've lined out or flown out to the wall a bunch of times. Hopefully it starts to even itself out. Run hard every play, because you never know which time it will be the difference-maker in the game."
"That's why they put [replay] in there," Counsell said. "Bang-bang. He just beat it."
Dodgers manager Don Mattingly watched the play from the visitors' clubhouse, since he'd been ejected earlier in the game for arguing with Emmel about a Clayton Kershaw balk.
"It was really close," Mattingly said. "We don't have the same HD they have in New York. I don't like the 'too close to overturn.' That's a cop-out. Either he's safe or out. They've got an umpire in New York and it should be safe or out and that's the call."
Adam McCalvy is a reporter for MLB.com. Follow him on Twitter at @AdamMcCalvy. This story was not subject to the approval of Major League Baseball or its clubs.