Statcast signs point to Span's revival
It took Denard Span four-tenths of a second to react to the rocket that Giancarlo Stanton sent to the warning track in left-center field in the sixth inning of what was a tie game in Washington on Monday night, according to Statcast™. By the time the ball landed, 362.3 feet from Stanton's bat, Span had reached a top speed of 19.1 mph and covered more than 97 feet to haul the ball in and preserve the tie, an important moment in what would become a 6-4 Nationals victory over the Marlins.
Several years ago, back when Span was considered among baseball's best defensive outfielders, that play might not have been so notable. Between 2011-13, first with Minnesota and then with Washington, he had the third-highest defensive runs saved of the 27 center fielders who accumulated at least 1,500 innings. Those numbers took a serious nosedive last year, ranking Span as a slight negative across the board. While single-year defensive metrics aren't above reproach, the truth of the matter is that he is in his age-31 season and has some injury concerns.
Span had surgery for a sports hernia in December, and he then missed the first three weeks of the season after core muscle surgery during Spring Training. Though he appeared to be healthy upon his return, Span still sat out this past Friday and Saturday with what was termed "post-surgery soreness."
So as the heavily favored Nationals attempt to reverse a slow start to catch the surprising Mets in the National League East -- and they're working on it, having won six of their past seven -- among the big open questions has been how Span's health would allow him to perform. On Monday night, Span went a long way toward proving that he's feeling all right.
Since Span didn't immediately go toward where Stanton's blast was headed -- he flinched slightly to the left at first, leading only to a 25.4 percent first-step efficiency -- he had to rely on his own speed to outrun that first instinct. Since Span did, that's a pretty wonderful sign if you're a Nats fan hoping your center fielder is healthy. (That he managed a 97.9 percent route efficiency, showing that he was essentially perfect to the spot of the ball after that first step, is another wonderful sign.)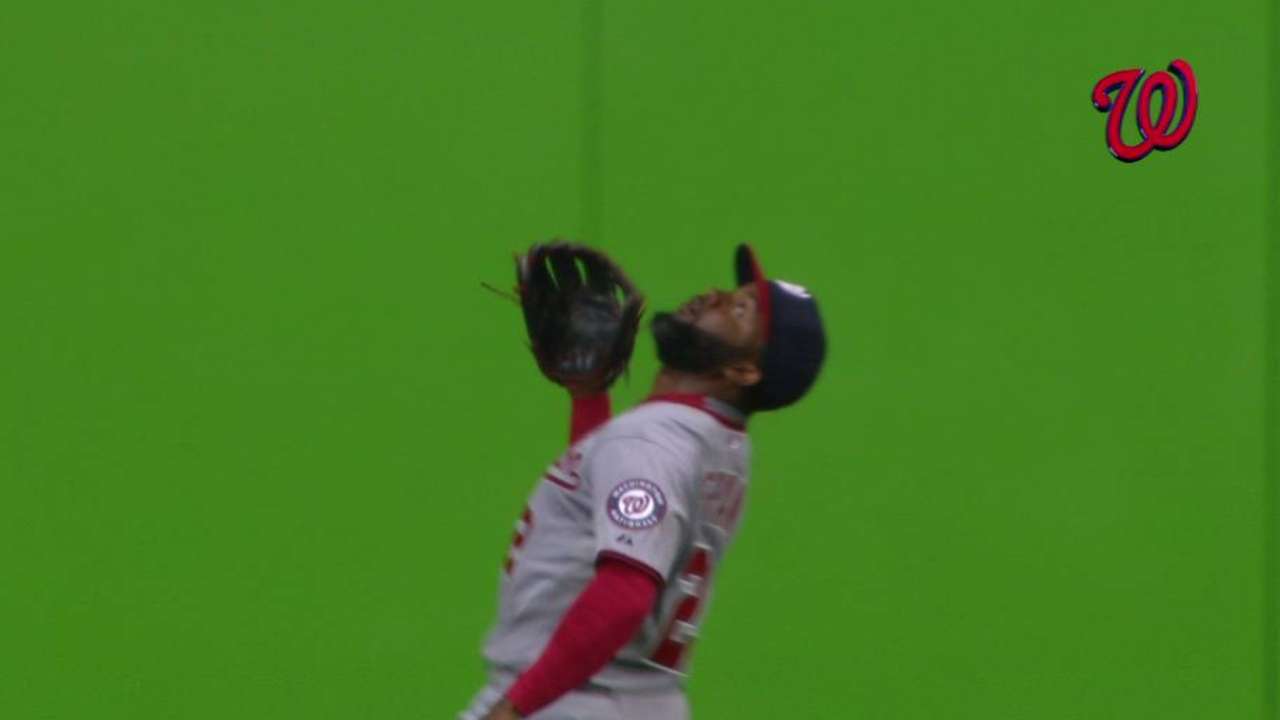 It takes a whole lot more than one nice catch to show that Span is healthy -- his .308/.351/.538 batting line is another check in his favor -- and so it's worth noting that this might not even be Span's most impressive catch against the Marlins of the past two weeks. On April 24, again backing Jordan Zimmermann, Span ran even farther, making it 103 feet at 17.8 mph -- with a route efficiency of 98.4 percent -- to bring in a Marcell Ozuna laser to deep center field.
Back to Monday: Span went 2-for-5, including a two-strike, two-out double in the bottom of the eighth to put the eventual winning run into scoring position, and then came around to score an insurance run to cap off the night's scoring. That's likely how he'll be remembered for helping Washington win this game, and it was certainly a big part. But don't forget that sixth-inning play that prevented extra bases, either. As the Nationals struggle to overcome poor defense -- they have the worst defensive efficiency in the NL -- a healthy Span is vital.
Mike Petriello is an analyst for MLB.com. This story was not subject to the approval of Major League Baseball or its clubs.