With hot bats, Twins confident in comeback
Offense picks up shaky Hughes, who allowed five runs in six innings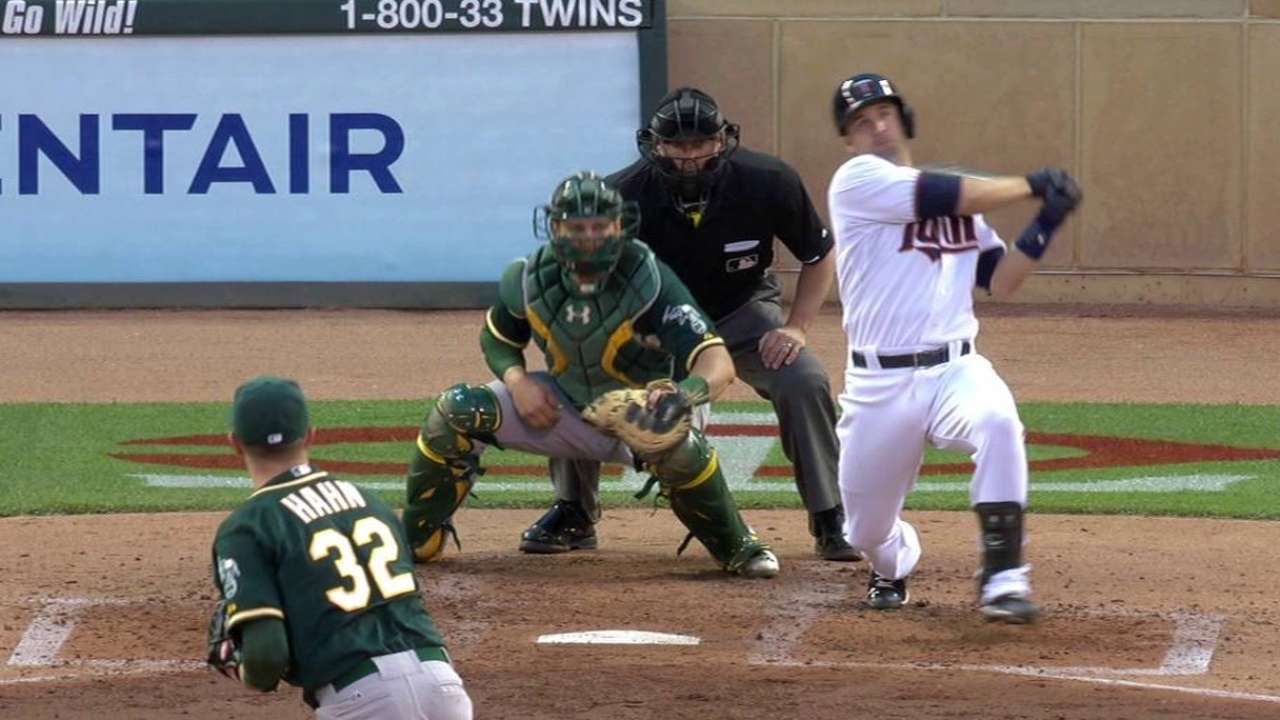 MINNEAPOLIS -- With the way the offense has been rolling this homestand, no one on the Twins panicked when they quickly fell behind by four runs just five batters into the game on a grand slam from A's catcher Stephen Vogt off right-hander Phil Hughes.
Instead, the Twins came right back with four runs of their own in the second to tie the game before Torii Hunter crushed a three-run homer in the sixth to give the Twins the lead in an eventual 8-7 win on Monday night. It marked the fifth straight victory for the Twins, who have now won eight of 10 to move two games above .500 at 14-12 despite a 1-6 start to the year.
So while the offense did the heavy lifting, Hughes settled in, giving up just one run over his next five innings to keep the Twins in the game and get his first win of the year in six starts.
"When you're feeling good about your club offensively the message is just to stay with the game regardless of what the circumstances are," Twins manager Paul Molitor said. "We asked [Hughes] to go back out there and compete and we'd fight to get back into the game. Putting up those zeros like he did, we responded rather quickly to get to even, and then we had to hang on."
Hughes, who left his last outing after five innings due to a mild hip strain, said he felt fine physically, but just missed with pitch location early. He was pleased the Twins were able to rally back, but said he needs to make adjustments going forward, as he's off to a slow start this year with a 5.02 ERA.
"After the first inning, I knew whatever I did after that, it wasn't going to be pretty, so I tried to eat up innings," Hughes said. "I tried to keep us in the game and keep us right there and hopefully we'd score some runs, and we did. So that was good to see, but that first inning was disappointing."
The Twins used five straight hits in the second inning, including an RBI single from Eduardo Escobar, an RBI double from Danny Santana and a two-run double from Brian Dozier to tie it up. Schafer later tied the game with an infield RBI single in the sixth to set up Hunter for his go-ahead three-run blast.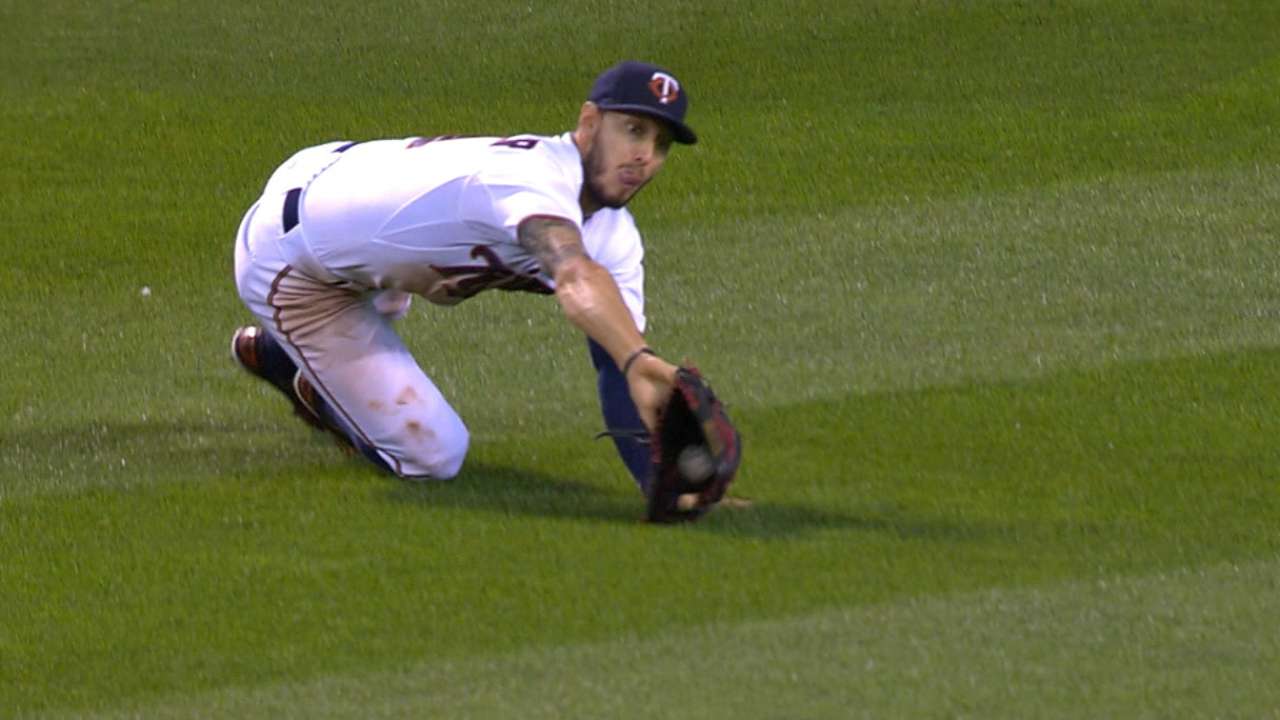 Minnesota held on from there with Schafer robbing Billy Burns of an RBI single with a diving catch to end the eighth on a play that was first ruled a trap then overturned after a replay review. Closer Glen Perkins gave up an RBI double to Vogt in the ninth, but got his ninth save with the Twins getting their sixth come-from-behind victory.
"It's something we've been good at," Hunter said. "We just keep grinding and playing our game. We're having good at-bats and just trying to make things happen. That's what we've been doing of late."
Rhett Bollinger is a reporter for MLB.com. Read his blog, Bollinger Beat, and follow him on Twitter @RhettBollinger. This story was not subject to the approval of Major League Baseball or its clubs.