Frenchy breaks out of slump, posts 4 hits in hometown
Veteran outfielder hits double, triple, drives in two runs in Phils' win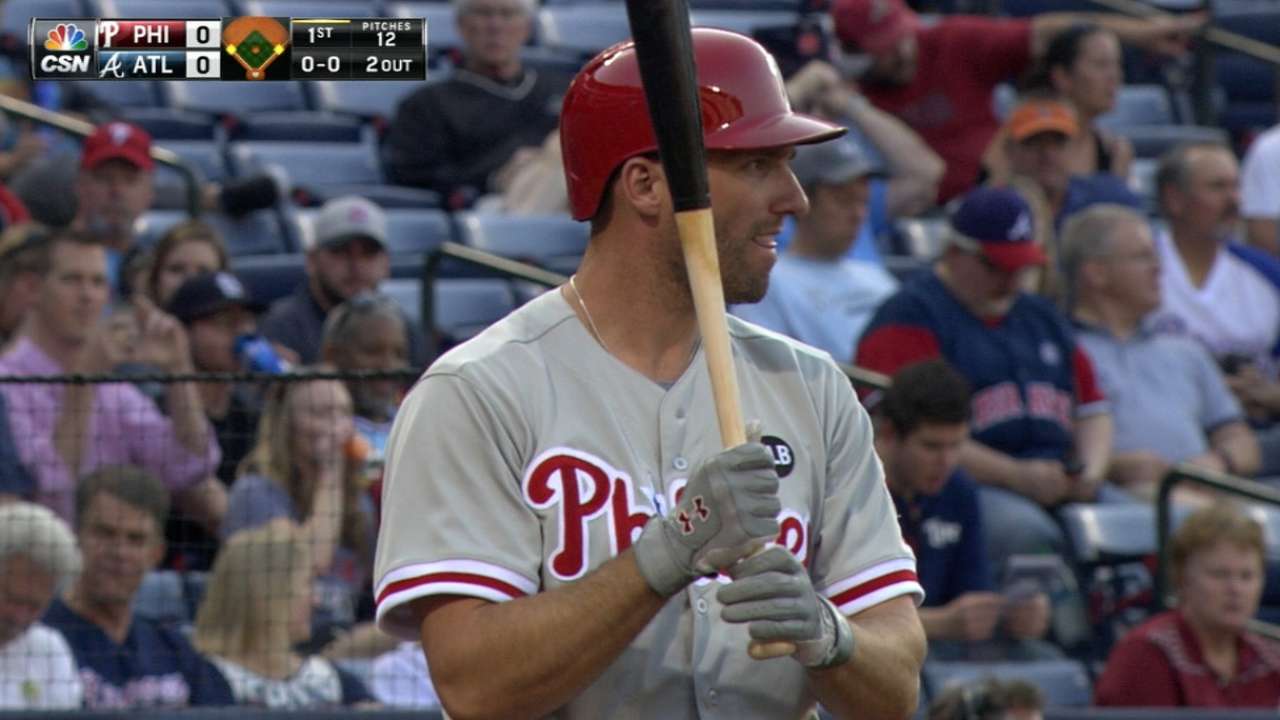 ATLANTA -- Jeff Francoeur badly needed a night like the one he had Monday at Turner Field.
He went 4-for-5 with one double, one triple and two RBIs in a 5-2 victory over the Braves. His two-out double in the first inning helped the Phillies score their first run. His two-out triple in the ninth provided insurance as the Phillies try to salvage a rough 10-game road trip with a series victory.
Francoeur's first four-hit game since May 20, 2012, raised his batting average from .169 to .214.
"Obviously to do it in Atlanta with all of my family and my little daughter here made it extra special," said Francoeur, who was born in Atlanta and played for the Braves from 2005-09. "I got a little good breakfast this morning from momma. I'll try to eat the same thing tomorrow."
Francoeur had been hitless in his previous 19 at-bats before the first-inning single, which included an 0-for-13 skid last week in St. Louis. Francoeur said he had a good talk after Thursday's game in St. Louis with Phillies manager Ryne Sandberg, which helped clear his mind.
"In so many words, I'd like to say I was mentally [messed up] on Thursday," Francoeur said about the Cardinals series. "I was scuffling. To get some time off this weekend was a big deal for me, man. Anybody that knows me knows that I grind hard, I play hard. I put a lot of pressure on myself. To get that time to really rest and relax, I felt really comfortable coming into today."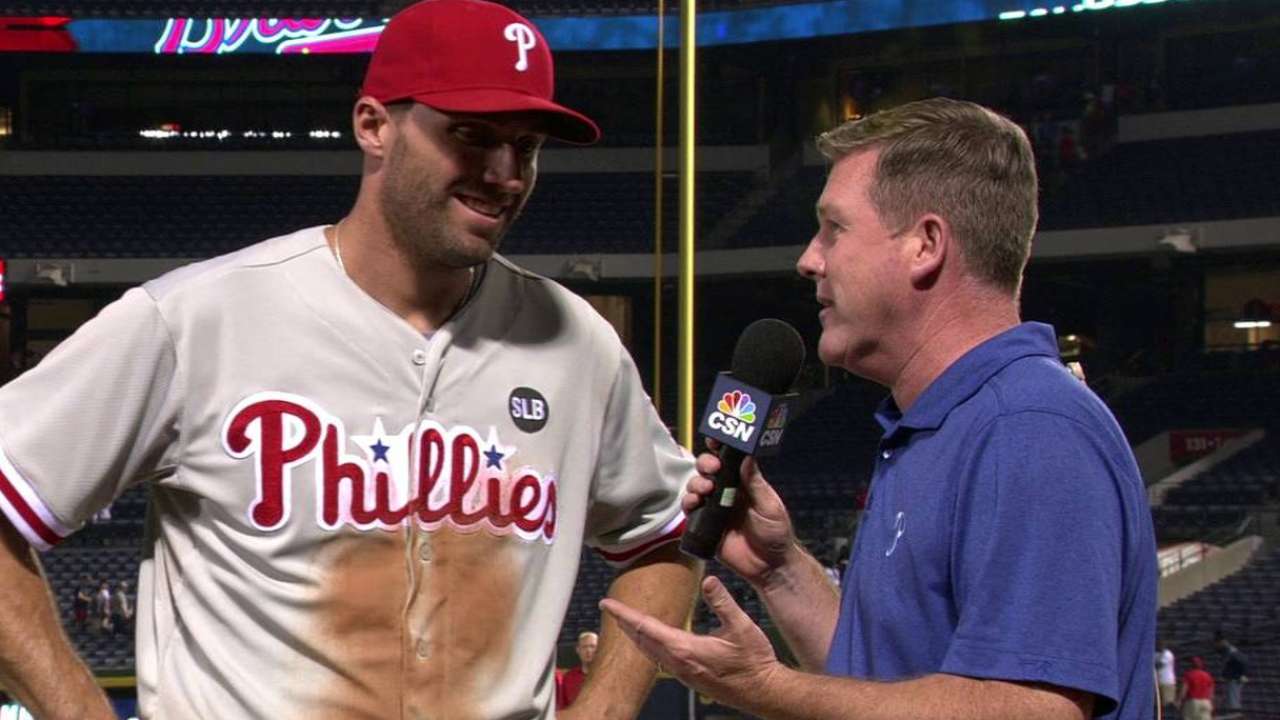 Francoeur has been a positive presence in the Phillies' clubhouse since his arrival, but the Phillies need him to keep hitting. They are expected to make at least a couple of roster moves in the coming weeks and months, including possible promotions for third baseman Maikel Franco and outfielder Domonic Brown, which would affect the Phillies' outfield.
Asked if he has felt any pressure to hit after he worked so hard to get back to the big leagues after spending most of last season in Triple-A, Francoeur said, "Yeah, but the bigger pressure is to hit lefties. That's what I'm here to do. Obviously, I can hit righties, too. I can do it, but I think I'm at that part of my career where it's important to take care of that first."
A platoon-type of situation for Francoeur would make sense. His career OPS against lefties is more than 100 points higher than against righties.
Of course, that will play out in the coming weeks with Sandberg's lineups. Monday night, Francoeur simply enjoyed the moment. His grandmother from Massachusetts made the trip to see her grandson play in person for the first time in three years.
"The ninth inning was neat," Francoeur added. "My little girl is 21 months. My mother-in-law brought her out to see me in the outfield. She started screaming 'daddy' at me. That's the kind of stuff that makes this game fun, and even more reason why you play when you've got little ones like that."
Francoeur's week is going to get better, too. He and his wife learn Thursday if their second child is a boy or girl.
"Big week here in Atlanta," he said.
Todd Zolecki is a reporter for MLB.com. Read his Phillies blog The Zo Zone. Follow him on Twitter. This story was not subject to the approval of Major League Baseball or its clubs.