MLB.com Columnist
Tracy Ringolsby
Ottavino upbeat about likely elbow surgery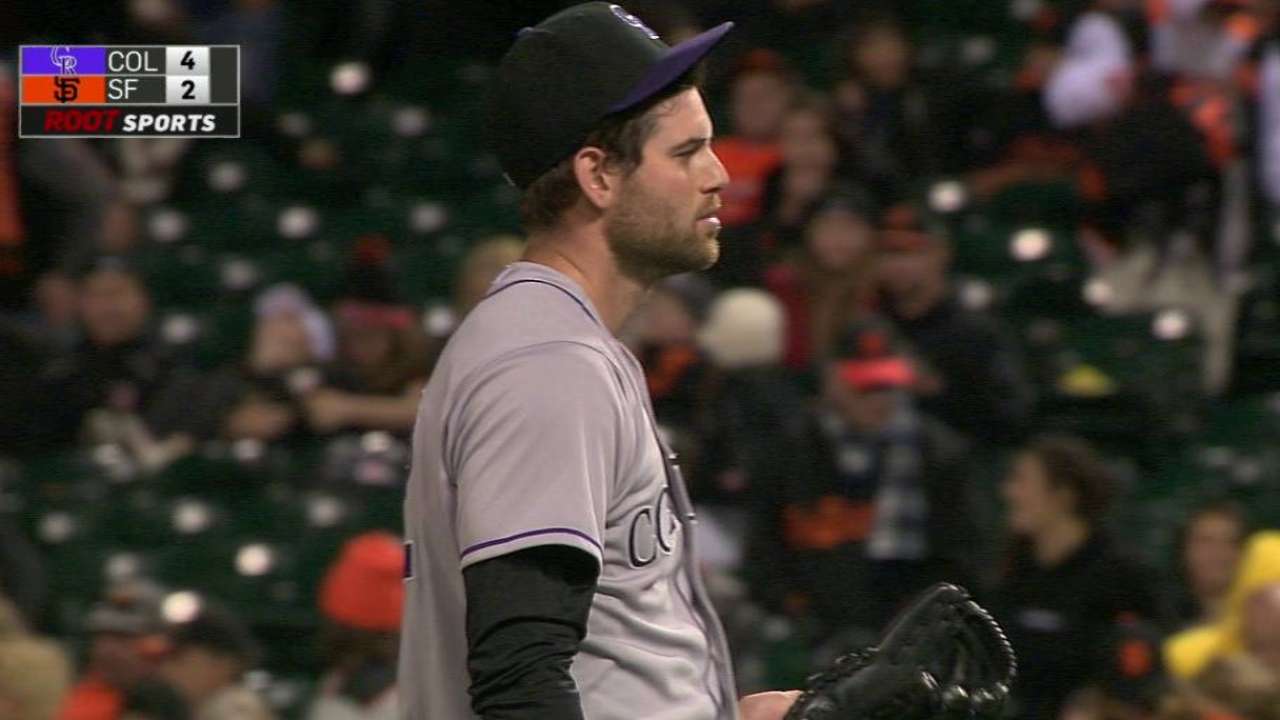 DENVER -- Finally, Rockies reliever Adam Ottavino had his chance to make his mark in the big leagues. But only briefly, for now.
Installed as the closer in the second week of the season, Ottavino opened the second month of this season on the disabled list, and he is headed for a second opinion from Dr. James Andrews on his right elbow on Wednesday, with every expectation he will become the latest subject of a Tommy John surgery on Thursday.
Oh well, what's another year? Ottavino already had battled through nine pro seasons, trying to live up to the hype of being the first-round Draft pick of the St. Louis Cardinals -- the 30th player taken overall -- in 2006.
Ottavino had his chances as a starter in St. Louis. He had evolved into a setup man in Colorado's bullpen the past three seasons, and then, having added a cut fastball in the offseason that suddenly allowed him to get left-handers out, he took over the ninth-inning role this season.
And then a week ago, Ottavino gave in to elbow soreness. He felt something most of the season, although it wasn't apparent by the results. Ottavino had worked 10 1/3 scoreless innings in 10 appearances. He allowed five hits and walked two. He struck out 13 and converted his three save opportunities.
And left-handed hitters, who had a .324 average against Ottavino prior to this year, were only 2-for-15.
"Obviously it is devastating news," said Ottavino. "I wanted to be a part of this team this year, and I felt I was in the best spot I'd ever been in on the mound. … It stinks."
Ottavino paused. It's not like he's giving up.
If Ottavino was a quitter, he would have given up on baseball before now.
Think about it.
A native of Brooklyn, N.Y., Ottavino was drafted out of Northeastern University in 2006, and then spent all or part of seven seasons in the Minor Leagues, and was a waiver claim by the Rockies in April 2012. He finally found a home in Colorado's bullpen.
And now this.
"Baseball is my love," Ottavino said, "so I will do everything I can to come back. I've accepted it."
That's why even though Ottavino is waiting for that final word from Andrews that the surgery is necessary, he is making arrangements to have the procedure on Thursday. He has waited long enough to get his chance to step onto the center stage in the big leagues. Ottavino wants to get the surgery and get moving in his rehab so he can get back in uniform.
"At least I have a good shot at pitching sometime next year," Ottavino said. "This is something a lot of people have to deal with."
Since Tommy John was the first to undergo the surgery to repair a torn ulnar collateral ligament in his left elbow on Sept. 25, 1974, doctors have performed the surgery at least 968 times, according to @MLBPlayerAnalys, which tracks the surgeries, who performed them and whether the pitcher returned to the big leagues.
Ottavino will be at least the 34th pitcher to undergo the surgery this year alone. This year's list includes the likes of Homer Bailey of the Reds, Brandon McCarthy of the Dodgers, Joe Nathan of the Tigers, Aaron Crow of the Marlins, Zack Wheeler of the Mets, Yu Darvish of the Rangers and Tim Collins of the Royals.
Current Rockies teammates Rafael Betancourt, Jorge De La Rosa and John Axford have come back from the surgery, and so has former Cardinals teammate Adam Wainwright.
"I was a lot more scared years ago, when I thought I might have to have shoulder surgery, knowing that that's pretty much a death sentence," Ottavino said. "This is not as much of a death sentence. I can look on our team, and lots of pitchers I've played with, [like] Adam Wainwright.
"Hopefully, I'll be the next to be a success, come back and be myself again."
Ottavino is going to have to wait for that. At least he knows he is going to get the chance this time. Ottavino waited nine years for that opportunity.
So what's another 12 months or so?
Tracy Ringolsby is a columnist for MLB.com. This story was not subject to the approval of Major League Baseball or its clubs.