Game of inches proves frustrating for A's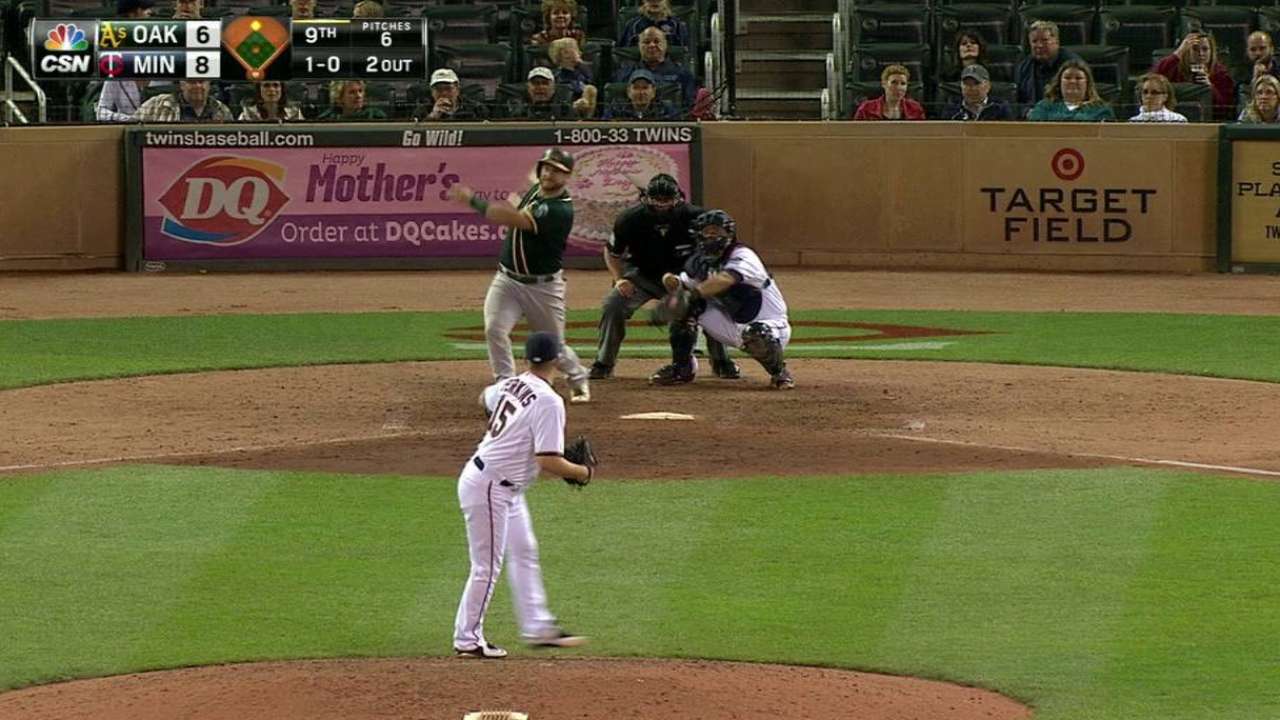 MINNEAPOLIS -- The A's were reminded just how cruel this game of inches can be on more than one occasion Monday night. By the end of it, they were staring down a one-run loss in Minneapolis, their beleaguered bullpen disappointing yet again.
Oakland's 8-7 loss to the Twins could've had a different ending, though.
Reliever R.J. Alvarez, inducing just the type of ground ball from Jordan Schafer he so desperately needed in a no-out situation with runners on second and third, could have not slipped when reaching for it. But he did. Not only did the game-tying run score, but two outs later, Torii Hunter hit a three-run home run.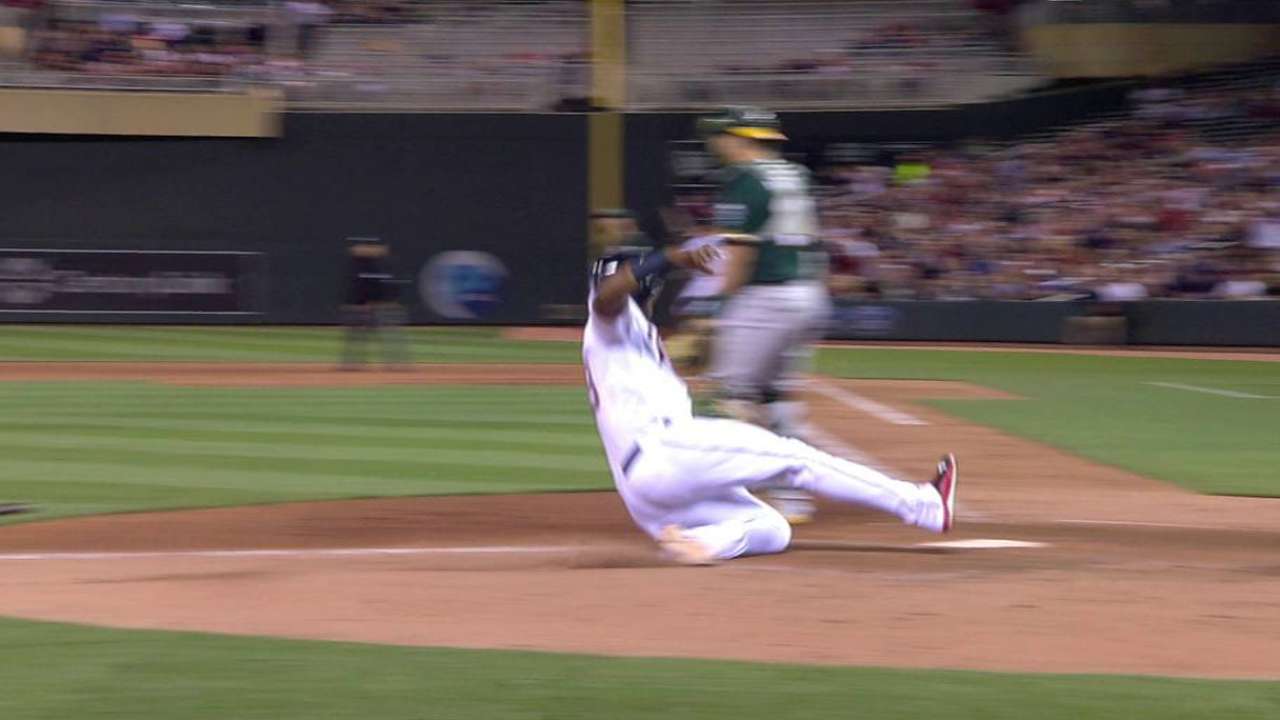 Stephen Vogt, already owner of two hits through the first eight innings, including his first career grand slam in the first, could've had another home run in the ninth -- a game-tying home run at that. Except it came just short, and he had to settle for an RBI double, and he was stranded at second.
That, he said, "just about sums up our night."
"It's frustrating," continued Vogt, now hitting .372 after the three-hit night. "There's no hiding it anymore. We're squaring balls right at people. We're giving up broken-bat, two-RBI doubles. We're struggling late in games to get people out, and it's just frustrating."
His manager said just as much just minutes prior.
"That ball off the bat looks like it might go out if it gets over to the right a little," said Bob Melvin. "That's pretty much a microcosm of our season at this point, that ball just not quite enough and we wind up one run short.
"We get a lead and we lose it, come back, just short. It does get frustrating. Obviously, this has been a serious deficiency for us and we've got to figure it out somehow."
The A's are 0-7 in one-run games and 11-16 overall, their bullpen responsible for much of these early-season woes. On Monday, it was Alvarez who was left trying to explain why.
The right-hander inherited two runners from starter Jesse Hahn, who was on the hook for six runs in five-plus innings, when Schafer bounced the game-changing tapper just right of the mound, with Alvarez unable to get a glove on it.
"Unlike most, I finish to the left, so I just kind of finished that way and slipped trying to get to it, and it was by me," said Alvarez. "If I'm just a foot further to the right, I've got it. He's probably not going to go home, and I'm going to get him at first. Difficult for sure."
Two outs later, a well-executed pitch to Hunter was launched for a three-run home run.
"R.J. executed that pitch to Torii," said Vogt. "For whatever reason, Torii Hunter decided to sit on the inside fastball, and he crushed it and kept it fair, and it was a great swing."
"I went back and looked, and it was pretty much perfect," said Alvarez. "He just beat me."
Jane Lee is a reporter for MLB.com. This story was not subject to the approval of Major League Baseball or its clubs.