Buxton, Correa deliver walk-off winners
Clutch performances by two of game's top three prospects highlight Monday's Minors action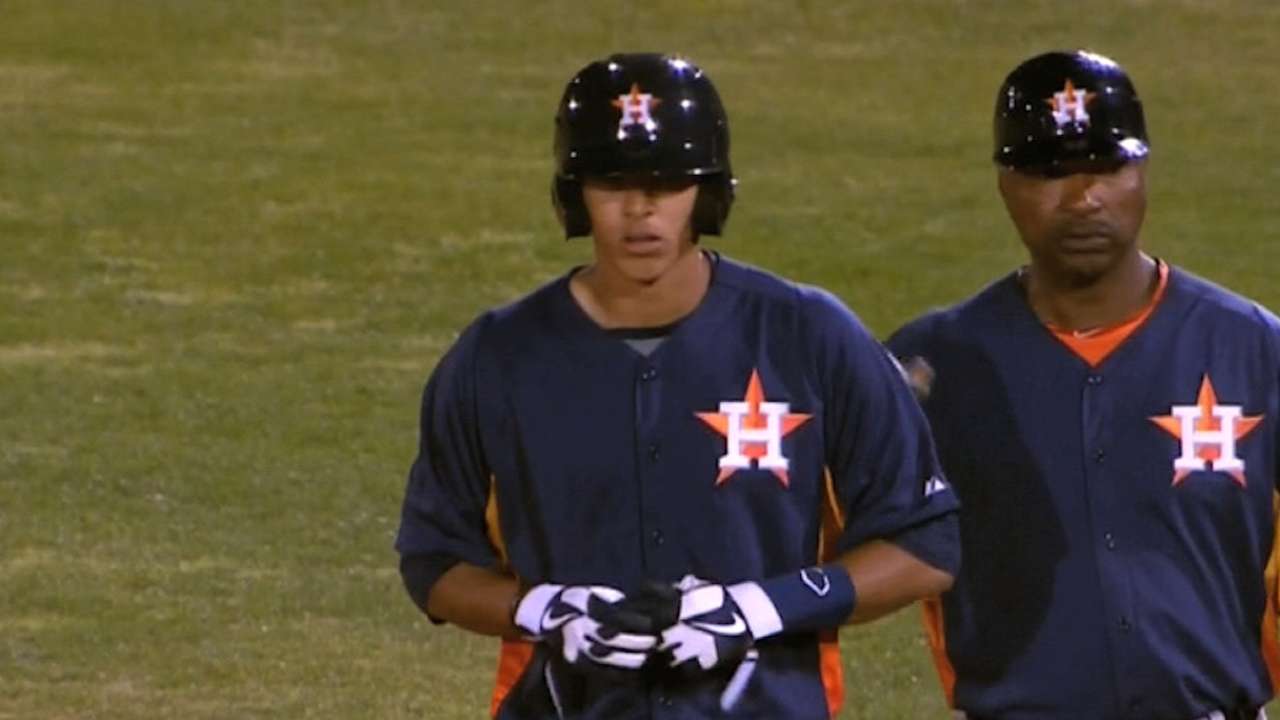 Two of the best players in the Minors came through with game-winning hits on Monday night.Twins No. 1 prospect (No. 1 overall) Byron Buxton cracked a walk-off home run for Double-A Chattanooga, while Astros No. 1 prospect (No. 3 overall) Carlos Correa knocked a bases-clearing, two-out double for Double-A Corpus Christi in the bottom of the ninth.
Correa's clutch shot didn't clear the fence, but he had more hits than Buxton (1-for-4) did Monday night. The shortstop was 3-for-5 with two singles and the deciding two-bagger in a 5-4 win.
Correa began the Frisco series 0-for-7, but is 6-for-9 over the past two days and knocked in three runs to snap a five-game RBI-less streak Monday night. On the season, the 20-year-old is now hitting .383/.458/.702 with five homers and 25 RBIs.
Meanwhile, Buxton is 15-for-33 (.455) over his past eight games, and is undoubtedly past an early-season slump. The center fielder is hitting .286/.353/.527 on the year now, which is nearly .100 points higher than his average was on April 26 (.190), his most recent hitless game.
Rangers No. 4 prospect Jake Thompson (2-2) dominated Correa's Corpus Christi side for seven innings, allowing zero runs and striking out 12. But relievers Cody Kendall, Josh McElwee and Jesus Pirela all failed to keep runners off the basepaths, and Pirela gave up Correa's game-winner.
The good news for Frisco is that Thompson appears to be back to elite form after failing to get past 5 1/3 innings in his past two starts. He cut his ERA from 5.12 to 3.76 on Monday, and more than doubled his previous season strikeout high, which was five.
More standout performances from Top 100 Prospects on Monday
• Class A Advanced Palm Beach and St. Lucie squared off in a pitchers' duel on Monday. Cardinals No. 3 prospect (No. 100 overall) Alex Reyes was solid, giving up one earned run in six innings while notching six strikeouts. The new Minor League strikeout leader now has 41 on the season, but he wasn't good enough to top Mets No. 28 prospect Robert Gsellman, who took a no-hitter into the eighth inning and left with a 4-0 lead that held. He's now 4-0 on the season, and sports a 1.55 ERA.
• Phillies No. 2 prospect (No. 37 overall) Aaron Nola continued a strong run of starts with a seven-inning, one-run performance for Double-A Reading. The righty has given up only four earned runs in his past four starts, which have totaled 27 innings. He's 3-2 with a 2.27 ERA on the year.
• Dodgers No. 4 prospect (No. 92 overall) Grant Holmes picked up his first victory of the season with a six-inning, four-hit, zero-run blanking of Double-A South Bend. After four straight no-decisions, he now sits at 1-0 with a 4.57 ERA, which he cut from 6.32 on Monday.
Other notable performances from around the Minor Leagues
• Reds No. 13 prospect Kyle Waldrop had a good day at the plate for Double-A Pensacola, and he had unlikely organizational slugging partner -- No. 14 prospect Jon Moscot, who doubled as the starting pitcher for Triple-A Louisville. Waldrop went 1-for-3 with a home run and four RBIs, while Moscot was 2-for-3 with two RBIs. Moscot also picked up a win with a six-inning, three-run effort on the mound against Lehigh Valley.
• In Fresno, Astros No. 15 prospect Preston Tucker added to his MiLB-leading statistics with a first-inning home run. He finished the night 1-for-5 with two runs driven in, and continues to sit atop the Minors' power categories with 10 home runs and 31 RBIs.
• Mariners No. 16 prospect Jordy Lara and No. 29 prospect Tyler Smith teamed up in Double-A Jackson's 15-4 win over Pensacola. Lara was 2-for-5 with his first homer of the season and three RBIs, while Smith was 3-for-3 with two doubles and two RBIs. The pair have combined to knock in eight in the past two games and have 14 total RBIs this year.
• D-backs No. 5 prospect Yoan Lopez is still sizzling. He gave up just one hit in five innings during Double-A Mobile's 4-3 loss to Biloxi, and has now surrendered just two earned runs in his past 17 innings. Lopez is 1-2 on the season with a 2.22 ERA.
• Marlins No. 12 prospect Kendry Flores shut down Double-A Chattanooga for eight innings before Buxton's walk-off blast in the ninth. Still, the righty's performance was memorable. Flores gave up just one hit in eight innings of scoreless work, managing to fan five batters while walking one. He earned a no-decision, and remains 1-3 on the season with a 2.64 ERA.
• Padres No. 23 prospect Elliot Morris gave up zero earned runs for the third time this season. Granted, three runners crossed the plate, and Double-A San Antonio lost, 4-3, to Midland, but Morris' line -- six innings, three hits, seven strikeouts, two walks -- was still noteworthy. He's now 1-1 with a 2.05 ERA.
• Royals No. 9 prospect Jorge Bonifacio is back to his slugging ways after briefly dipping below .200 on the year. Coming into Double-A Northwest Arkansas' series with Tulsa on Saturday, the Dominican outfielder was hitting .183. But two straight productive games -- including a 3-for-5 effort with a double and RBI on Monday -- have him at .217/.291/.446. Bonifacio has also racked up five homers and 12 RBIs on the season.
• Orioles No. 21 prospect Branden Kline gave up zero runs in seven innings during Double-A Bowie's 8-0 shutout of Akron. The righty has not given up more than two runs in his past three starts and his ERA has fallen from 6.75 to 3.46 in that time period. Monday's win marks two straight for Kline, who is now 3-1.
• Marlins No. 13 prospect Justin Twine went 4-for-4 during Class A Greensboro's 7-3 win against West Virginia. After an 0-for-22 stretch in April, he's 11-for-24 (.458) since, and has pumped up his average from .065 to .250 in the process.
• Marlins No. 11 prospect Austin Dean went 3-for-4 with three RBIs in Class A Advanced Jupiter's 9-1 win over Charlotte. He's now hitting .283/.305/.384 with one homer and 12 RBIs on the season.
• Phillies No. 25 prospect Aaron Altherr had only one hit on Monday night, but he made it count. The German-born outfielder jacked a grand slam in Double-A Reading's 5-1 win over New Hampshire, his second home run of the year. His RBI count currently stands at 14, and he's hitting .254/.362/.441.
• Padres No. 16 prospect Alex Dickerson went 2-for-4 with a homer and four RBIs in Triple-A El Paso's 13-6 win over Fresno. He lifted his season line to .333/.389/.587, and now has three homers with 16 RBIs.
Alex M. Smith is a reporter for MLB.com. This story was not subject to the approval of Major League Baseball or its clubs.