Facing growing pains, Wood knows he must adjust
After stellar finish to '14, lefty has posted 4.32 ERA this season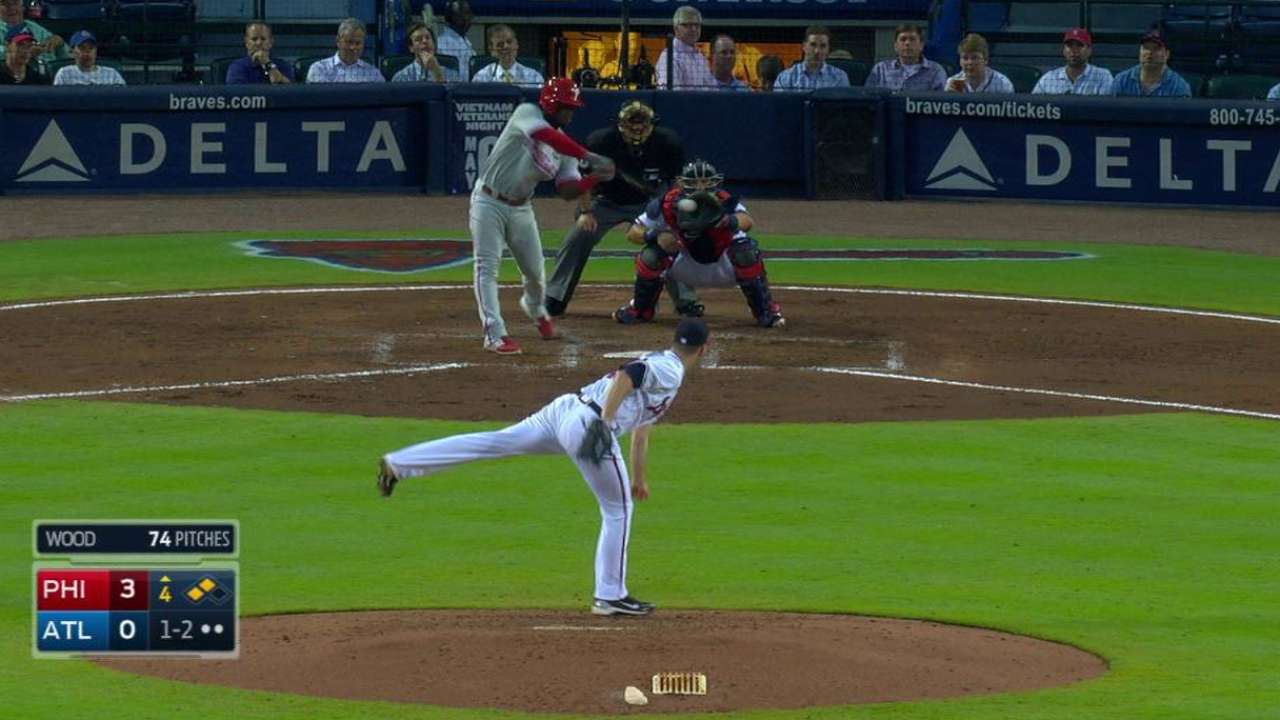 ATLANTA -- Alex Wood fast-tracked his way through the Braves' Minor League system in 2013 and proved to be one of Atlanta's top starting pitchers during the second half of last season. But through the first month of this season, the southpaw has been routinely introduced to the frustration he felt after being pulled during the fifth inning of Monday night's 5-2 loss to the Phillies.
"The time is now," Wood said. "I've got to make an adjustment. It's a humbling game to say the least. It's one of those things where there's no doubt in my mind that I'm going to figure it out. It's just a matter of when. I think it will be sooner rather than later."
After posting a 1.92 ERA over his final 11 starts last year, Wood has been facing the struggles a Major League pitcher inevitably sees at some point during his career. Through this season's first six starts, he has posted a 4.32 ERA and allowed opponents to produce a .313 batting average.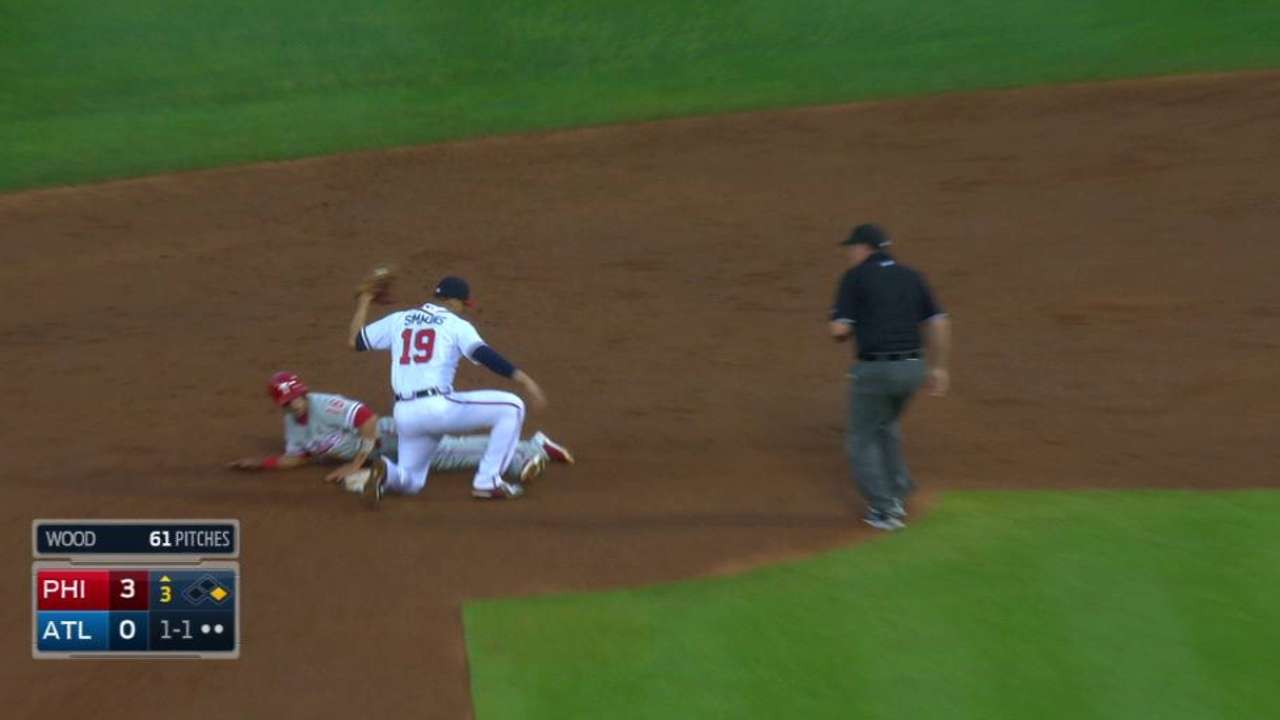 "The sinker and changeup just haven't been there, and that's my bread and butter," Wood said. "It's one of those things where when I can get that to start clicking, with whatever adjustment we're going to make between now and Sunday, that's going to be the difference-maker. It's just frustrating. I know it's going to click. It's just a matter of having it happen. That's the frustrating part."
Instead of righting himself against a Phillies offense that entered Monday with a Major League-worst .600 OPS, Wood surrendered four hits, including three with two outs, during a 27-pitch first inning that netted the visitors a 3-0 lead. Carlos Ruiz capped the early uprising with a two-run single he notched against a 91-mph fastball.
But as Wood looked back on what transpired, he felt his biggest first-inning mistake was throwing four consecutive fastballs to Jeff Francoeur, who began his four-hit night by sending the last offering of this sequence -- a 90-mph heater -- down the left-field line for a two-out RBI double. The always aggressive Francoeur battled back from a 0-2 count to record that key hit.
As Wood has shied away from utilizing his changeup as frequently as he did in the past, he has been hurt by the heavier reliance he's placed on his fastball. The Phillies produced hits with six of the 10 fastballs they put in play against him on Monday.
"He's got good stuff, that's not a question," Braves catcher A.J. Pierzynski said. "He's just not putting guys away right now."
Wood was pulled when his pitch count reached 90 after he allowed consecutive one-out singles in the fifth inning to Darin Ruf and Francoeur. Five of the nine hits he surrendered over 4 1/3 innings were produced against two-strike pitches.
"I'm not overly concerned, but that's not him," Braves manager Fredi Gonzalez said. "I've seen him rattle off start after start after start getting you deep into ballgames. Today, it was 90 pitches in the fifth, and he hasn't been able to get into some kind of rhythm."
Mark Bowman is a reporter for MLB.com. This story was not subject to the approval of Major League Baseball or its clubs.