Tough eighth inning leaves Kershaw frustrated
Left-hander fans eight over 7 1/3 innings; allows 3-0 lead to disappear in loss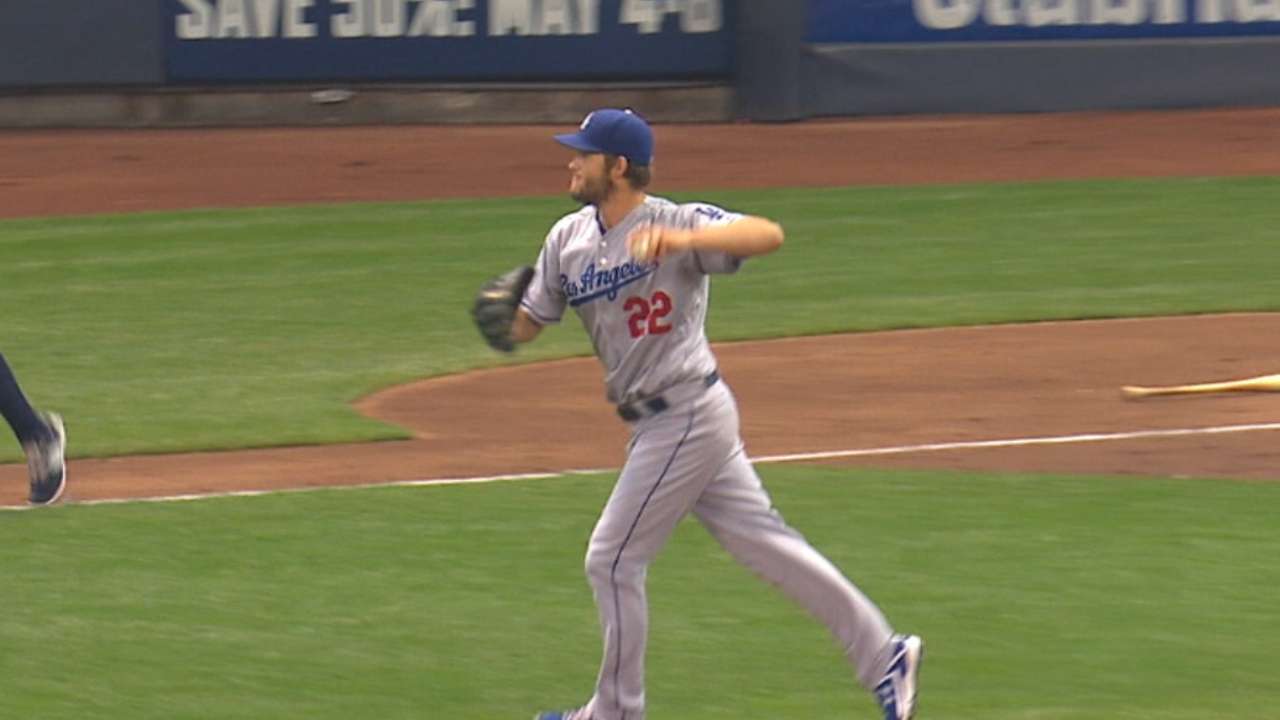 MILWAUKEE -- Worried about Clayton Kershaw?
He wasn't very helpful to those asking how he took a 3-0 lead into the sixth inning and a 3-1 lead into the eighth against the 7-18 Brewers on Monday night without getting his 100th career win or the Dodgers getting their fourth consecutive win.
After a couple of answers about pitches that were hit in the 4-3 loss, Kershaw cut off the postgame interview.
"I don't feel like answering questions right now," he said. "I don't want to analyze it right now. Thanks."
Before he said that, Kershaw insisted he felt fine, even though the sharp slider that was getting swings and misses the first two innings lost its snap and nearly disappeared from the repertoire. He said he was frustrated and disappointed, and after a few minutes even apologized for his terse answers.
After six starts, Kershaw is 1-2 with a 3.72 ERA. He struck out eight without a walk, but has let leads get away twice.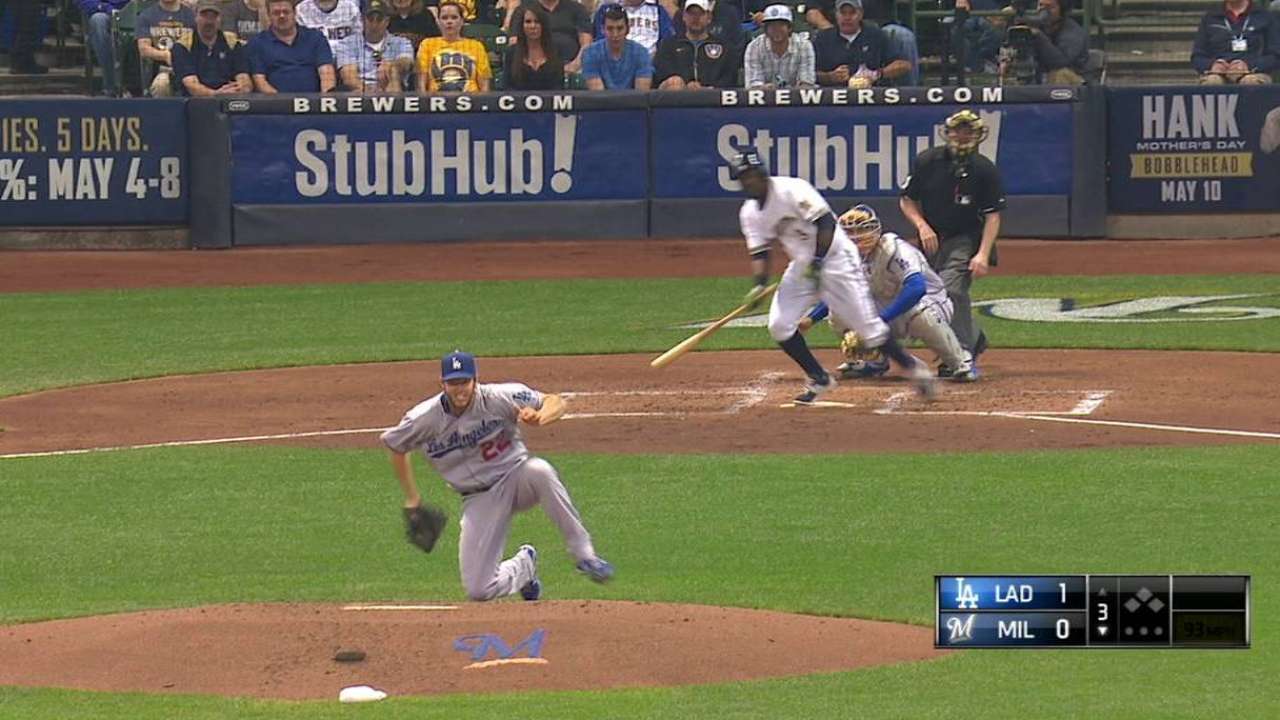 If something is physically wrong with last year's MVP and Cy Young winner, it isn't showing up in the 94-mph fastballs he was still delivering in the eighth inning. But Hector Gomez, the backup shortstop batting eighth, tied the game with his first home run on a fastball, having earlier tripled off one. Kershaw tormenter Gerardo Parra also tripled off a fastball.
Gomez's home run was the fifth allowed by Kershaw in six starts. He didn't allow No. 5 until his 14th start last year.
Pinch-hitter Adam Lind drove a hanging slider to right-center for a double that chased Kershaw. Chris Hatcher came on and allowed a tying double to Carlos Gomez, then a broken-bat infield single by Ryan Braun on a bang-bang play at first base that brought home the winning run, the call standing upon review. Hatcher (0-3) got the blown save and the loss for allowing the bullpen's first run in 26 innings.
Manager Don Mattingly watched the final six innings from the clubhouse, having been ejected while trying to protect Kershaw from a similar fate for arguing after first-base umpire Paul Emmel called a balk.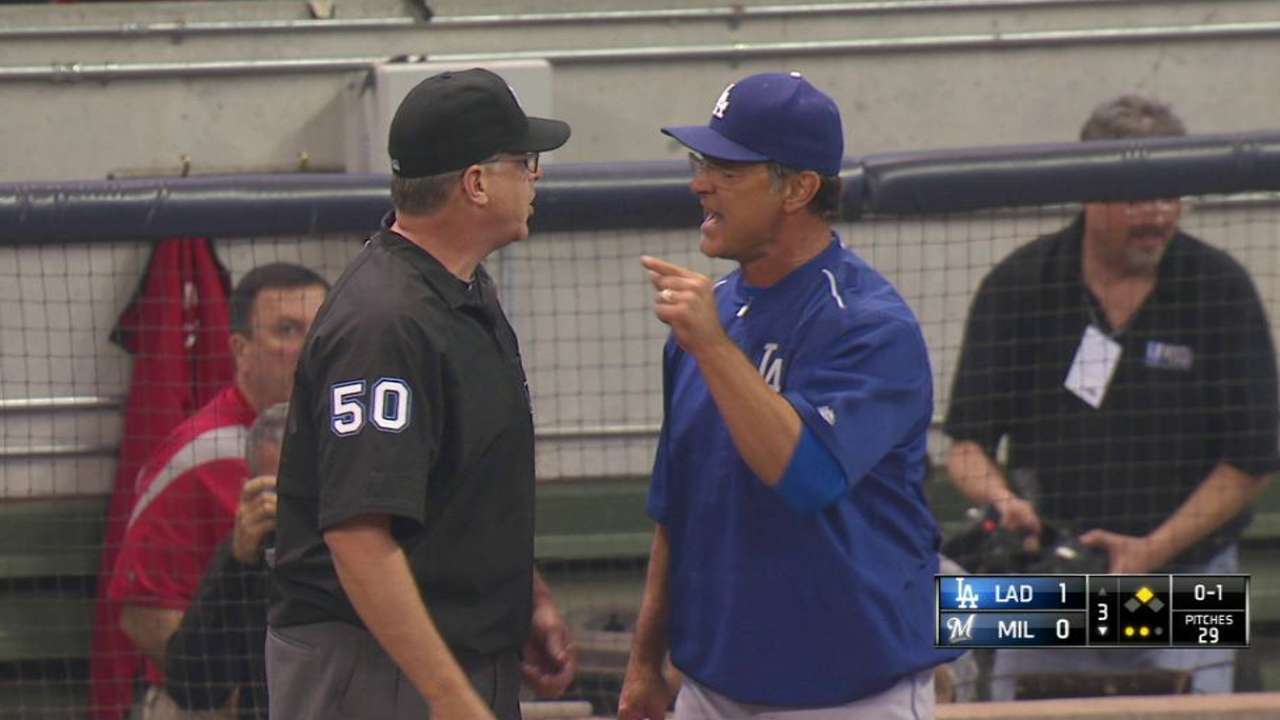 When asked about Kershaw, Mattingly shifted the focus to his club's offense. Rookie Joc Pederson led off the game with another home run, his seventh, and the Dodgers scored twice in the fourth inning on one of three hits from suddenly hot Yasmani Grandal and a sacrifice fly by Juan Uribe.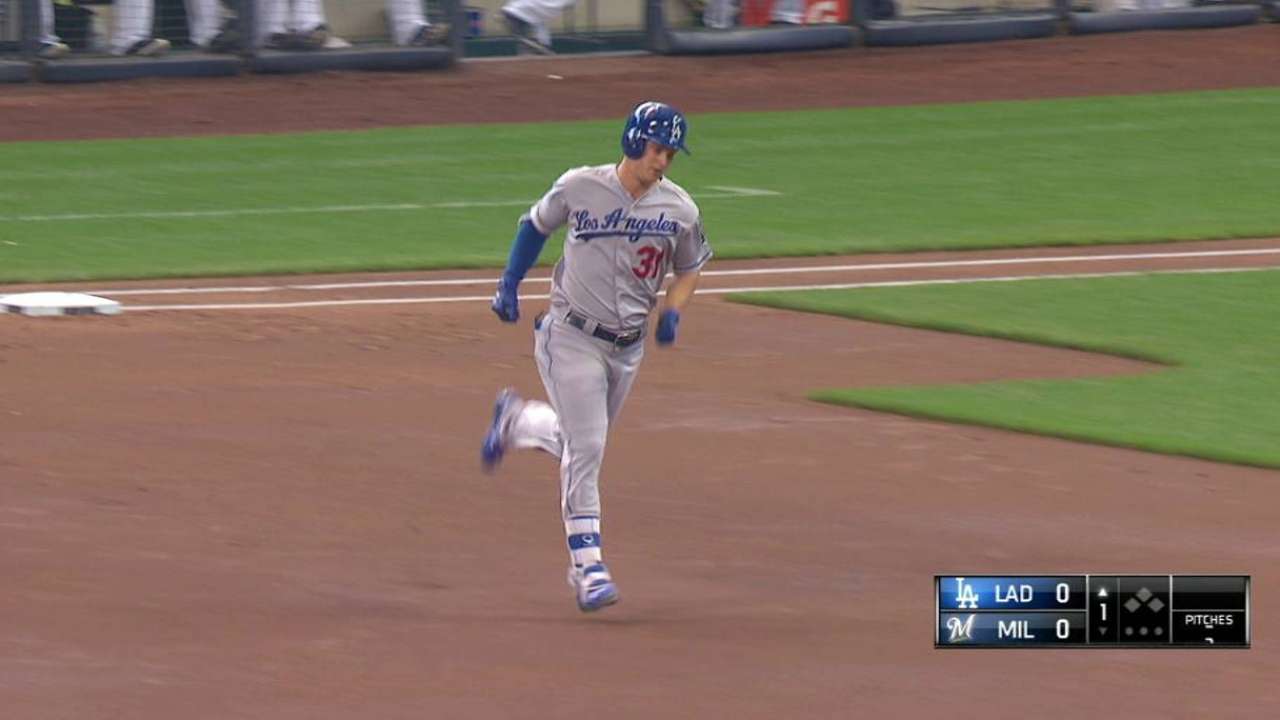 But despite chasing Milwaukee starter Kyle Lohse after five innings, the Dodgers managed only two hits the final four innings. Mattingly praised his offense for its relentless attack on the successful homestand, but that didn't carry over to the road trip opener.
"After the fourth, we didn't do a lot offensively," he said. "Their bullpen did a nice job and we didn't add on. This one is a little tough because we had the lead. We had a good chance to win the game."
It was pointed out to Mattingly that the Dodgers are 3-7 on the road, but 13-2 at home.
"That doesn't have anything to do with us not able to add on," he said. "They got hits. They earned what they got tonight."
Ken Gurnick is a reporter for MLB.com. This story was not subject to the approval of Major League Baseball or its clubs.