Rare first-inning offense lifts Phillies
With two outs, Francoeur knocks RBI double, Ruiz hits two-run single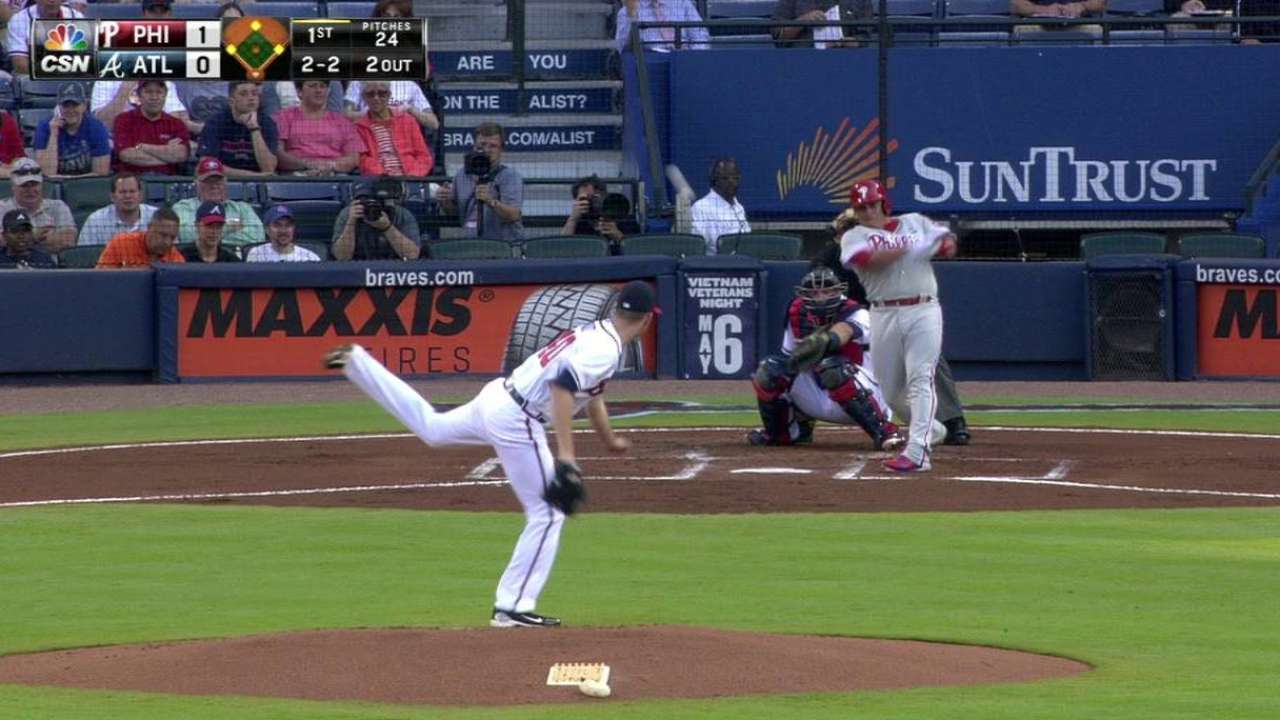 ATLANTA -- Everybody knows about the Phillies' offensive shortcomings this season.
They entered Monday's 5-2 victory over the Braves at Turner Field averaging a mere 2.77 runs per game, making them the only team in baseball averaging fewer than 3.16 runs per game. So it came as no surprise that the Phillies entered the night having scored just five runs in the first inning this season, which tied the Brewers for the fewest in baseball.
But the Phillies scored three runs in the first inning against Braves left-hander Alex Wood to give Aaron Harang some rare early support.
"It's huge," said Harang, who allowed one run in six innings to improve to 3-2 with a 2.35 ERA. "To be able to come and jump on the opposing guy early makes me be able to go out and pitch how I want to and not try to be as fine."
"Definitely went a long way," Phillies manager Ryne Sandberg said.
The rally started with two outs, too.
Darin Ruf hit a single to center to put runners on first and third. Ruf got his first start at first base since April 23 and just his fourth start there this season. He finished the night 3-for-5 with one double, taking advantage of the opportunity and raising his batting average from .186 to .229.
"[Ruf] swung a solid bat," Sandberg said.
Jeff Francoeur followed with a double to left field to score Ben Revere to make it 1-0. Francoeur had been hitless in his last 19 at-bats. He had started 13 of his previous 17 games this season against right-handers, despite his career OPS being 101 points better against left-handed pitchers. Francoeur took advantage of the favorable matchup against Wood, going 2-for-3 against him. He went 4-for-5 with one double, one triple and two RBIs in the game.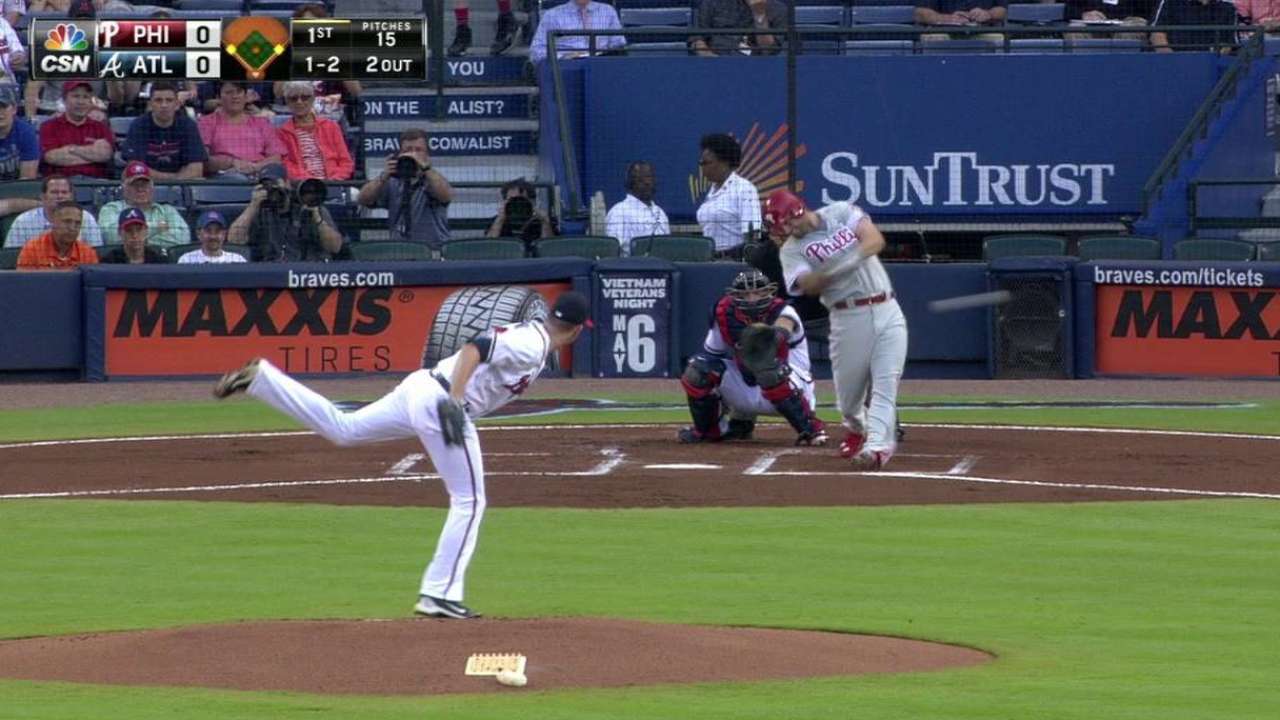 "On this team, I know I need to hit lefties," Francoeur said. "That's my No. 1 priority. When I'm in there on a night like tonight, I've got to get the job done."
Cesar Hernandez then walked to load the bases. He made just his second start at third base, as Cody Asche has hit .180 (11-for-61) with a .482 OPS since April 15. Hernandez walked two more times before picking up an infield hit in the seventh. He finished 1-for-2 with three walks and one RBI.
Carlos Ruiz capped the inning with a two-run single to center field.
Todd Zolecki is a reporter for MLB.com. Read his Phillies blog The Zo Zone. Follow him on Twitter. This story was not subject to the approval of Major League Baseball or its clubs.