Schafer dazzles with outstanding diving grab
Center fielder's catch helped maintain Twins' lead over A's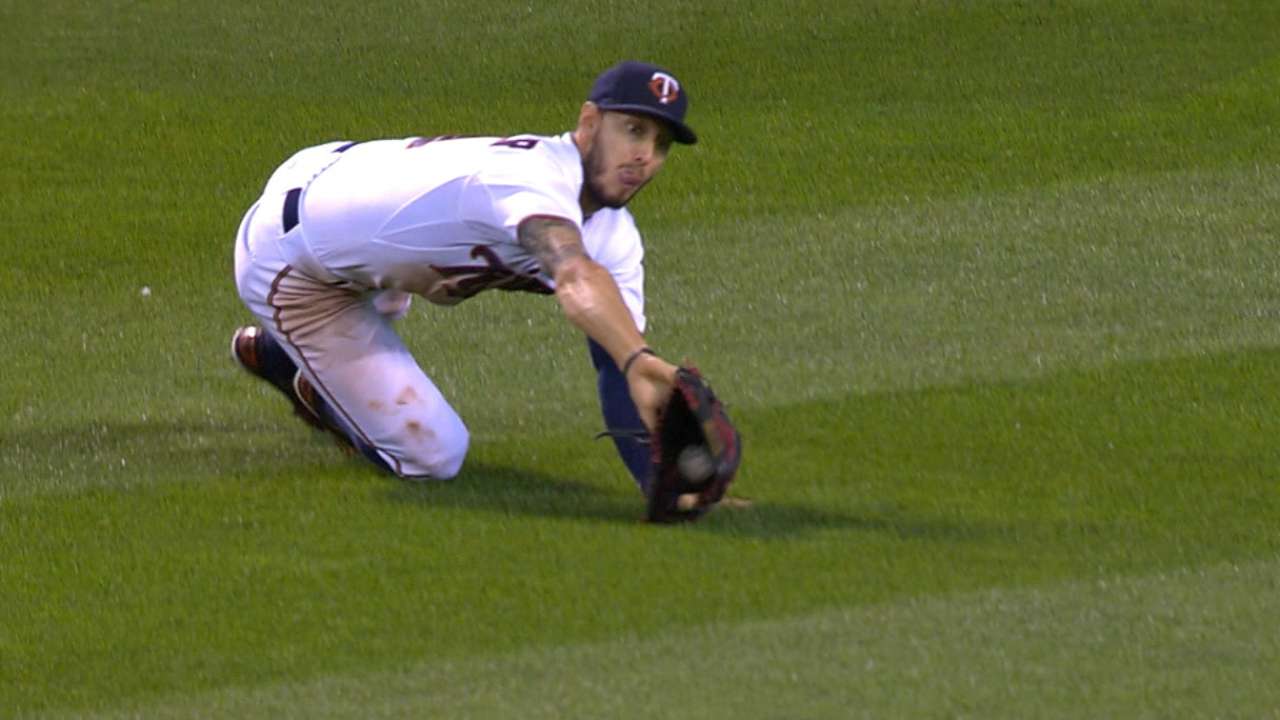 MINNEAPOLIS -- Jordan Schafer knew as soon as he hit the ground that he had come up with a run-saving diving catch in shallow center field to end the eighth inning, but it wasn't quite as clear for first-base umpire Todd Tichenor.
With Brett Lawrie at second base and two outs in the eighth, Billy Burns hit a sinking line drive to center off reliever Blaine Boyer, and Schafer made an impressive diving play. But Tichenor ruled it wasn't a catch, so Twins manager Paul Molitor challenged it, and it was ultimately overturned to end the inning.
It turned out to be a pivotal play, as it kept a run off the board in an eventual 8-7 win for the Twins with the A's scoring in the ninth on a two-out RBI double high off the right-field wall from Stephen Vogt.
"I knew I caught the ball," said Schafer, who was also 3-for-3 with two RBIs at the plate. "Obviously in a situation like that they're going to review the play regardless. If the ball would've been live and the guy would've ran, I wasn't really paying attention. But I knew I caught the ball so I was happy to make the play and end the inning."
According to data from Statcast™, Schafer took a slightly circuitous route, looping slightly out toward right-center field as he went after the blooper, which explains a route efficiency of 92.6. He reached a top speed of 17.9 mph and covered a total of 59.4 feet on a ball that was in the air for 3.5 seconds.
"The guy got jammed a little bit, so it's a tough read," Twins manager Paul Molitor said. "But he closed on it really well. Sometimes the naked eye can be deceiving, but luckily the replay was pretty clear. We got a thumbs up rather quickly and they got it right. It was a big play at that time. They had momentum going, so to get off the field, that was a good thing for us."
Twins right fielder Torii Hunter, who hit the go-ahead three-run homer in the sixth, said it was obvious from his angle Schafer made the play.
"It was in HD -- I saw it live," Hunter said. "I knew he caught that ball. They didn't have to look at the replay. They could've just asked me. I would've told them. But it was pretty cool to see Schaf close in on that ball."
Rhett Bollinger is a reporter for MLB.com. Read his blog, Bollinger Beat, and follow him on Twitter @RhettBollinger. This story was not subject to the approval of Major League Baseball or its clubs.