Terrific Dickey earns first victory without one K
Blue Jays knuckleballer induces weak contact in excellent eight-inning outing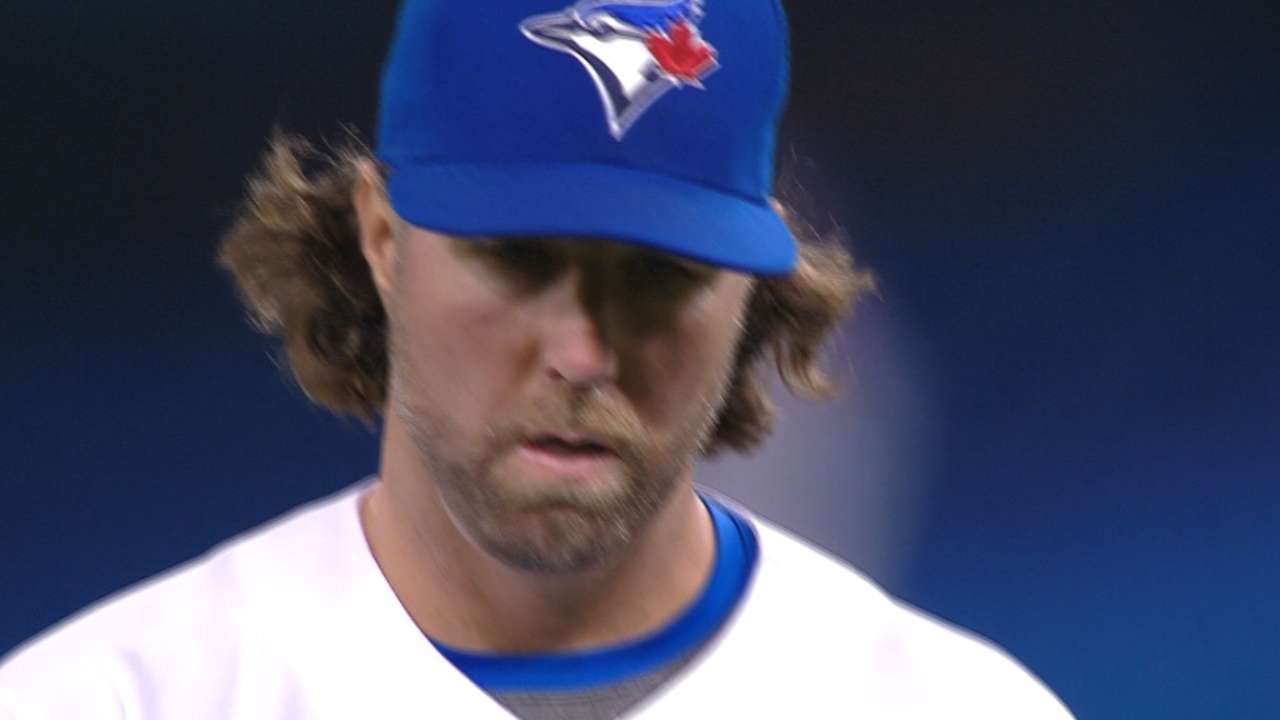 TORONTO -- Despite possessing one of the league's top lineups, R.A. Dickey hasn't received a lot of run support this year, and for quite a while on Monday night, it appeared as though he would suffer that same fate once again.
Dickey was nearly flawless in the Blue Jays' series opener against New York, but he still found his club trailing by one heading into the eighth inning. That seemed like a cruel twist of fate for a pitcher who had yet to win this season, even though his performance has been quite solid of late.
In the end, Toronto took care of business thanks to an RBI double by Edwin Encarnacion and a pinch-hit single by Russell Martin in the eighth. That was enough to escape with a 3-1 victory, and it rewarded Dickey for perhaps one of his best performances in a Blue Jays uniform.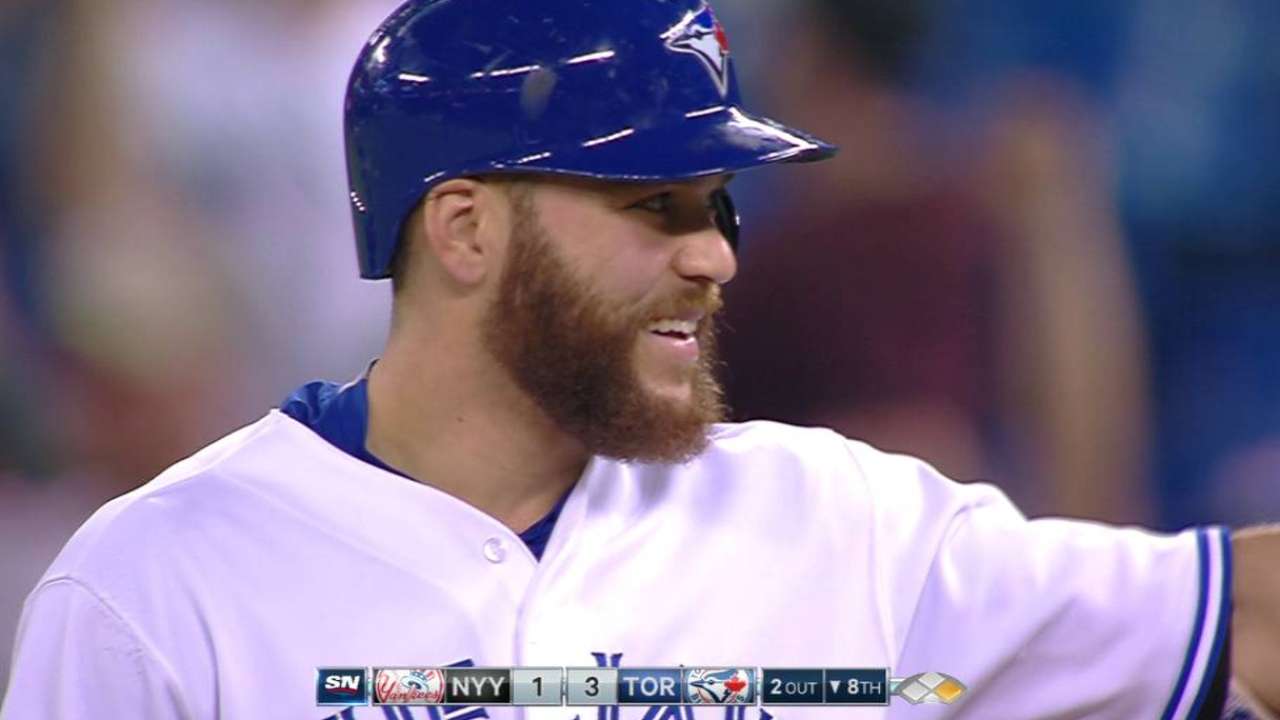 "I can honestly say, I think that was as good as I've seen him in three years," manager John Gibbons said after the win. "He was really good tonight, and we needed it after a tough loss yesterday to bounce back, even though it didn't happen until late in the game.
"A lot of movement; I can't remember any mistakes. Usually his mistakes are when his ball flattens out a little bit, and I didn't see any of those today. He was good. Justice served, because he deserved to win on that one."
Dickey's strong outing couldn't have come at a better time, with Toronto's rotation reeling after a string of bad starts. The knuckleballer became the first Blue Jays starter this season to enter the seventh inning without giving up a run. He also became the second Toronto starter to toss eight innings in a game this season.
Dickey's only blemish came in the seventh inning, when Carlos Beltran led off with a double. It's a ball that likely should have been caught, but right fielder Ezequiel Carrera took a step in before going back and had it sail over his head. Another defensive miscue happened later in the inning, when Encarnacion was unable to make a clean play on a hard-hit grounder to first as Beltran scored.
Outside of that, it was close to perfection as Dickey allowed three hits and three walks over his eight innings. It was the deepest he has pitched into a game since July 3, 2014, against Oakland. The only downside was that he also didn't strike out a batter for the second time this season. He's the 21st pitcher since 2000 to toss at least eight innings while allowing one earned run or fewer without a strikeout.
"I don't care much about the strikeouts. At this point, you just want to win games," Dickey said. "I don't know how many ground balls I had tonight, but quite a few. It was reminiscent of those 2010-11 games I would pitch, where I would get a lot of ground balls and not a lot of strikeouts. Just enough movement to get off the barrel."
Gregor Chisholm is a reporter for MLB.com. Read his blog, North of the Border, and follow him on Twitter @gregorMLB. This story was not subject to the approval of Major League Baseball or its clubs.