Addition of Hedges takes pressure off Norris
Padres prospect deepens catching position, lessens workload on starter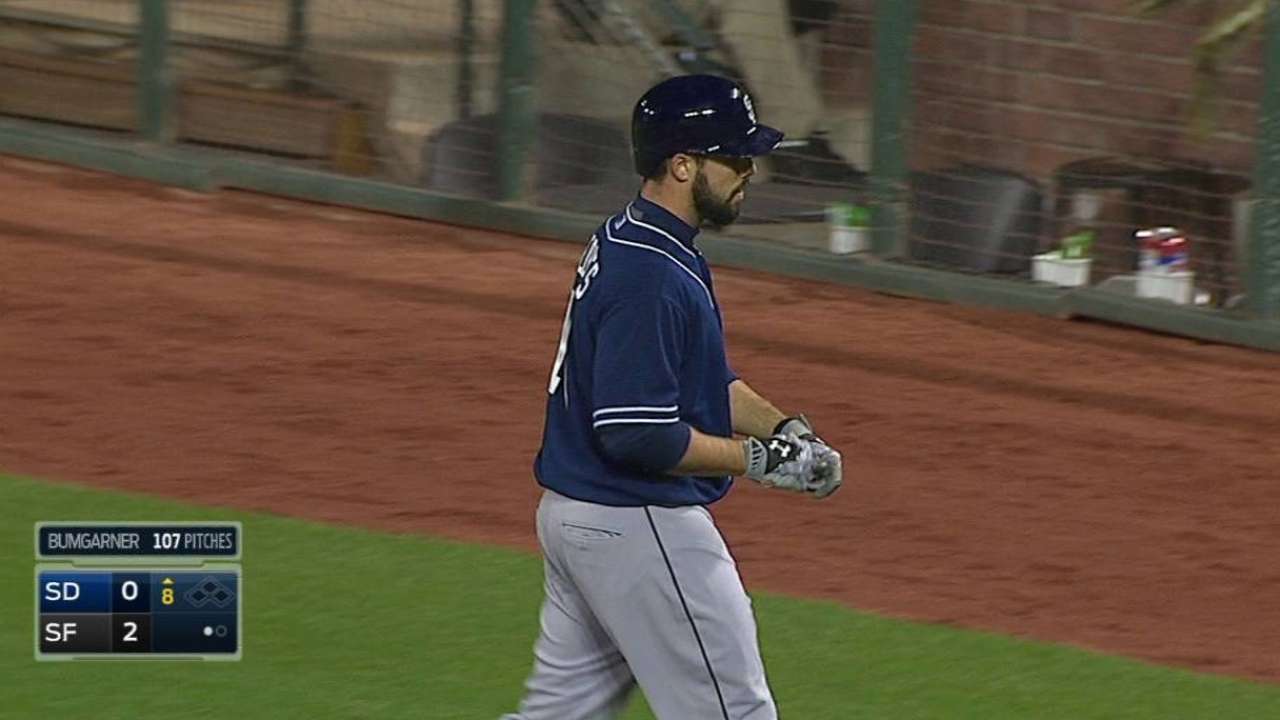 SAN FRANCISCO -- The promotion of 22-year-old catching prospect Austin Hedges on Monday from Triple-A El Paso was by no means an indication of how the Padres feel about starting catcher Derek Norris.
But adding Hedges, the organization's No. 2 prospect according to MLB.com, could certainly affect Norris' workload moving forward.
Norris entered Monday's game against the Giants at AT&T Park with the second-most innings caught (202 2/3) behind Salvador Perez -- who else? -- of the Royals (212 2/3).
"Derek is on pace to catch more games than he's ever caught in his life. I'm not sure we want to go in that direction," said Padres manager Bud Black. "Derek is going to play a lot. But you feel good when Austin Hedges is in there."
Norris, who said in Spring Training that he wants to catch in upwards of 120 games, has never caught more than 93 games in a single season as he did with the A's in 2014.
Already this season, Norris has taken a foul ball off the right ankle. On Sunday, a backswing got him on the big toe of his left foot.
The team is pleased with how he's fared so far. He's second in the Majors in catcher caught stealing with 10. He also entered Monday hitting .337 with two home runs and 16 RBIs.
Hedges gives the Padres a big upgrade, at least defensively, than they had with Wil Nieves, who was designated for assignment Monday. Nieves had three passed balls and was 0-for-5 attempting to nab would-be basestealers.
"On those days Derek won't catch, we've got Austin there, playing his game, which we feel is solid," Black said. "There's an advantage to being in the big leagues without playing. But he'll play."
Before the game, Black was noncommittal on when Hedges would get his first start. But he didn't waste any time getting him an at-bat, as Hedges pinch-hit for pitcher Tyson Ross in the eighth inning Monday, striking out against Madison Bumgarner on a sweeping curveball down in the strike zone.
"It was pretty cool to hear my name called out," Hedges said. "Other than the results, I had an absolute blast. To go up against the World Series MVP ... I couldn't ask for anything else."
Corey Brock is a reporter for MLB.com. Keep track of @FollowThePadres on Twitter. This story was not subject to the approval of Major League Baseball or its clubs.