MLB.com Columnist
Fred Zinkie
DraftKings picks: Freeman, Greinke, McCann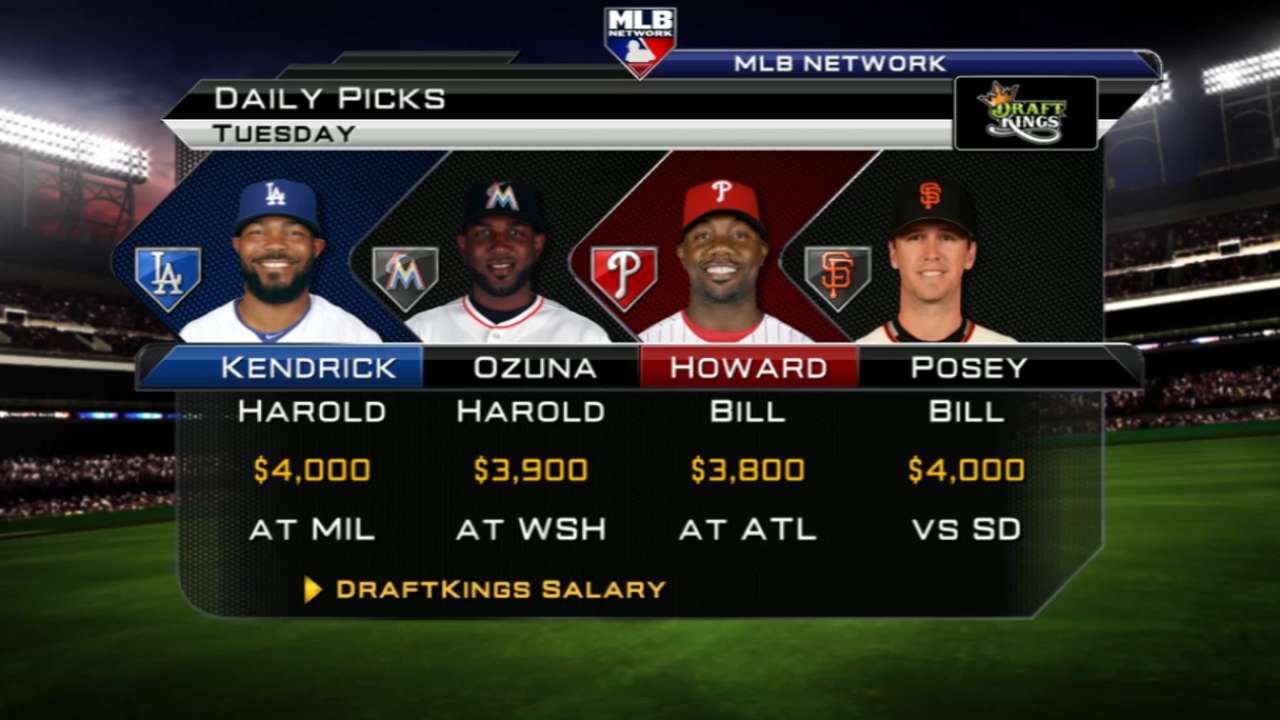 Tuesday could be a tough day for roster construction in DraftKings, but we are here to help with the process. For starters, you'll find a scarcity of top-tier hurlers from which to choose. And when looking to build an offense, several teams set to face backend arms will be playing at pitcher-friendly venues -- a fact that partially negates the value of the attractive opposing matchups. With these factors considered, the players listed below could provide answers to the toughest questions.
Gregory Polanco (Pirates): The speedy outfielder could improve on his career .746 OPS against right-handers (.450 vs. lefties) on Tuesday, when he faces Reds rookie righty Michael Lorenzen. The owner of a 1.33 WHIP as a Minor Leaguer, the 23-year-old allowed nine baserunners in five innings during his big league debut on April 29.
Pedro Alvarez (Pirates): The first baseman could show his power when he brings his career .794 OPS against righties (.587 vs. southpaws) into a matchup with Lorenzen, who had not appeared above Double-A prior to this season.
Neil Walker (Pirates): With a career .276/.345/.457 slash line against right-handers, the second baseman could provide valuable production as part of a Pirates stack against the rookie righty Lorenzen.
Brian McCann (Yankees): With a lifetime .830 OPS against right-handers (.752 vs. lefties), the catcher could rip a round-tripper at homer-happy Rogers Centre on Tuesday, when he faces fly-ball-prone righty Marco Estrada
Stephen Drew (Yankees): With a .155 batting average this season, Drew could be an inexpensive shortstop for DraftKings participants on Tuesday. And with a lifetime .773 OPS vs. righties (.667 against lefties), he could hit his fifth homer of the season when he faces Estrada (career 1.4 HR/9 rate).
Freddie Freeman (Braves): The first baseman has long fared best vs. righties, posting an .878 OPS in those situations that exceeds his .738 mark vs. lefties. On Tuesday, he could reach base often and drive in multiple runs against Phillies righty Chad Billingsley, who has not pitched in the Majors since April 2013 due to arm woes.
Nick Markakis (Braves): Markakis could improve on his season-to-date .394 on-base percentage by reaching base multiple times out of the leadoff spot against the righty Billingsley (lifetime 1.36 WHIP). In his favor, the outfielder has compiled a lifetime .815 OPS against right-handers such as Billingsley as opposed to a .740 mark vs. lefties.
Lucas Duda (Mets): Having collected 145 of his 172 career extra-base hits against right-handers, the first baseman could showcase his power in a meeting with Orioles righty Bud Norris (lifetime 4.38 ERA, 1.40 WHIP) on Tuesday.
Jose Altuve (Astros): With a lifetime .356/.396/.492 slash line against left-handers, the second baseman could reach base often against Rangers lefty Wandy Rodriguez on Tuesday. The 36-year-old hurler has struggled in 2015, posting a 4.82 ERA and a 1.93 WHIP across a pair of starts after recording a 6.75 ERA during an injury-plagued 2014 season.
Evan Gattis (Astros): With a career .833 OPS vs. southpaws (.761 against righties), the slugger could have great success against the southpaw Rodriguez on Tuesday. Of note, Gattis has smacked 12 homers across 194 at-bats against southpaws as a big leaguer.
Joc Pederson (Dodgers): In his brief career, the rookie outfielder has worn out opposing right-handers to the tune of a .932 OPS (.466 vs. lefties). With a versatile skill set, Pederson could contribute in multiple ways when he faces righty Matt Garza at hitter-friendly Miller Park on Tuesday.
Zack Greinke (Dodgers): Greinke is off to a terrific start this season (1.93 ERA, 0.92 WHIP), which is not surprising given his 36-12 record and 2.62 ERA since the outset of 2013. The right-hander on Tuesday could continue to accumulate impressive results when he opposes a seven-win Brewers squad that ranks 28th in the Majors with a .629 OPS.
Andrew Cashner (Padres): The right-hander has compiled respectable ratios (3.21 ERA, 1.20 WHIP) during his Major League tenure, and he could lower those marks on Tuesday at spacious AT&T Park vs. a Giants lineup that ranks 28th in the Majors with 79 runs. With Ryan Vogelsong (career 4.52 ERA, 1.41 WHIP) on the hill for San Francisco, Cashner seems to have the necessary recipe to cook up a win.
Garrett Richards (Angels): The right-hander amassed a 2.61 ERA during his 2014 breakout season, and he has opened the 2015 campaign with a 3.00 ERA across three starts. With few appealing starter options on the Tuesday slate, Richards could be a good choice in his home-field tilt against the Mariners.
Shelby Miller (Braves): Following up on a second half of 2014 in which he posted a 2.92 ERA, Miller has recorded a 2.17 ERA and a 1.14 WHIP across five starts as a member of the Braves. On Tuesday, he could continue to thrive during a start at his pitcher-friendly home park against a Phillies offense that ranks last in baseball in OPS (.600) and runs per game (2.77).
All statistics are accurate through the completion of Sunday's games.
Fred Zinkie is the lead fantasy baseball writer for MLB.com. Follow him on Twitter at @FredZinkieMLB. This story was not subject to the approval of Major League Baseball or its clubs.