MLB.com Columnist
Anthony Castrovince
5 stars getting in full swing on first pitch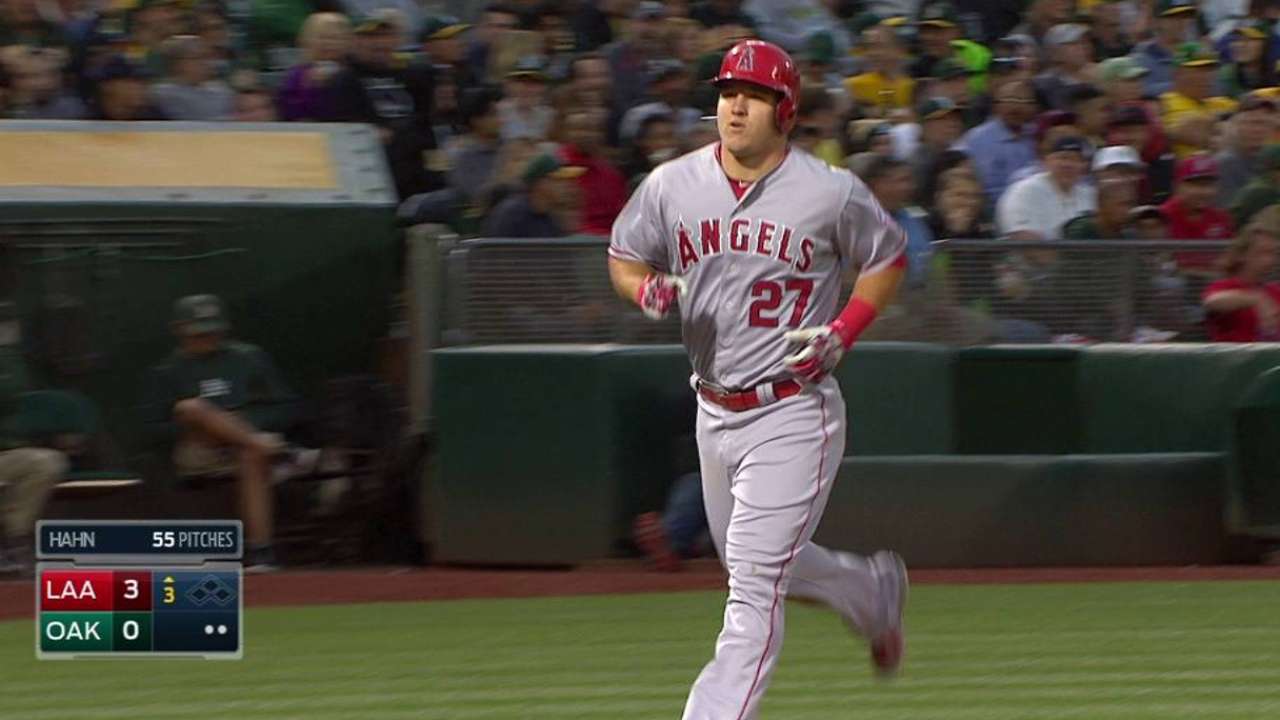 When in doubt, turn to Mike Trout. If a generational talent like Trout is making a conscious effort to revamp his style even in the slightest, then it's worth exploring.
This spring, Trout promised reporters he would be "locked and loaded" early in counts this season in an effort to be more aggressive at the plate. It was the surest sign yet that at least a decade's worth of mantras prioritizing "driving up pitch counts" and "getting to the bullpen" were beginning to feel outdated, given that deep bullpens loaded with matchup possibilities have greatly contributed to the league-wide decline of offense.
Where selectivity was once the standard, now you're starting to hear more hitting coaches espousing the benefits of that "locked and loaded" mentality.
"Bullpens are so dynamic and they have so many specialties and so much power, and OPS [against] falls off the map when you get above 93 [mph]," Cubs hitting coach John Mallee said. "So if you get a pitch that you can drive early in the count, that's a pitch you should be swinging at. If it's there, you're swinging."
Not that it works for everybody, but last season, batters had a .336 average and a .526 slugging percentage on first pitches, so there certainly seems to be some merit to that strategy, at large.
We don't have a very large sample to work with from this season yet, obviously, but look at the Major League averages for first-pitch swing percentage over the past six years:
2010: 26.0
2011: 26.7
2012: 26.6
2013: 27.1
2014: 27.5
2015: 27.8
Considering the sheer number of first pitches we're talking about (more than 180,000 each season), even the smallest percentage rise in first-pitch swings is significant.
Though he is leading the Majors in pitches per plate appearance (4.52), Trout is doing his part to contribute to this theme of first-pitch feistiness.
In his career prior to this season, Trout had swung at first pitches just 10.9 percent of the time. This year, that number is up to 19.8. Though those swings haven't done much damage (only 20 percent of the balls Trout has put in play on a first pitch have fallen for hits), they have likely changed the course of his at-bats. Trout's prime goal here was to yank opposing pitchers away from the patterns that allowed them to eventually exploit his lone weakness -- the high strike -- last season, when he led the American League in strikeouts.
On the whole, it appears to be a positive, because Trout has seen his strikeout rate fall 2.5 points while compiling a .315 average and .994 OPS.
Here are four other guys who, one way or another, seem to be benefiting from increased aggression:
Joey Votto, Reds
The Sultan of Selectivity has frustrated no small percentage of the Reds' fan base in recent years for what they've deemed to be an unnecessary allegiance to taking pitches. When knee woes helped sap his strength, Votto went uber-heavy on the OBP at the expense of RBI, and some felt his unselfishness made him, well, selfish.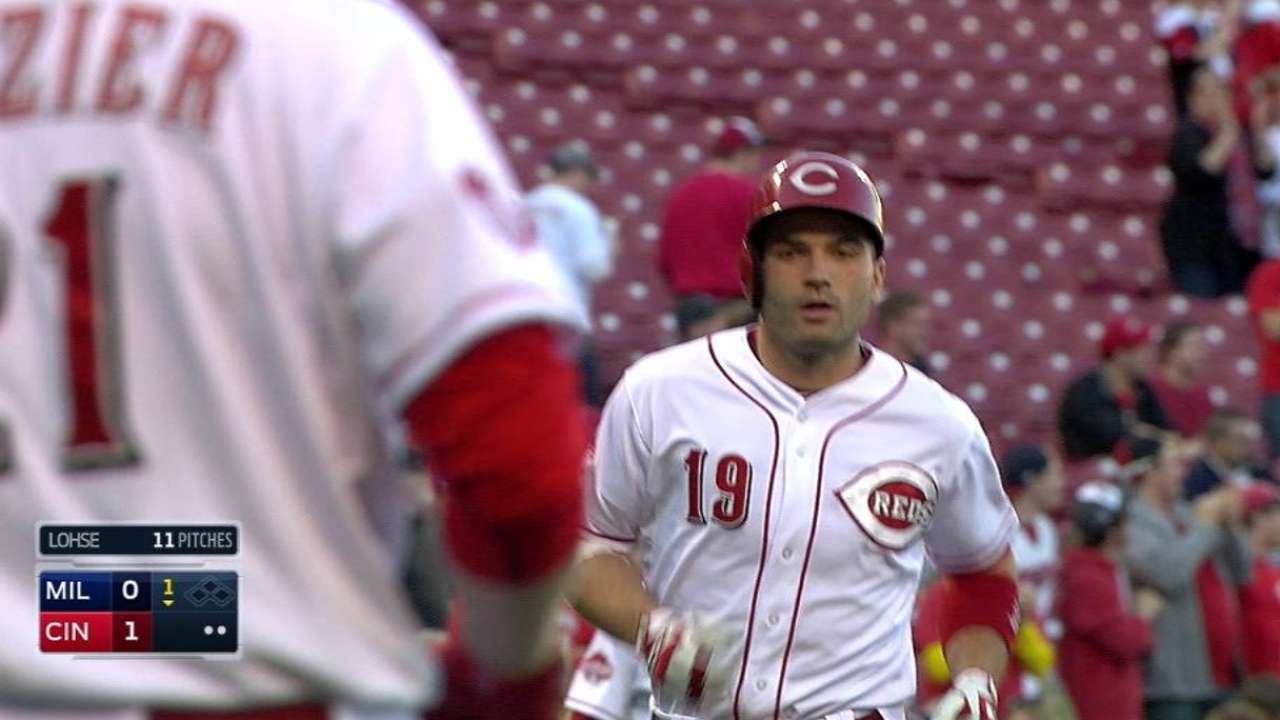 This year, Votto is healthy and raking. He's still extremely selective, taking 58.8 percent of pitches thrown and seeing 4.24 pitches per plate appearance. But for the first time since his MVP year in 2010, Votto is swinging at more than 70 percent of pitches in the strike zone, per FanGraphs. He's also been outstanding (.385 with a 1.154 OPS) when he pulls that first-pitch trigger, which he's doing 4.8 percent more frequently than he did in his last qualifying season, 2013.
Dee Gordon, Marlins
Maybe leadoff hitters are traditionally expected to work opposing pitchers, but who's to argue with what Gordon is doing when he gets up there and hacks?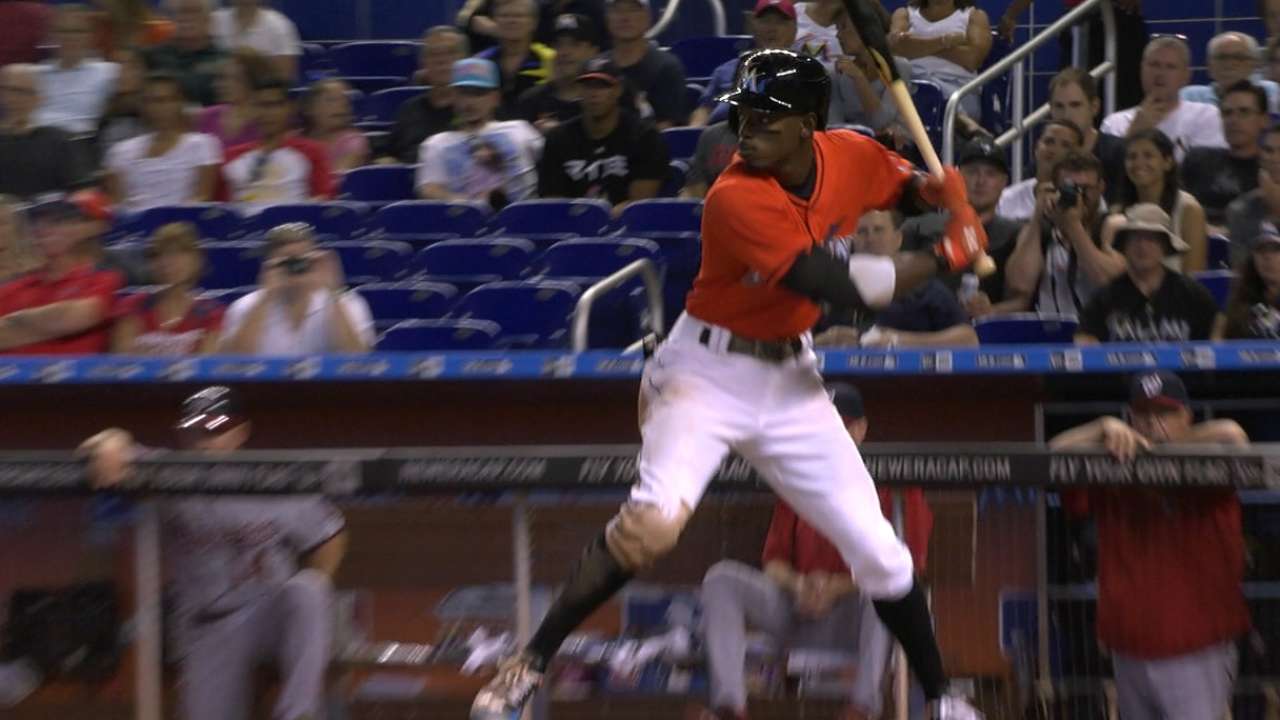 Gordon's .433 batting average is obviously not sustainable, and neither is his ridiculous .625 average on the first pitch. Regardless, there might be real value in his assertiveness early in counts, which is why Gordon is swinging at those first pitches more frequently than he did with the Dodgers last year (30.3 vs. 21.2).
Matt Carpenter, Cardinals
In the 2013 and '14 seasons, no player in baseball took more pitches than Carpenter (3,926). He let 64.9 percent of the pitches thrown to him go by for a ball or strike, and only two players -- J.J. Hardy and Martin Prado -- swung at a lower percentage of first pitches than did Carpenter (9.9). But Carpenter had what he called "an awakening" in the postseason last year.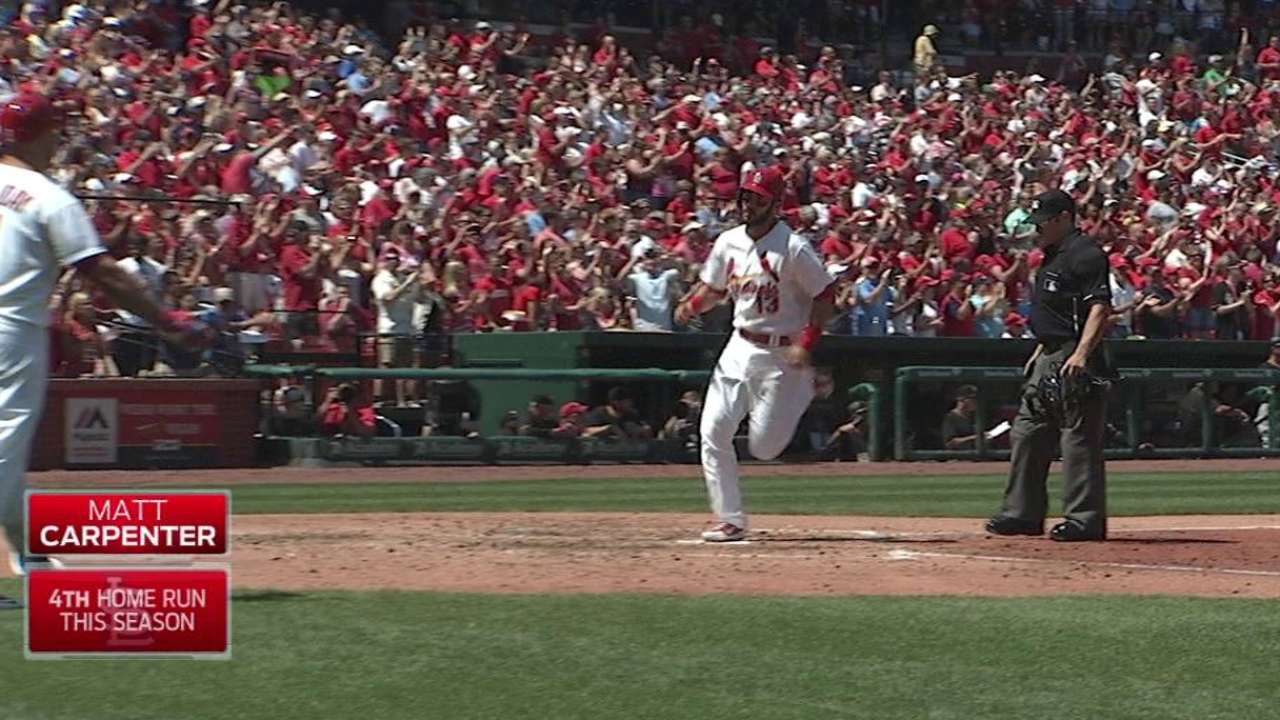 "I felt that I was more aggressive than I had been at any point in my career, but at the same time, I wasn't flailing at balls," Carpenter told MLB.com's Jenifer Langosch this spring. "I didn't lose anything. Now, it's finding the perfect balance to where I'm swinging the bat, I'm being aggressive, I'm trying to do damage, but at the same time, I'm a guy who can walk a lot, get on base and set the tone as a leadoff hitter."
Perhaps Carpenter is finding that balance in the midst of his outstanding start (1.036 OPS). Though his overall pitches per plate appearance is consistent with last year, he's seen a slight increase in first-pitch swings (12.3), and his overall swing percentage, per FanGraphs, is 3.7 percent higher than it was last year. Carpenter has had a 7.1 percent increase in swings inside the strike zone.
Paul Goldschmidt, D-backs
Goldy has a history of hot starts, but this scorcher -- .356/.448/.622 slash line -- is nothing short of the best of his career. And it's hard not to notice how much of it has come via the ol' ambush. Three of Goldschmidt's first six home runs this season came on the first pitch, contributing to his absurd 1.462 SLG in 0-0 counts.
Over the past two seasons, Goldschmidt had swung at the first pitch 21.4 percent of the time. This year, that number is up to 33.3.
Clearly, it's working.
Anthony Castrovince is a reporter for MLB.com. Read his columns and follow him on Twitter at @Castrovince. This story was not subject to the approval of Major League Baseball or its clubs.