Rendon's rehab interrupted by oblique injury
Infielder was working to return from knee sprain; R. Johnson has foot surgery
WASHINGTON -- The mystery surrounding Anthony Rendon's injury is over. The "tightness" in his left side that kept the Nationals infielder out of four rehab games last week was diagnosed Monday as an oblique injury.
There is no timetable for Rendon's return or when he can aggressively begin rehab, manager Matt Williams said.
"We're going to have to slow his progress down a little bit," Williams said after Washington's 6-4 victory over the Marlins at Nationals Park. "He's felt it for the last few days, so we're going to sit him a little bit longer and make sure it's OK before he resumes activity.
"It's just not getting loose for him."
In other injury news, Reed Johnson, one of the game's most reliable pinch-hitters, had surgery to repair a ruptured foot tendon.
Asked if the injury could cost Johnson the season, Williams said, "I don't know. It's a question of rehab and how it comes along. That one's up in the air. We just don't know. But the fact that's it's repaired and put back together is good."
Right-hander Casey Janssen, out since March 23 with shoulder tendinitis, threw an inning at extended spring training in Viera, Fla., and could begin a rehab assignment on Thursday.
And lefty reliever Felipe Rivero, out because of gastrointestinal bleeding, is waiting for his "blood levels" to stabilize, though Williams also said the rookie, who has appeared in one game, has been able to do light cardio workouts.
But it was the news about Rendon and Johnson that caused the biggest stir.
Rendon, 24, who last season hit .287 with 21 home runs and 83 RBIs, has been out since March 9, when he sprained his left medial collateral ligament.
Asked how Rendon's oblique became an issue while rehabbing at Double-A Harrisburg, Williams said, "I don't know. It just crept up on him. We're being cautious with him to make sure it doesn't turn into something we don't want it to turn into."
Williams said Rendon, who saw a doctor Monday in Washington, will remain in town "until he feels ready to play. ... We have to see how Anthony reacts. There's no timetable on it yet until we fully assess it."
Johnson, 38, was injured Tuesday while running out a seventh-inning RBI double during Washington's dramatic 13-12 comeback win over the Braves.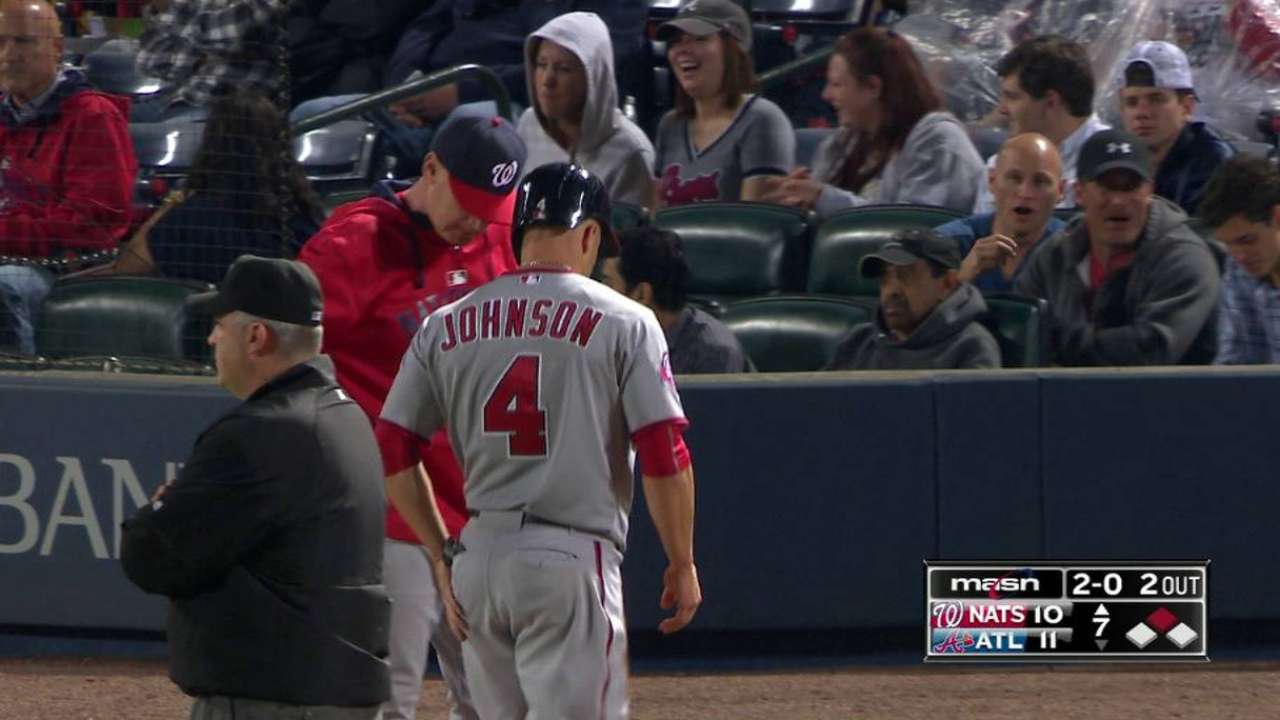 Johnson said he heard something pop, and the first reports were he injured a muscle, but it turned out to be much worse.
"The good thing is that it is repairable and put back together," Williams said. "He's resting and on the road to recovery."
Damian Cristodero is a contributor to MLB.com. This story was not subject to the approval of Major League Baseball or its clubs.