Jimenez excited to join Red Sox; Hinojosa optioned
Versatile infielder looks forward to playing alongside Boston's talent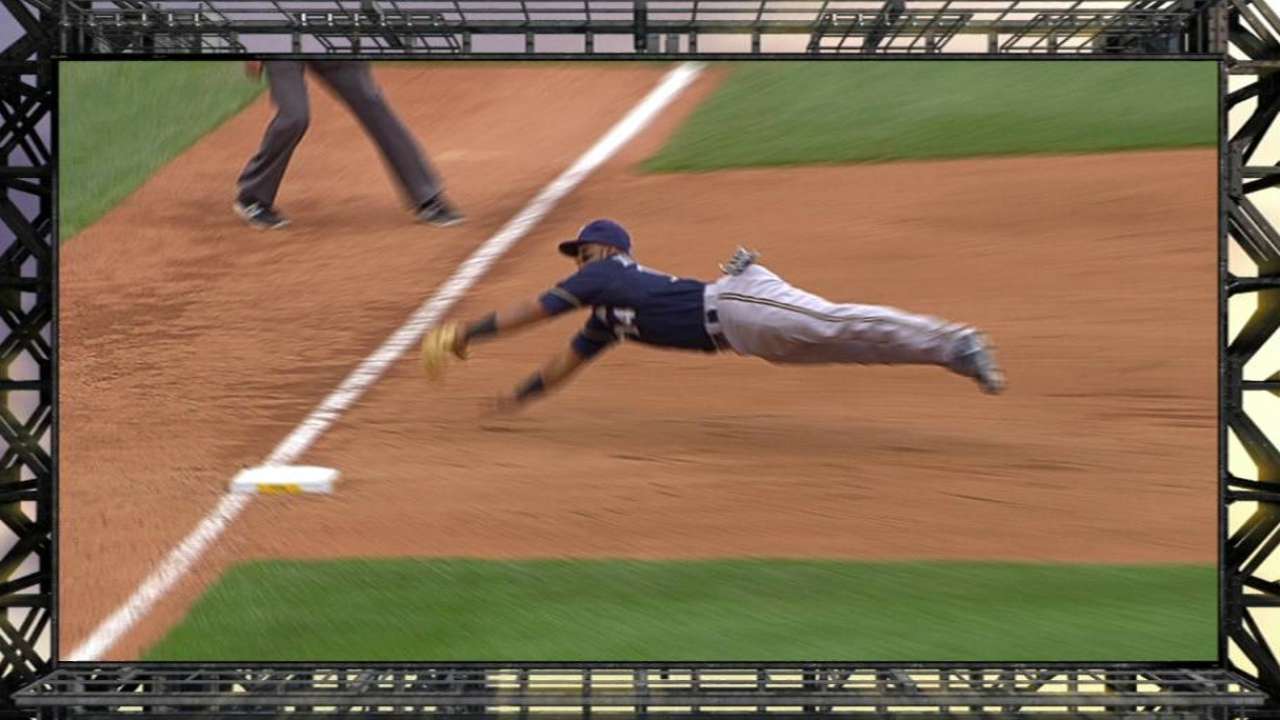 BOSTON -- Growing up in the Dominican Republic, Luis Jimenez often looked up to fellow countryman Manny Ramirez, even hoping to play in historic Fenway Park himself one day. Now that the 27-year-old infielder is officially a member of the Red Sox, he can barely contain his excitement about taking the same field Ramirez starred on for so many years.
"One of the biggest things [why] I wanted to come to this park, a lot of history," Jimenez said. "When I was with the Angels, I was going to come a couple of times, but I got sent down right when the trip was coming. Now that I'm here, I'm so happy."
As expected, the club added Jimenez to the 25-man roster ahead of Monday's series opener with the Rays, optioning right-handed reliever Dalier Hinojosa to Triple-A Pawtucket in a corresponding move. Jimenez will wear No. 16 and projects primarily as a corner infielder, though manager John Farrell added that he also has limited experience playing second base and shortstop.
Ultimately, it was that defensive versatility that allowed Jimenez to land on a team with as much positional depth as the Red Sox.
"I came up as a third baseman with the Angels. I got the chance. After that, I have to move around," Jimenez said. "Everybody's got their position. To be around here, you've got to be able to [play] a couple more places. That's what I'm trying to do. Trying to get better every day, trying to practice different positions if I get the chance."
Jimenez, who was designated for assignment by the Brewers on Saturday, admitted that he was somewhat surprised to learn Boston was the club to claim him. Regardless of how much playing time is available, however, he looks forward to playing alongside the likes of David Ortiz, Hanley Ramirez and Pablo Sandoval.
"It's a really good feeling," Jimenez said. "I've been on pretty good teams, too. With this group of guys, you have a lot of superstars, guys that are probably going to be Hall of Famers."
Hinojosa returns to the Minors after making his Major League debut against the Yankees on Sunday night. He tossed 1 2/3 scoreless innings with two strikeouts, one of which was Alex Rodriguez, but also issued three walks and hit one batter.
Alec Shirkey is an associate reporter for MLB.com. This story was not subject to the approval of Major League Baseball or its clubs.