Brewers ready to play hard for Counsell
Braun, Lucroy discuss Roenicke's dismissal, playing for former teammate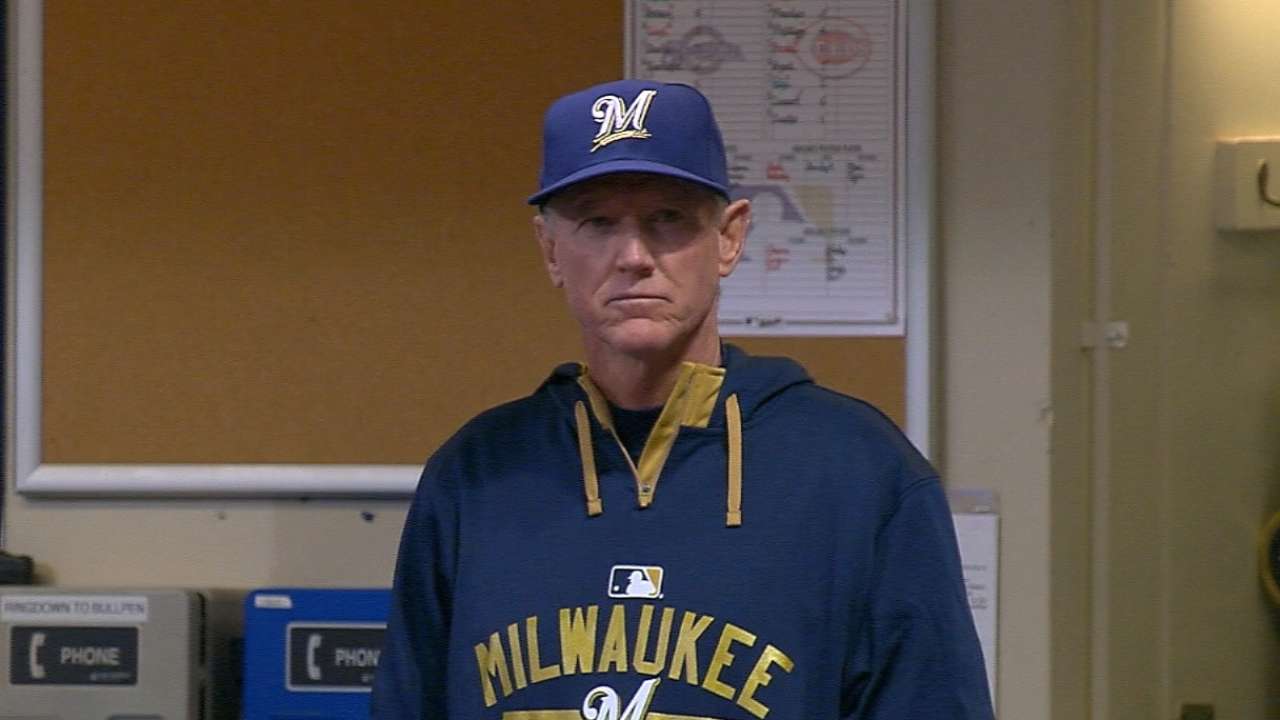 MILWAUKEE -- The cell phones started buzzing late Sunday night, as word spread to Brewers players that manager Ron Roenicke had been let go, to be replaced by Craig Counsell. For some, it meant a former teammate would now be the boss.
"It was weird talking to him this morning as manager," said right fielder Ryan Braun, who played five seasons with Counsell. "And then walking into his office for the first time today was definitely an odd experience. I'm sure it will take some time for all of us to get used to that."
If there was a key moment in the transition, it came at precisely 3 p.m. CT on Monday, when Counsell closed the clubhouse doors for his first team address.
Counsell said he imparted simple messages. He asked players to be open-minded to subtle changes in the way the Brewers do their work, and to be quality teammates. Counsell won two World Series rings and was MVP of the 2001 NLCS, but said his proudest moments were the ones in which he helped a teammate get better.
"Everybody respects him," Braun said. "When he was a player he was basically a player-coach -- especially his last few years, he was an essentially an additional coach as well as being a player. So I think everybody already respected him and knows how intelligent he is, understands he's always been a winner and we would expect him to do the same thing as a manager."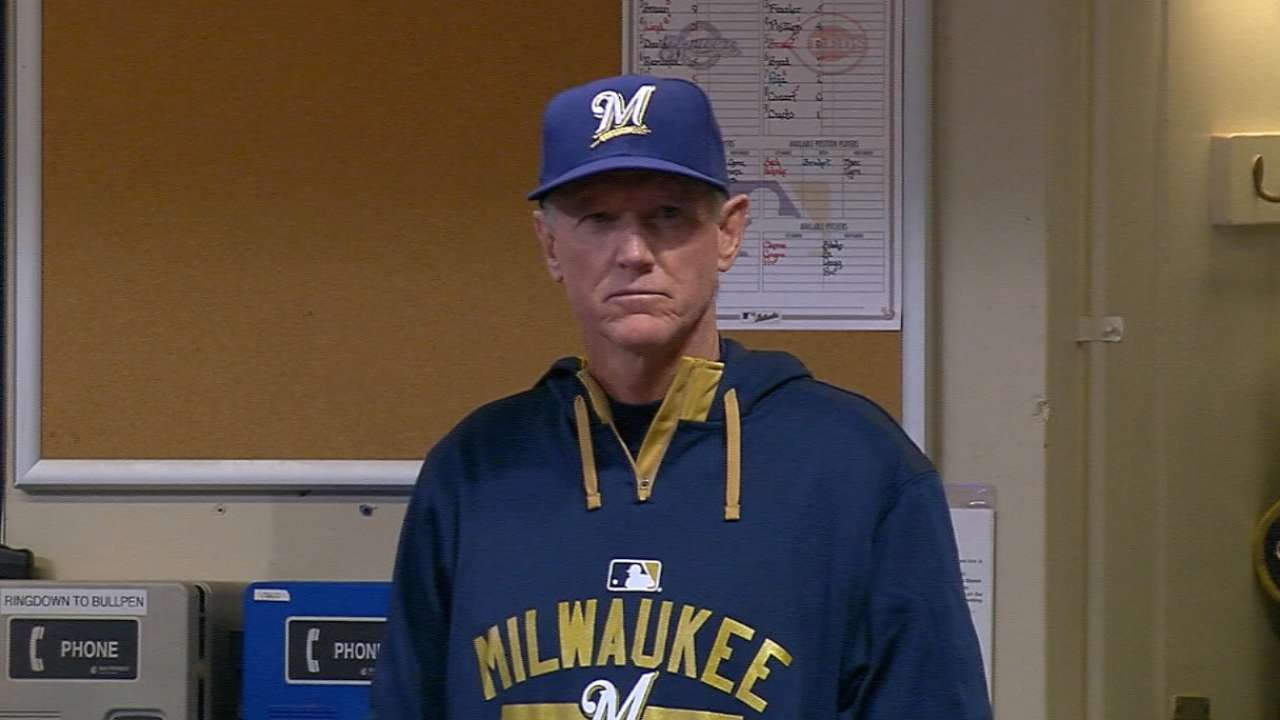 Catcher Jonathan Lucroy used the same word as Braun to describe playing under a former teammate: "Weird." But that feeling will pass, Lucroy predicted.
"I know he's a grinder and he's a big team guy, which is what I love," Lucroy said. "I think the most successful teams in this league have guys that care about each other and they go out and the want to win together. It's not about individuals, it's about a team. He's that kind of guy. Hopefully, it will bleed over to the team, everybody in here, and we're able to start moving forward and get something positive out of this year."
Braun was among the players who said he felt "terrible" for Roenicke, who was dismissed just as the Brewers were showing signs of life. They won three of the final four games of his tenure, and had just won a series for the first time all season.
"I played for Ron for five years. He is not just a manager. He is more like family," outfielder Carlos Gomez said. "I'm not questioning the decision that they made, but right now we've been playing better the last week and a half. We lost some games, but we've been playing better. The last couple of games we've played really good. Before we weren't hitting, weren't pitching and we made a lot of errors. How are you supposed to win games like that? But now we are starting to do a little better.
"Now we have [Counsell]. We have hope to start over from now."
Counsell could bring a slightly different style, Lucroy said.
"Nothing against Ron, I love Ron to death. I have a lot of respect for him," Lucroy said. "But he's a very supportive guy, kind of easy-going, and sometimes you need to come in here and kick someone in the butt and move guys forward. In my experience, that's what you need sometimes and I think [Counsell] will be able to do that."
Adam McCalvy is a reporter for MLB.com. Follow him on Twitter at @AdamMcCalvy. This story was not subject to the approval of Major League Baseball or its clubs.