Billingsley eager to get back into Majors routine
Phillies right-hander set to start Tuesday for first time since April 2013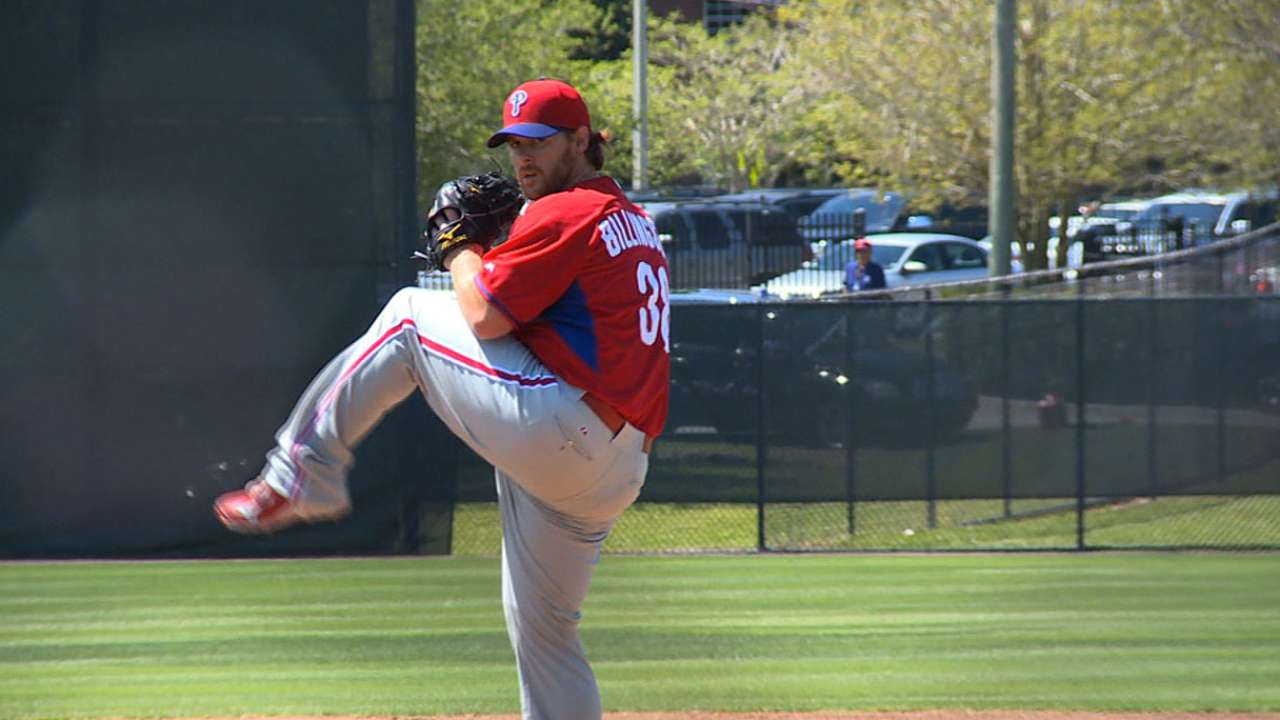 ATLANTA -- For the first time in over two years, Phillies right-hander Chad Billingsley will wake up Tuesday morning thinking about the way he plans to attack hitters, instead of attacking his rehab following a pair of right elbow surgeries.
The thought of making his first big league start since April 15, 2013, brought a smile to Billingsley's face Monday at Turner Field.
"It's going to be really fun," said Billingsley, who is set to pitch the second contest of a three-game series on Tuesday night against the Braves. "I've missed that part of the game, having my mind worry about [hitters] and not worrying about this [right elbow]. I'm just really happy and relieved. This is all in the past now. It's been two years since I've been out there every fifth day on a regular basis. It hasn't really sunk in yet."
The Phillies signed Billingsley to a one-year, $1.5 million contract, betting he could successfully rehab from a pair of elbow surgeries and provide the organization much-needed starting pitching depth.
Who knew they would need him this badly? The Phillies lost Cliff Lee for the season in March and just optioned right-hander David Buchanan to Triple-A Lehigh Valley.
Billingsley will be in the rotation for the foreseeable future, assuming he remains healthy and pitches relatively well. In fact, Billingsley will be part of a four-man rotation until May 12. Sean O'Sullivan will begin a rehab assignment Thursday with Class A Lakewood. O'Sullivan seems to be the most likely candidate to rejoin the rotation, considering his next turn to pitch would be May 12.
In a perfect world for the Phillies, Billingsley will pitch like he pitched with the Dodgers from 2008-12, when his 3.70 ERA ranked 35th out of 95 qualified pitchers. His pitching WAR tied for 49th in that span. If he performs to that level, the Phillies could conceivably trade him to a contending team before the July 31 non-wavier Trade Deadline.
Of course, that is the farthest thing from Billingsley's mind. He just wants to get on the mound and pitch in a big league game. He has had a long time to think about what it will be like.
"You just sit back and you think about how much fun it was to be out there competing and pitching every fifth day," Billingsley said. "That's what kind of motivated me. So I had to think like that and continue -- to achieve this."
Todd Zolecki is a reporter for MLB.com. Read his Phillies blog The Zo Zone. Follow him on Twitter. This story was not subject to the approval of Major League Baseball or its clubs.